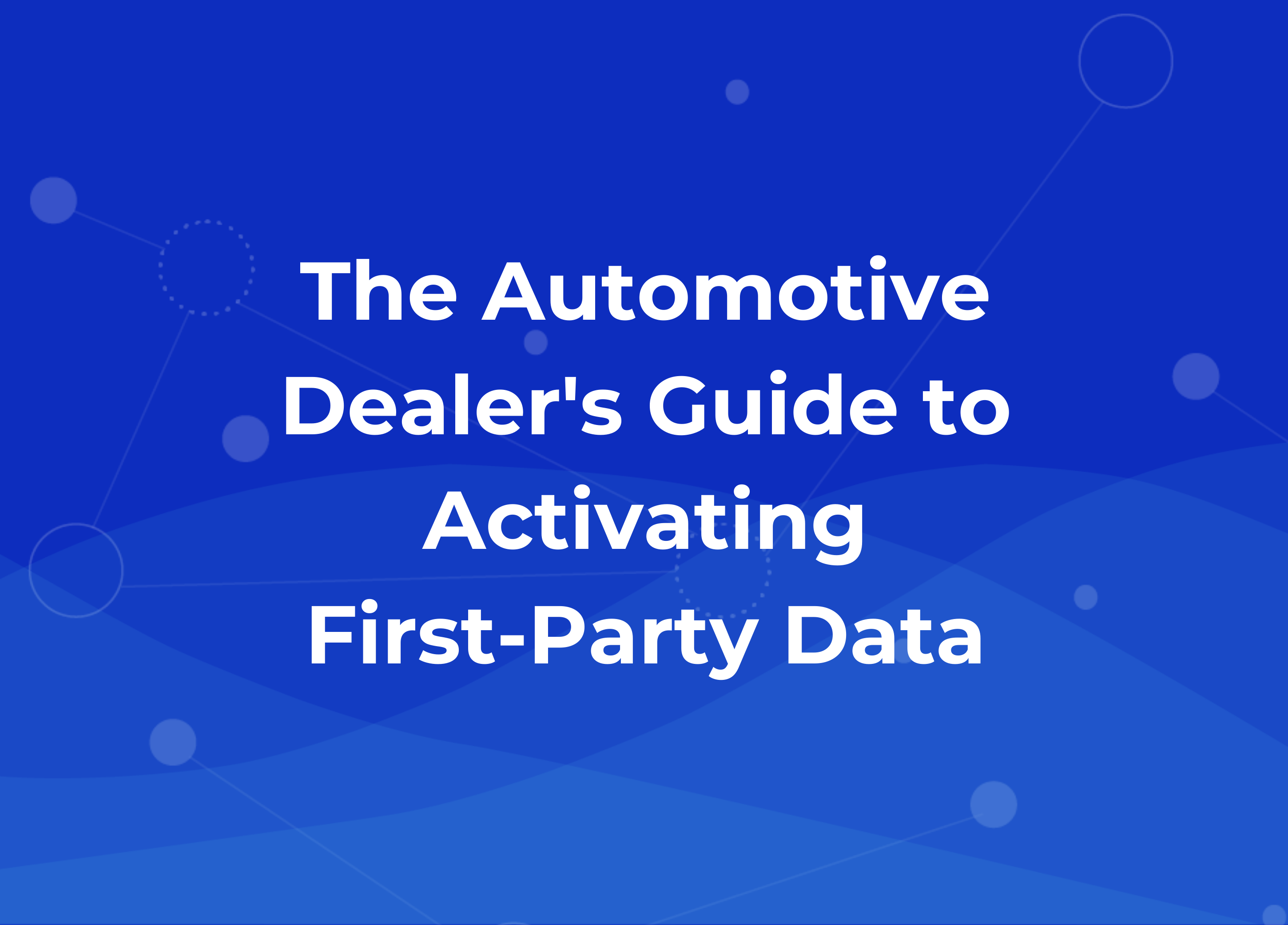 Automotive dealerships accumulate a significant amount of first-party data, but it often goes unused. When you harness your first-party data insights, you can leverage them for sales success.
Download the complete guide to learn how to access and take advantage of your dealership's first-party data.

30-Second Refresher: What Is First-Party Data?
First-party data is any qualitative information showing an individual's intent to purchase that your dealership collects from your prospects and customers. Because it comes from your customers' interactions with your website, CMS, or team, you own it.
What Kind of First-Party Data Do Dealerships Have?
Many dealerships do not realize that they are collecting first-party data. However, you are likely collecting, organizing, and housing hundreds of thousands of records.
Major collection sources are:
CRMs
Websites
Phone calls
Some dealerships may have additional data from sources like apps, social media, or surveys.
With these sources, dealerships have access to:
Customer interest data showing what vehicles they are interested in
Customer activity data showing their level of engagement with your website and staff
Customer experience data showing how interactions with your dealership have progressed
Sales activity data showing how your team has led your customers
Sales conversion data showing purchase history
What Can You Do with First-Party Data?
The short answer: Lots. A few of the most relevant and compelling use cases of first-party data for automotive dealerships includes:
Improving targeting
Enhancing advertising campaigns
Personalizing content
Automating follow up
Improving sales timing
Recovering lost leads
Updating leads about inventory changes
Identifying customer experience problems
Connecting the in-store and online experiences
Requesting reviews
Informing sales interactions
Enhancing the customer experience
Complying with data privacy laws
Looking at the list, you can see that first-party data enables dealerships to do many of the same things that we've experienced as ecommerce consumers.
How Do Dealerships Access Their First-Party Data?
While extremely valuable, direct access of dealership first-party data is not currently simple.
For the most part, it is locked in the same systems that house the data, like the CRM or website.
Without a technical solution that collects, organizes, and presents the data in an actionable way, accessing their first-party data requires dealerships to set up:
Integrations: automated connections to pull data from your collection sources in real-time or at a regular cadence
Hygiene: a set of rules and processes to dedupe and connect your data
Data warehouse: a repository designed to house data from disparate sources
Visualization: a system to access and view the data
We've seen OEMs and some large dealer groups purchase customer data platforms to support this effort. But they require significant setup and technical staffing for implementation and oversight at a level that isn't feasible for even the largest dealerships and dealer groups.
But, do not despair. There are a number of curated solutions available to the automotive market today that are predesigned to enable access to and activate first-party data.
How Does Foureyes Help Dealerships Activate First-Party Data?
Foureyes is sales intelligence software that can help dealerships in both the collection of first-party data, as well as the activation. We have four pre-built experiences that make it simple for dealer's to leverage first-party data to solve sales problems without distracting your sales team. We call these modules.
Foureyes Data Collection
Foureyes uses a single line of code placed on your website to collect first-party data, including every website visit, every inbound phone call, and every inventory change you make. This one script also incorporates our patented ability to connect web visits to phone calls.
We add to this robust dataset all the information housed in your CRM. Foureyes sets up a bi-directional sync with your CRM that is enabled through a universal connection process that works with every cloud-based CRM.
Foureyes Data Activation
We currently have four modules that activate first-party data to enable dealerships to solve specific sales challenges:
Prospect Engagement: Deliver better follow up
Enables users to personalize follow-up to each individual lead at scale. Emails are dynamically generated to align with each lead's online shopping preferences and triggered by lead and website activity, meaning it continues as long as prospects are active and engaged.
Sales Enablement: Schedule more appointments
Enables users to better understand the leads in their pipeline by turning online shopping activity into lead intelligence. The website activity of each lead is made visible and actionable through real-time alerts and daily reports that help users spot new deals, have better talking points, and improve the customer experiences.
Omni-Tracking: Make smarter marketing decisions
Enables users to quickly see all digital leads in one place, assess quality, and identify their source. The website activity of every form, chat, and phone call is made visible, and it's easy to identify where the highest quality leads are originating from.
Safety Net: Protect your leads
Enables users to automatically log leads to the CRM that would otherwise be lost due to technology breakdown or human error. Whether generated through phone, form, or chat, all leads are scrubbed to ensure that only sales leads are logged to the CRM.
For more information about first-party data or to activate first-party data for your dealership, schedule a demo or sign up for a free trial of Prospect Engagement.