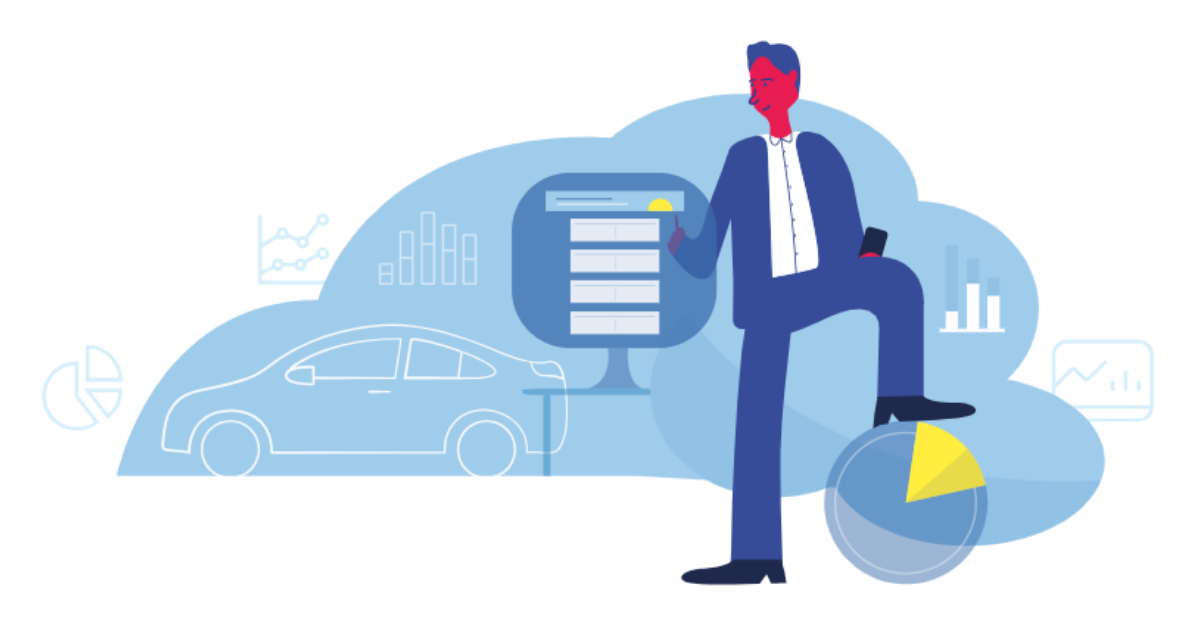 Today's shoppers may spend a lot of time on your website, but very little with salespeople, or they may require a lot of in-person time and conversation before making a decision. Every customer is different—which means salespeople needs to be agile and adaptive in their approach to each sale. This dynamic creates the need for sales managers to consistently improve the efficiency and effectiveness of their sales team, and ensure they have the right technology in place to enable their best work.
Training and Technology Improvements You Can Make Today
1. Protect your pipeline
First and foremost, make sure you're working with a complete lead pool. Prospects can fall out of your pipeline for a variety of reasons, from broken website forms to a salesperson forgetting to enter a phone call. With a CRM safety net in place, you can save what would otherwise be lost leads while also filtering out spam, wrong numbers, and other non-sales leads. Not only does this give your team a complete pipeline to work with, it ensures they're only focusing time and attention on quality sales prospects.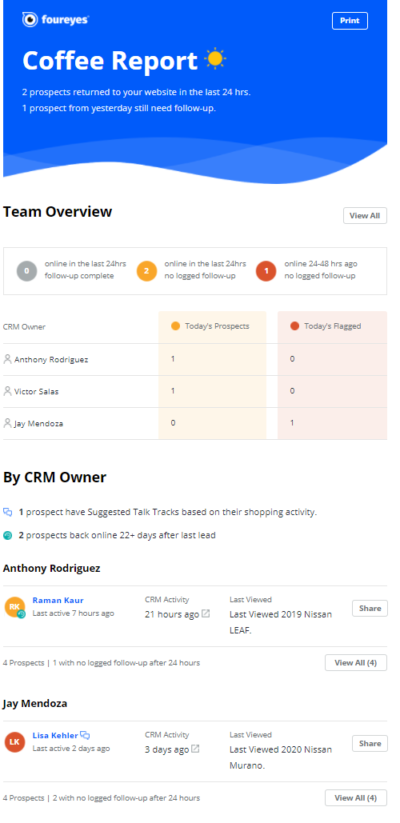 2. Prioritize high-value daily tasks
As a sales manager, helping your team stay organized day-to-day is an important step toward increased productivity and results. When your salespeople can get right to work each morning and get reminders about long-tail opportunities that are still in market, it adds up to better performance. A simple way to do this is to leverage a daily lead management report that prioritizes your sales team's prospects according to those who are actively showing buying interest and need immediate attention. These daily lists can be personalized for each salesperson based on their assigned leads and the recent shopping behavior or CRM activity of each prospect. Plus, you can receive a roll-up report to enable better coaching and management.
3. Deliver the right information at the right time
We all know how hard it can be to get a response from leads, but reaching out at the right time is a surefire way to increase engagement. In fact, prospects contacted within one hour of initially reaching out are 7x more likely to become qualified sales leads. The best way to ensure follow up for each lead arrives at the right time? Dynamic lead communication that is triggered by customer activity, such as leads browsing online, or inventory changes on your website, including new inventory or price drops.
With technology like Foureyes Prospect Engagement, these dynamic updates won't require any oversight or manual work from your team, but will keep leads engaged and earn more responses. Try it free for 60-days to see how it assists your team and helps salespeople sell more.
4. Understand what leads are really looking for
How your salespeople approach conversations with leads is crucial to closing the deal. With customer website tracking, your team can see exactly what each customer has been browsing, arming them with insider knowledge that will help them lead the conversation, come out on top during negotiations, and ultimately close the sale.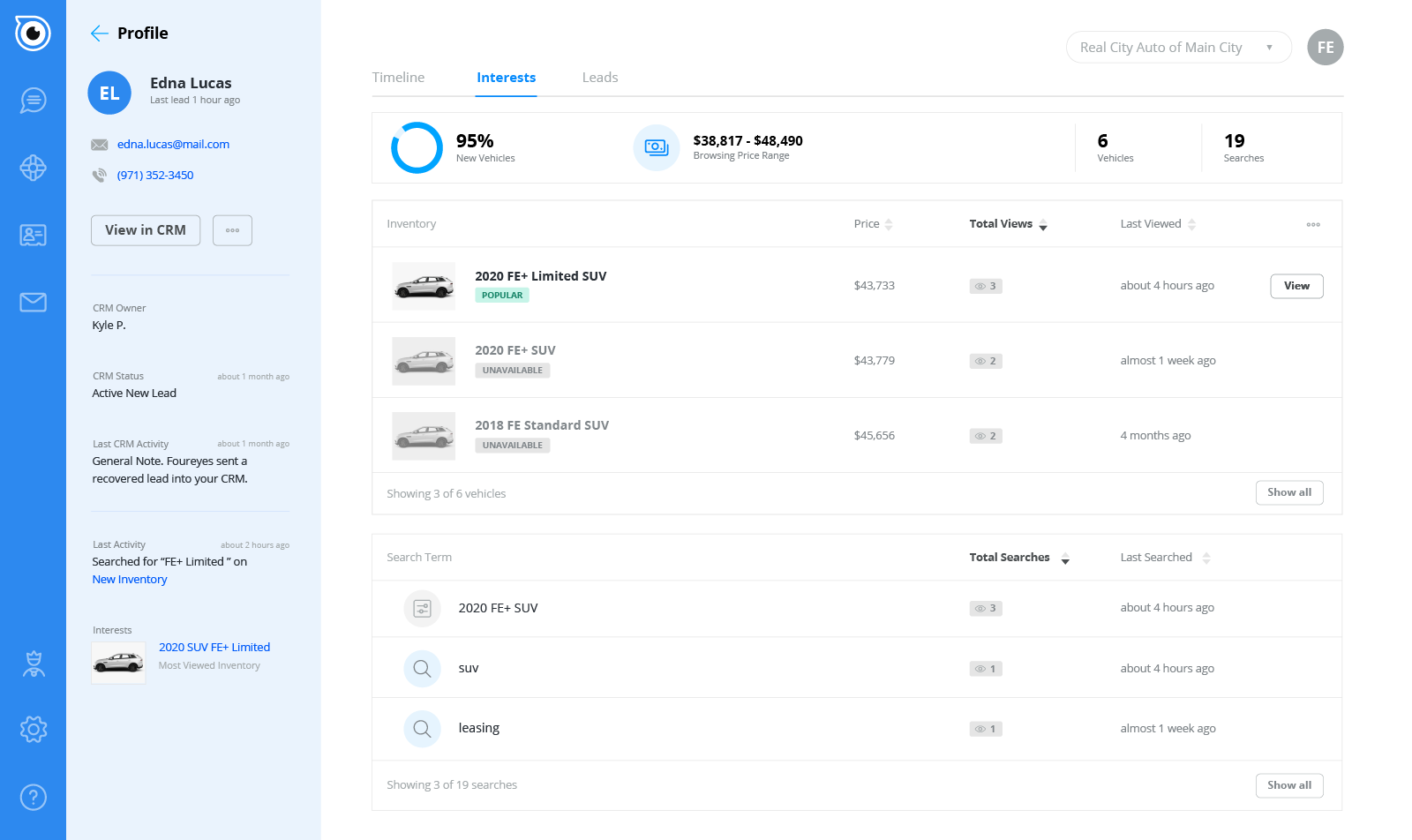 5. Improve the quality of your team's conversations
To improve your sales team, you need to monitor not just how often they follow up, but how effective their conversations are when talking to leads. Call recordings can be a great way to uncover issues and train team members to improve the effectiveness of their conversations. Dynamic talk tracks are also effective for giving salespeople a leg up with each prospect and improving the overall success rate of your team's follow up.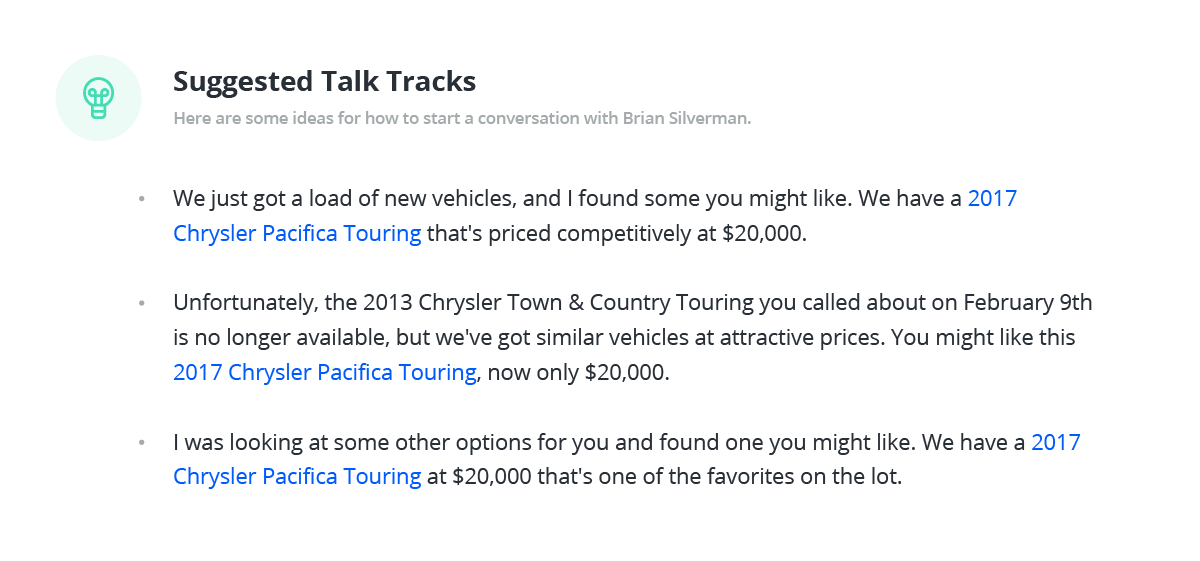 6. Build your team's confidence
Your salespeople work hard to hit their numbers each month. Help them see their work is making a difference by helping them see how their prospects are engaging with lead intelligence. Access to lead insights as well as real-time SMS alerts can help keep busy salespeople on track throughout the day by letting them know which leads are actively shopping and prime for follow-up. As the sales manager, you can also get complete visibility into the activity of online leads to help spot new deals and keep older opportunities from falling by the wayside.
Let's Turn Your Team into Top Performers
Making sustained improvements across your team requires time and effort. But with the right tools in place, you can ensure long term success.
Foureyes can provide visibility into the shopping behavior of your customers and the effectiveness of your sales team. With insight into where you're winning and where the sales process is lagging, you can uncover coaching opportunities and improve the close rate of your team. See how sales intelligence can boost your sales team by scheduling a 10-minute demo.