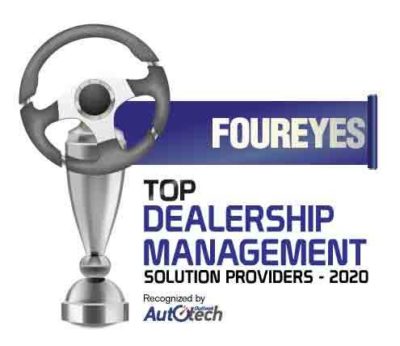 PORTLAND, Ore. July 24, 2020
Leading sales intelligence software Foureyes® was named a Top Dealership Management Solution Provider by Auto Tech Outlook. The software company earned the accolade for its sales intelligence software that helps businesses track, protect, engage, and sell better.

"It's an honor to be selected as a top dealership management solution. Our product always prioritizes the user and over the past year we've rapidly rolled out new features and improvements to help businesses of all sizes increase sales process efficiency and improve their close rate," says David Steinberg, CEO and Inventor of Foureyes.

Foureyes is a software company founded on the belief that big-ticket retailers can drive better sales outcomes by helping the people who ultimately make the sale. Known for its patented user-level data collection technology, Foureyes offers four product modules that enable businesses to power sales success:
Today, Foureyes sales intelligence software runs for more than 5,000 businesses and the underlying customer data platform informs the sales and marketing decisions of major manufacturers. Businesses can learn more about Foureyes by watching a demo or signing up for a free 60-day trial of Prospect Engagement.
About Foureyes
Foureyes sales intelligence software helps businesses track, protect, engage, and sell better. For more information, visit https://www.foureyes.io.