One of the most impressive things I find in working with automotive dealerships is their resilience. When shelter-in-place orders forced many dealers to temporarily close their sales floors, they shifted emphasis to parts and service departments (many being deemed essential), as well as digital retailing. These quick shifts helped many of our most innovative partners maintain operations and hit performance targets that were set pre-pandemic. It's awe-inspiring!
By design, Foureyes is perfectly matched to supporting digital retailing, but this spring some of our dealer partners helped us think through quick wins that enable Foureyes to support fixed ops as well. Today, we're excited to announce that you can use three new features to review your fixed ops website leads in Foureyes.
What's New
1. Service Leads Segment
Foureyes users can now view a list of service leads and their website activity in the Omni-Tracking module. Website service prospects are still filtered out of the sales pipeline but now they are added to this list based on a combination of AI and human analysis thanks to the Foureyes Safety Net. If a lead calls the service line, submits a form on a service page, or mentions parts and service in their call transcript, they will be categorized as a service lead. Service and sales opportunities will not be combined into one lead pool; instead, you can select 'Service' from the Omni-Tracking menu to review all service leads that Foureyes has found. Review their website activity and filter, sort, or export the complete list.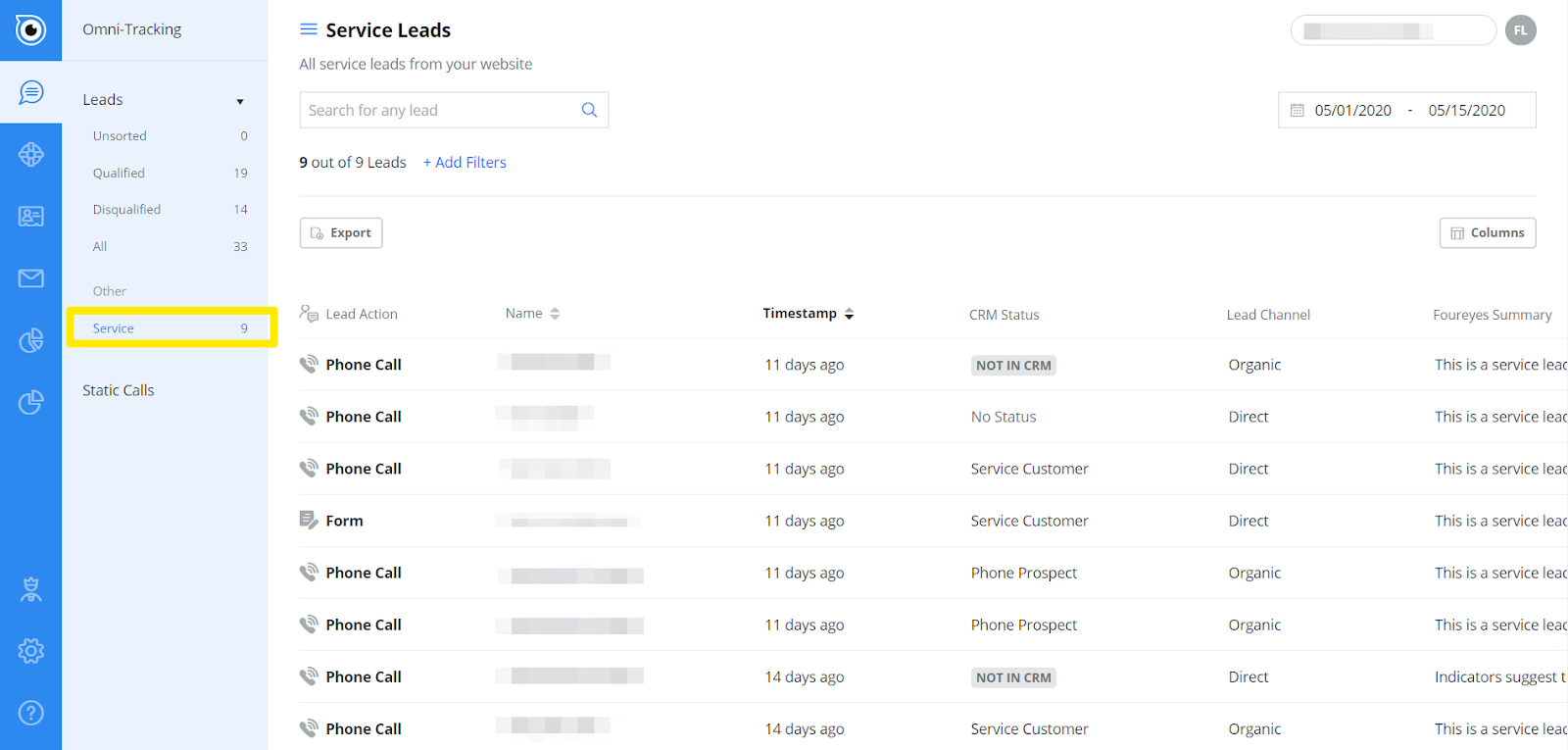 2. Service Tags
Foureyes Sales Enablement users can similarly use interest tags to see which leads are interested in fixed ops. Prospects who have viewed pages related to 'service,' 'parts,' or 'body shop,' will be tagged accordingly. Use these tags as filters to review a complete list of website leads who have recently visited your website and indicated an interest in service.

3. Service Talk Tracks
To help you convert these service leads, we've also added suggested talk tracks to their profile pages. Review follow-up tips and suggestions based on the specific interests and website activity of each service lead. Suggested talk tracks are added to the profile page once a prospect has been categorized or tagged as a service lead based on website, form, chat, or call activity.

Getting Started
As auto dealerships adapt to the changing needs of their customers and employees, these features were designed to help fixed ops managers and teams convert more service opportunities. While service leads are typically logged in a different system than sales leads, fixed ops managers and teams can use the service leads segment and tags in Foureyes to identify prospects their process may have missed. Suggested talk tracks can be used to improve follow-up by understanding who their service leads are and what they're interested in. If your fixed ops team members are not already in Foureyes, we can help you grant them access and get them ready to use the insights to increase conversions.
What's Next?
Fixed ops features are another way Foureyes is innovating in response to the changing needs of our customers. If you're a current Foureyes user, let us know what you think of the new features by emailing [email protected]. If this sparked your interest and you're ready to learn more about Foureyes, reach out for a free product demo.