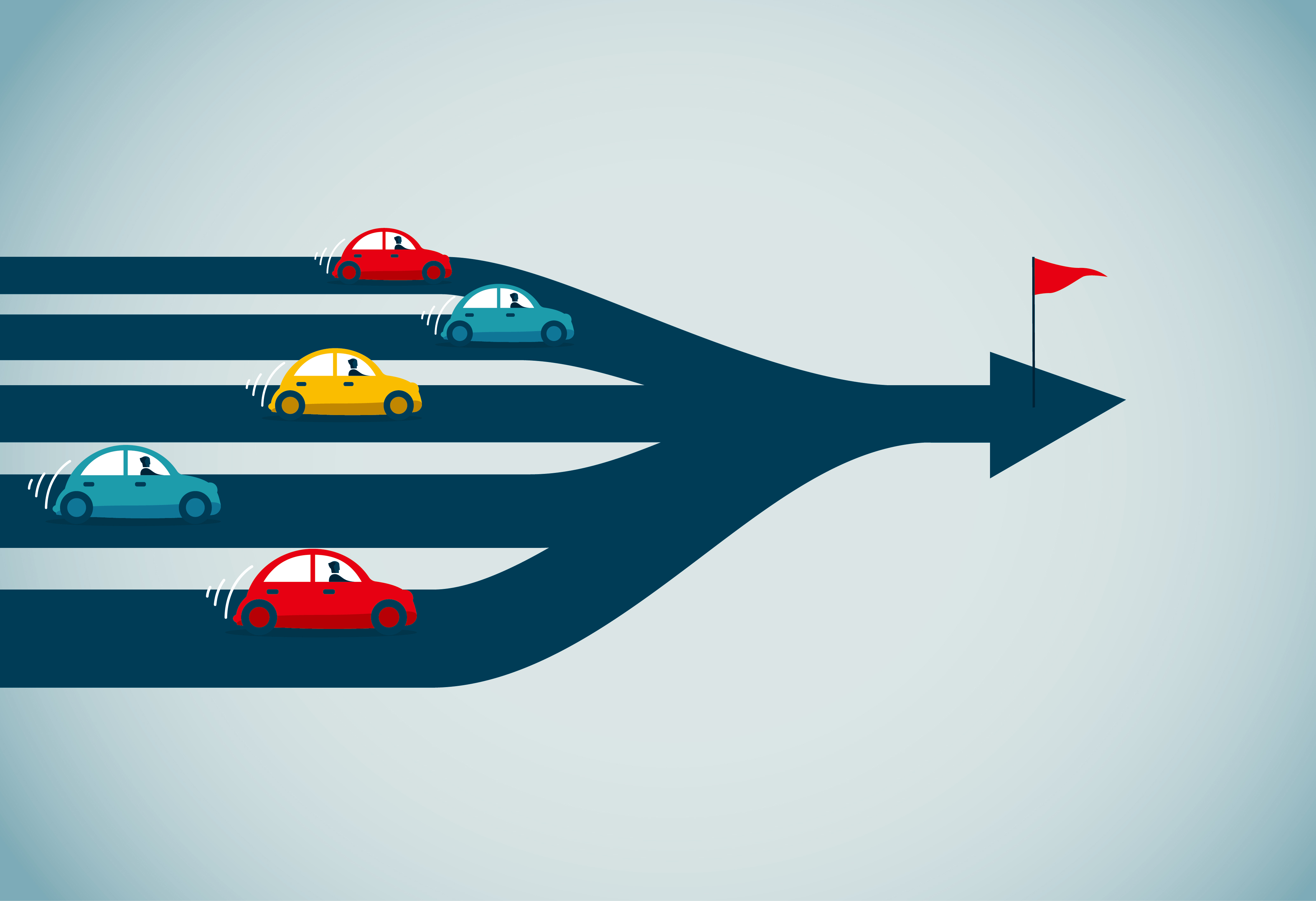 When you work in auto sales, it's easy to get caught up in the day-to-day at your dealership and forget about the sales process from your customers' perspective. It's natural to zero in on what happens after car shoppers become leads and before they purchase a vehicle, but if you do so you're missing out on all the important decisions and opportunities that happen in the early stages of the sales funnel.
It's important to have a clear understanding of what car shopping looks like for real car shoppers, so you can align your marketing, improve your sales process, and better serve your customers. By putting yourself in the mind of the buyer as they move through the sales cycle and decide what vehicle to buy and who to buy it from, you can spend your time more efficiently, your marketing dollars more effectively, and increase your sales.

The Car Shopper's Journey
Today's auto buyer moves through a three-part sales funnel, from awareness to consideration, to decision-making. Each lead is different and may travel through the sales funnel differently, but auto dealerships should make sure their marketing channels support each stage in the car shopper's journey. It's also important that you have the tools necessary to convert leads in their final decision. Align your marketing and sales process with the buyer's journey to capture leads and win customers over at each touchpoint.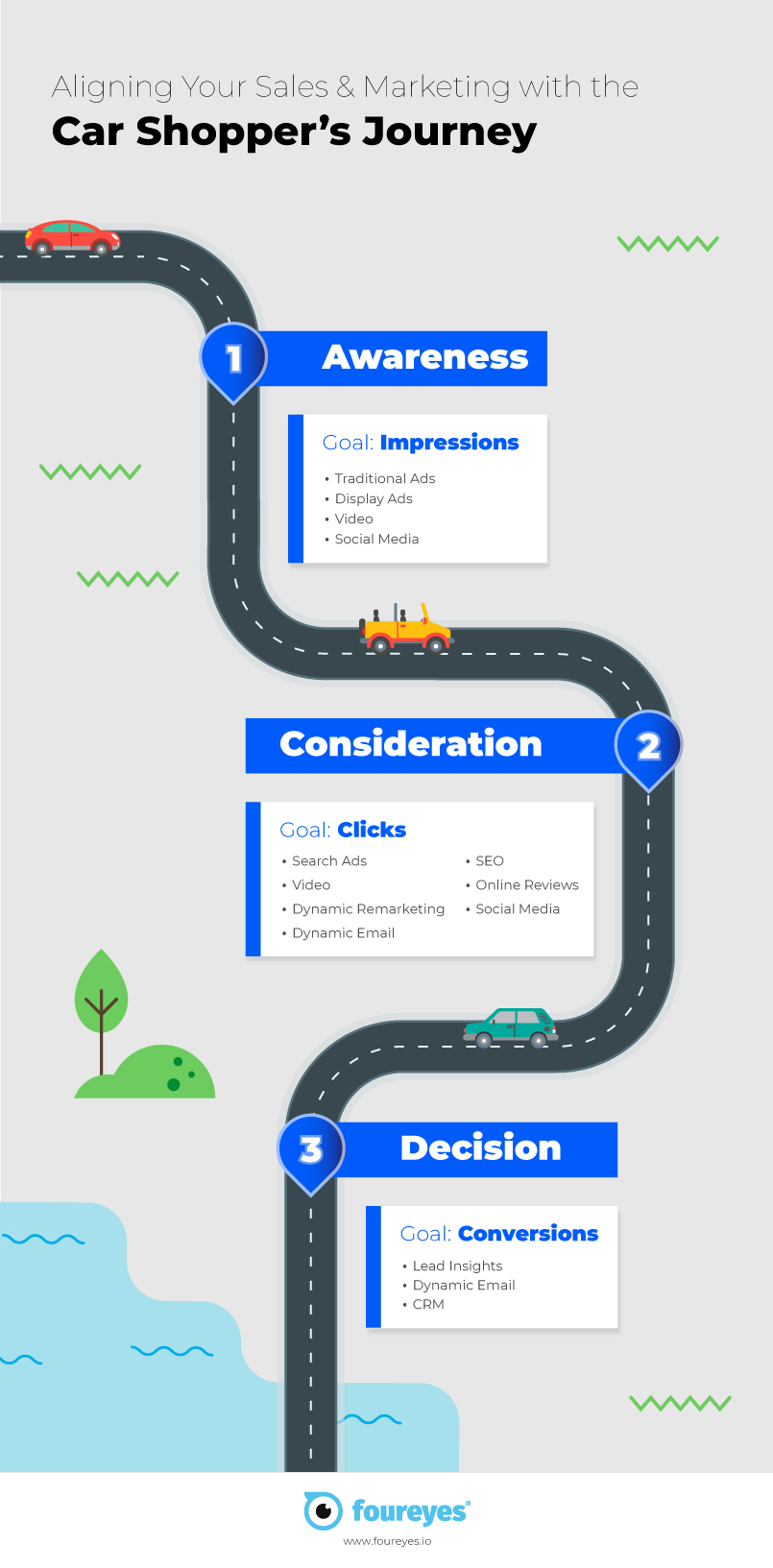 1. Awareness
During the awareness phase, buyers are just beginning to consider their options. They may not officially be car shopping, but it's something they start to be aware of or think about. Don't make the mistake of thinking that decisions only happen at the end of the sales funnel. Car buyers are beginning to form opinions and make decisions even at this stage, and you want to make sure your dealership is top-of-mind when they move to consideration.
Traditional marketing, such as radio, TV, billboards, or print, can help with awareness, but internet marketing will provide better insight into cost-per-impression and your return on investment. Consider running search ads on Google and Bing, display advertising in the Google Display Network, and TrueView video ads on YouTube to increase your market share and brand awareness.
2. Consideration
Once shoppers officially start the car buying process, they'll likely start online. A study by ACA Research found that 89% of consumers look for vehicle information online, using OEM and dealer sites, finance websites, and social media, and the automotive path to purchase can take 5 -12 weeks. During this time, car shoppers are formulating a shortlist of vehicle makes, models, and dealerships. 6 out of 10 car shoppers are undecided when they start shopping and will consider different makes and models.

Help car shoppers through this process and ensure your dealership makes the shortlist with targeted search ads and video ads. YouTube continues to be important at this stage; 69% of people who use YouTube during the car buying process are influenced by it. Optimize your website for organic search results and include helpful resources and tools for car buyers. Once prospects find your website through SEM and SEO, you want to remarket to them. Run dynamic remarketing ads, dynamic video ads, and send dynamic, inventory-specific emails. Think about your social media and online reviews as well. If leads are considering your dealership, they'll likely read reviews and visit your social media profiles; in fact, 38% of consumers say they will consult social media before their next car purchase.
From their first search to their first contact with your dealership, make sure your online presence helps convert car shoppers into leads throughout this stage.

3. Decision
Once a car shopper becomes a lead, whether they fill out a form, chat, call, or visit your dealership in person, it's time to focus your sales and marketing on engaging that lead and making the sale. Today's car buyer makes just two visits to a dealership on average. Each interaction with leads in the decision stage matters and your CRM, personalized email, and sales intelligence are your essential sales tools to keep leads engaged, informed, and more likely to convert.
Use dynamic email to keep leads up-to-date on the specific inventory they're interested in. As you engage leads and they return to your website, use sales optimization technology to monitor when leads are on your site and know exactly what they're looking for. Personalization and responsiveness are critical at this point. 67% of car shoppers expect confirmation within eight hours of a request for a test drive and only 10% of shoppers would wait more than 24 hours to receive confirmation. With sales intelligence, insight into the online shopping activity of your leads can empower your salespeople to move quickly, prioritize timely follow-up, and have better sales conversations. As you communicate with leads during the decision stage, keep your CRM central to the process to connect communication across channels and make the sales experience seamless for leads.

Maximize Your Sales Pipeline
By aligning your marketing and sales process with the car shopper's journey, you can meet leads where they're at and help move them farther down the path to purchase. To continually get the best results, find the tools and tactics that work for your customers and deliver the best results for your dealership. Optimize your marketing mix so the top of your sales funnel is always full and being replenished. Customize your sales process and choose tools that empower your BDC and sales teams to improve your conversion rates and hit your sales goals month after month.
If you're looking for tools that fit with your existing sales process and align with each stage of the car buyer's journey, get in touch. We offer technology that supports the needs of auto dealerships and their customers from first touch through final sale.