At Foureyes, we collect and analyze a LOT of data. Our technology allows us to see everything your shoppers do online and follow their journey through your CRM from lead to sale. Each day, we measure, analyze and help close over 28,000 new leads. With access to so much data, we can see how buyer behavior is quickly changing and use these insights to evolve the Foureyes products.
The data makes it clear that BDC and sales teams are having to send more emails, make more calls, and send more text messages all to talk to fewer customers. In many ways, the job of traditional sales is becoming harder. While consumers are more connected to our technology than ever before, they are also less responsive. When prospects are less responsive, salespeople end up marking more and more leads lost when they're actually still interested. Foureyes can see these leads still actively shopping your website, but we know that doesn't necessarily make your job any easier. A customer who is unresponsive is still very hard to sell.
To empower salespeople and actually make your job easier, we're committed to continually evolving Foureyes products to align with changes in consumer behavior. That's why we're rolling out features and updates that enable salesperson and BDC reps to be more efficient, more productive, and more aware of the value they are creating. Even if your prospects are unresponsive, you should be able to see and feel that your work is valuable and you are part of the process successfully moving them from lead to sale. Here are a few recent product updates that we hope help to do just that.
What's New?
Suggested Talk Tracks
Suggested Talk Tracks are dynamically generated for prospects based on vehicles they viewed and the inventory tags associated with those vehicles, including:
Recently Reduced
New on Lot
Unavailable

Available on a prospect's Profile Page, these suggestions take recent inventory changes and each prospect's browsing history to create simple conversation starters. When you need new information to get leads to engage, use Suggested Talk Tracks to make your follow-up more efficient and effective.
Updated Lead Actions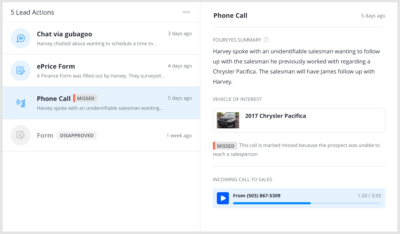 To help you get the information you need faster, lead actions in the Profile Page have been updated for automotive users. The following improvements have been made to help with personalized follow up:
The vehicle associated with a lead action is now featured within the lead details.
Foureyes summaries are more clearly associated with the lead action.
Missed and Recovered tags are now associated with the lead action, not just the prospect.
Users have the ability to show or hide disapproved leads.
Monthly Reports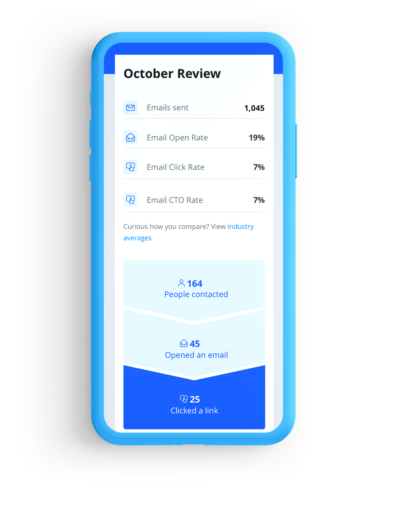 Foureyes Prospect Engagement users will now receive a monthly report on the first Friday of each month. In addition to the current week's activity, this report provides email statistics for the previous calendar month, including:
Emails Sent
Email Open Rate
Email Click Rate
Email CTO Rate
Number of People Contacted
Number of People Who Opened an Email
Number of People Who Click an Email Link
You will still receive weekly reports each Friday, but can now review the prior month's overall performance during the first week of each new month. To adjust date ranges or review the complete performance of your email campaigns, log in and view your Email Log at any time.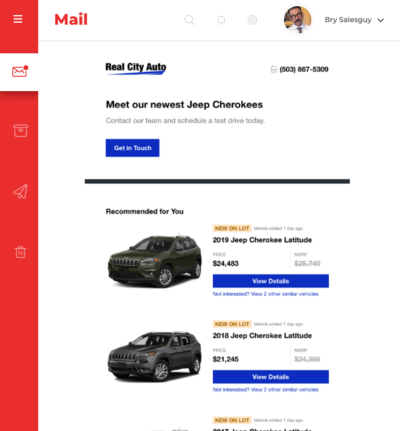 New On Lot Email Alerts
We know you need to engage leads and move inventory quickly. That's why we recently rolled out New On Lot, a new email type. New On Lot emails let prospects know when vehicles that match their preferences are added to your website inventory. With New on Lot notifications, Foureyes delivers timely information about recently added vehicles and ensures your prospects have the most up-to-date information regarding inventory changes.
Updates to Prospect Engagement Email Campaigns
There are also two major updates to existing email campaigns to further help you increase engagement and expand reach.
Machine Learning Photo Recognition. We built a deep-learning model that can differentiate between stock and custom images. Using this, Foureyes will prioritize vehicles images that deliver the most clicks.
Expanded Price Drop Emails.

We expanded Price Drop emails to alert subscribers who match with a vehicle that has dropped in price at the dealership,

even if the subscriber has not visited or clicked on the VDP previously

. Early testing has indicated that this new functionality can increase the reach of price drop messaging by 200%
What's Next?
The updates and improvements don't stop here. We have a lot of exciting things coming in 2020! Let us know if you have ideas or feedback about any Foureyes products and stay tuned for features and product news you don't want to miss.