PORTLAND, Ore. (June 12, 2019)
Volkswagen Dealer Digital Program has named Foureyes® 20/20 a certified solution for Volkswagen dealers. Using Foureyes' patented user and inventory tracking, 20/20 modernizes dealer follow-up by bringing ecommerce-style emails to automotive. 20/20 sends automated, personalized updates to prospects specific to the inventory they have shown interest in. The tool's Vehicle of Interest Algorithm uses machine learning to pair prospects with vehicle recommendations and suggestions based on their browsing history, which has been shown to increase close rates and maximize productivity for sales teams.
Foureyes is the patented sales intelligence platform from Adpearance, a marketing and sales intelligence company whose digital marketing services are also certified within the Volkswagen Dealer Digital Program. As a certified solution, Foureyes 20/20 is IDM eligible and available to Volkswagen dealers at a preferential price point. Additional bundled savings on Foureyes products are also available to dealers as part of the Volkswagen Dealer Digital Program.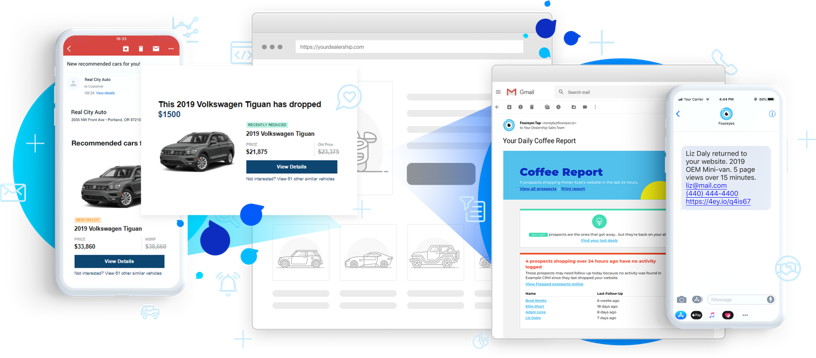 "Foureyes 20/20 brings ecommerce-style outbound communication to automotive, and we're looking forward to partnering in new ways to help VW dealers be even more successful now that this technology is a part of the Volkswagen Dealer Digital Program," says David Steinberg, co-founder and CEO of Adpearance.
With their new and existing certifications, Adpearance is a full-service digital provider for Volkswagen dealerships. Details about Adpearance's IDM eligible solutions are below:

Foureyes 20/20: An outbound communication tool that delivers personalized inventory updates to improve engagement with leads.
Foureyes Tap: A sales optimization system that spots opportunities in real-time, protects from sales pitfalls, and improves CRM utilization to increase close rates.
Digital Advertising: Customized, highly-targeted paid search, display, and video advertising campaigns drive success for dealers.
Search Engine Optimization (SEO): Site optimization and monitoring, enhanced keyword optimization, content creation, and local SEO services keep dealerships relevant and easily found.
To learn more about the certified Foureyes products or digital marketing services available to Volkswagen dealers through Adpearance, schedule a demo or call us at (971) 352-3494.
---
About Foureyes

Foureyes is the sales intelligence platform by Adpearance. The mission of Foureyes is to empower salespeople with actionable data and applications that rehumanize sales. For more information, visit https://www.foureyes.io.