It's a classic sales question: to keep momentum going and make the sale, you need to follow up with leads in a way that will engage and move them farther down the pipeline. But how do you know if or when your customers really want to hear from you?

It's not that prospects don't want to hear from you, it's just that they know what they want. And you are expected to know what they want in order to win them over. Salespeople need to provide value in every interaction with customers, especially during the car buying process. To see better results from conversations with your leads, here are three tips to improve your outreach and follow up.
Sales Tip #1: When your leads reach out, give them what they want.
Whether they fill out a form, chat, call, or stop by your dealership, when a lead first reaches out, make sure you're making the most of the opportunity. If you're responding to a lead that recently reached out, respond promptly and completely, taking care to answer all of their questions. Do this daily, making sure there are no prospects left waiting for an email or call back in your CRM.
When following up with leads who recently reached out, keep these tips in mind:
Don't rely on auto-responders. There is a time and place for auto-responders, but you should monitor when and how they're used to make sure you're not mistakenly assuming your leads are getting the information they want and need. If you are using auto-responders to ensure a timely response during busy periods or after dealership hours, make sure any personalization that can be dynamically populated is added. Include an invitation to visit the lot or call the dealership directly in the auto-response. And always make sure to personally follow up with each lead after.

Answer all of their questions (and ask some of your own). If there are multiple questions included in a form or email, make sure you're providing thorough answers in your response. Most prospects will have questions about price, payments, and availability early on. Don't avoid these questions. Address each one and include some follow up questions of your own. Emails with one to three questions are 50% likelier to get replies than emails without any.
Don't overwhelm them. If you want to make the sale, make the sales process as easy as possible on your prospects. While there is information you need and asking questions of your own is a good thing, be careful not to ask too much of your leads. Prioritize must-haves versus nice-to-haves, and use sales tools that help you fill in missing information or details (more on that below).
Always include next steps or a call-to-action. A study found that 72% of dealerships did not ask leads for an appointment when they called. Whether you're communicating on the phone or over email, use one conversation to lead into another by always asking follow up questions and planning next steps.

Sales Tip #2: When there's new information, be proactive in sharing.
If you follow up too often or with no valuable, new, or interesting information, you're going to train leads to ignore you. Instead, reach out when you have new information to share that's relevant to what each lead is looking for. Remember your communication should be about them, not you.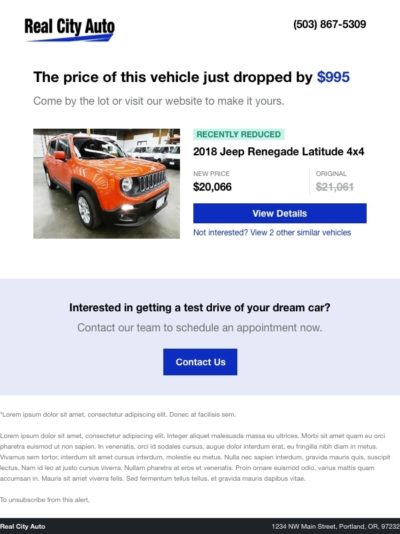 Consider the following reasons to reach out to prospects:
Price Drops. When the price lowers on a vehicle they've looked at or a vehicle that previously wasn't in their price range, let your leads know!
Incentives. When seasonal incentives or offers roll out, make sure interested prospects are the first to know.
New Inventory. New inventory is a great reason to reach out. Whether there's new technology or a brand new model, let leads know when new vehicles arrive on your lot that they may be interested in test driving.
Sold Inventory: If a vehicle your lead was looking at sells, don't assume you've lost that lead. Reach out as soon as possible to let them know and share similar vehicles they may be interested in. This saves them from being in the dark (and lets them know that inventory moves quickly and so should they). It also gives you a chance to turn one sale into two. A study found that 35% of dealerships did not suggest alternate inventory if a lead's first vehicle of choice was already sold. Don't make that mistake—use sold inventory as an opportunity to keep a lead engaged by recommending similar inventory.
Sales Tip #3: Understand what your leads are looking for and when they're interested, even if they aren't telling you.
Only 13% of customers believe a sales person can understand their needs. Correct that perception by following up in a way that lets prospects know you truly understand their wants and needs and can help them find what they're looking for. Sales intelligence tools can help by letting you know where each lead came from, what they have been searching for online, and when to follow up with them.
Level the playing field and use sales intelligence to understand:
What inventory they've viewed. No more 'invisible shopper' or leads who don't tell you what they're really looking for. Use website tracking technology to inform your follow up conversations.
What they're searching for. Look at everything your leads have looked at on your website. Whether they've searched within certain price ranges, researched a trade-in, filtered by color, or viewed lease incentives, you can see a complete record of when each page was visited.
When they're shopping your website. Part of improving your follow-up is knowing when to follow up. If you know when a lead is on your website, you can prioritize the leads you know are in-market, actively shopping your site.
Having a window into the online shopping activity of each lead, with a complete picture of the makes, models, trims, price points, and even colors they're interested in, is a game changer. When you can see what your leads are doing online and understand what they're really interested in, your follow up can be customer-centric and guided by what each lead wants.
Improve Your Customer Experience By Improving Your Sales Follow-Up
Give customers the information they want, when they want it. With the help of these sales tips, you can better tailor your follow-up to each lead and have more effective sales conversations. Not only will that improve the overall customer experience, but it can help you sell more cars.

This blog was originally published on DealerRefresh.

---
For continued sales success, learn how salespeople get the most from their email follow-up and understand what tools can improve lead engagement by downloading this free email marketing guide for auto dealerships.