We're rolling out updated designs for Return Notifications and Missed Notifications, and adding New Lead Intelligence Notifications for Foureyes users. Get the prospect information you need faster, thanks to a clean design refresh and a new alert that notifies you when a new lead views vehicles other than the one they requested information on.
What's New?
Return Notifications
Return Notifications give you more information at-a-glance. Now you can see which prospect returned to your website and what inventory they looked at, including the vehicles they have returned to the most and any vehicles that are new to their search.
You can also see other shopping activity, including total pages viewed and searches performed on your website. Plus, price and recent price drops are now included, so you'll know if there are vehicles a prospect is interested in that were recently reduced in price.

Text notifications offer a high-level summary, while emails provide more insights to inform your follow up conversations. Each notification is sent around 45 minutes after the prospect shopped your website, so you can follow up right away when you receive this alert, without worrying about interrupting prospects while they're still browsing your website.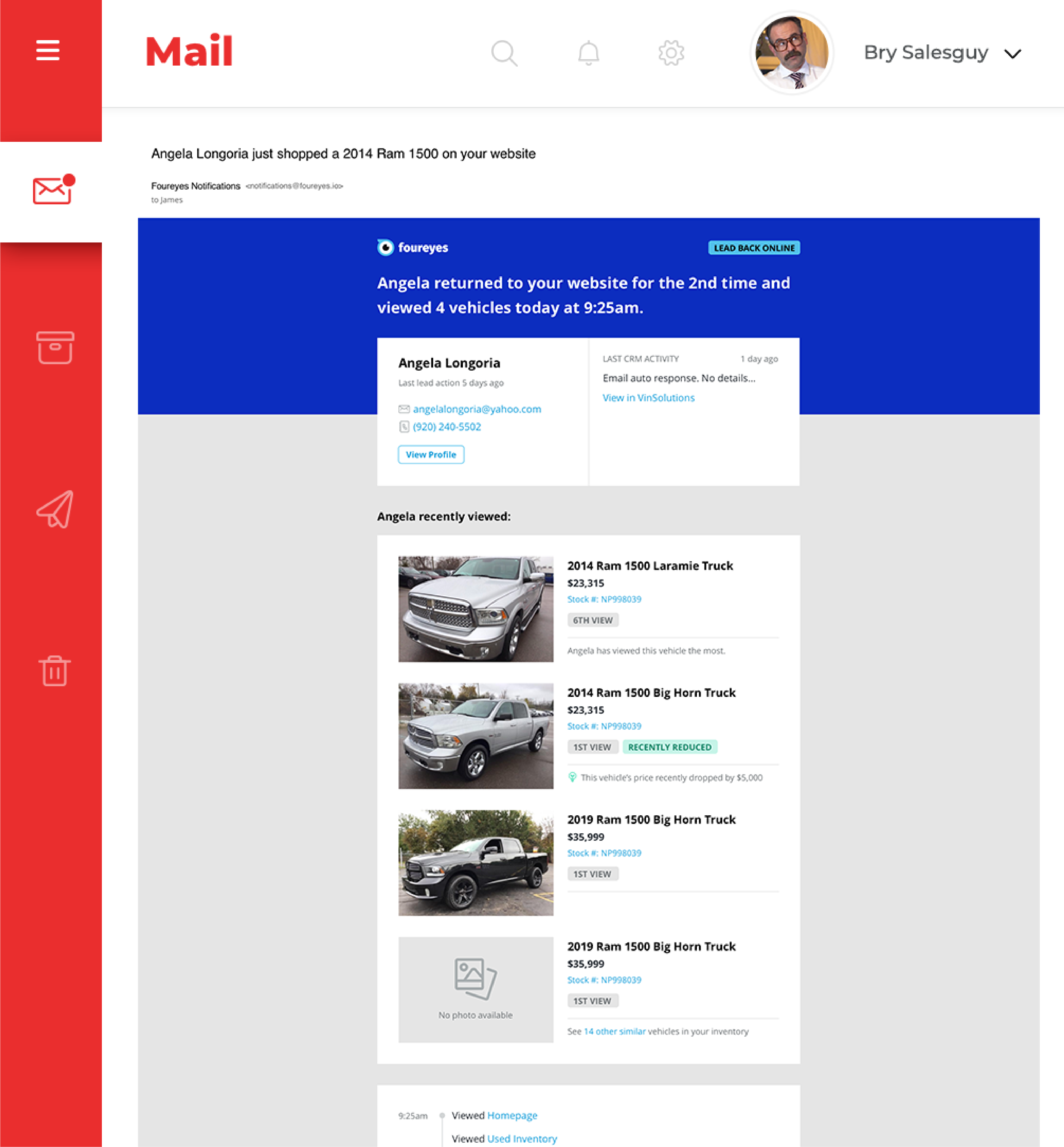 Missed Notifications
Missed Notifications alert you to sales-qualified prospects whose calls are missed or disconnected. Combining CRM data and lead insights, you can review the prospect's history and vehicles of interest before returning their call.
Don't worry about missing out if a prospect is sent to voicemail, calls while the dealership is closed, hangs up, or is disconnected. Timely follow up can make all the difference and with inventory preferences included in alerts, you can spend more time making sales and less time logging in to different sales tools.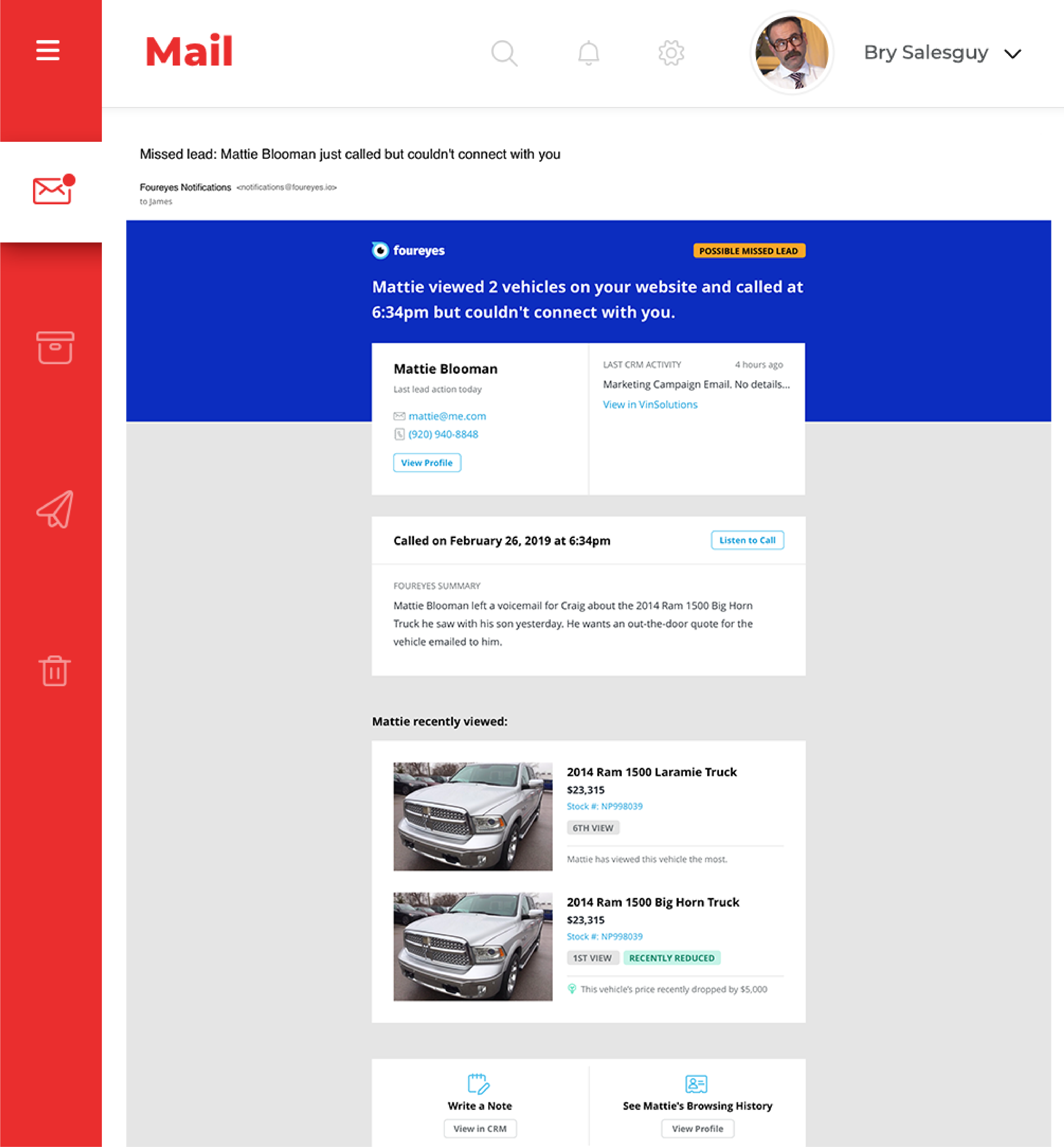 New Lead Intelligence Notifications
New Lead Intelligence Notifications let you know when a new lead has viewed other inventory online.
If a new prospect fills out a form about a sedan, but also looks at multiple truck inventory pages – you'll receive a New Lead Intelligence Notification. Anticipate each lead's needs and preferences, even if they don't tell you what they're really interested in, with notifications that are sent 45 minutes after the lead activity via text or email.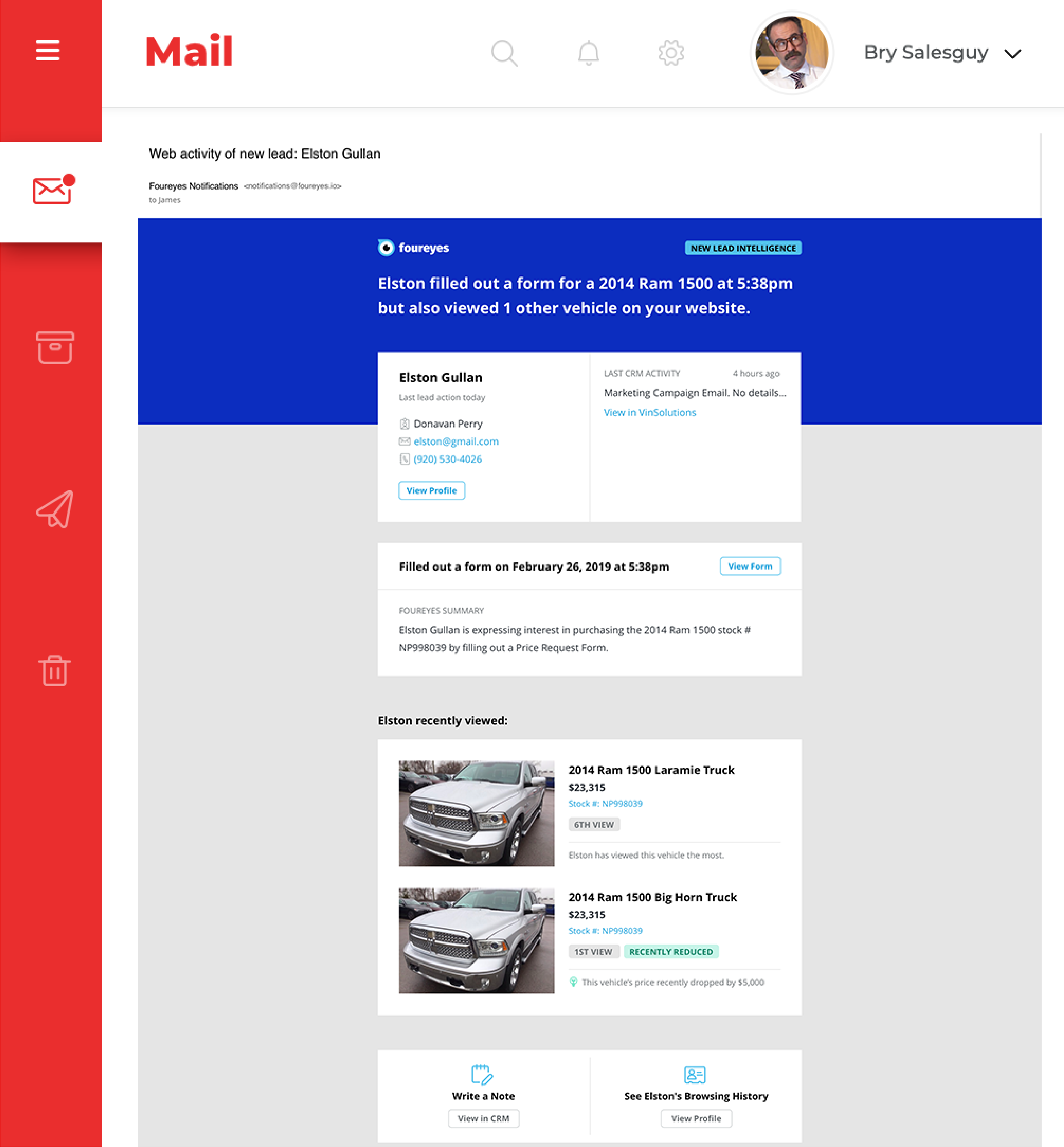 Notification Tags
Email alerts for Return Notifications, Missed Notifications, and New Lead Intelligence Notifications all include 'Notification Tags' in the upper right hand corner of the email so you can quickly distinguish what type of notification you're receiving. Use these tags to prioritize and determine what type of follow up is needed:



What's Next?
We have more great updates in the pipeline, but your feedback is essential to informing future updates and improvements to Foureyes. If you're a current Foureyes user, let us know what you like, what you love, and what you think could be better by emailing [email protected]
If you're not currently a Foureyes user, watch a demo to learn more about the sales intelligence platform that helps dealers increase their close rates. We would love to partner and drive results for your dealership!