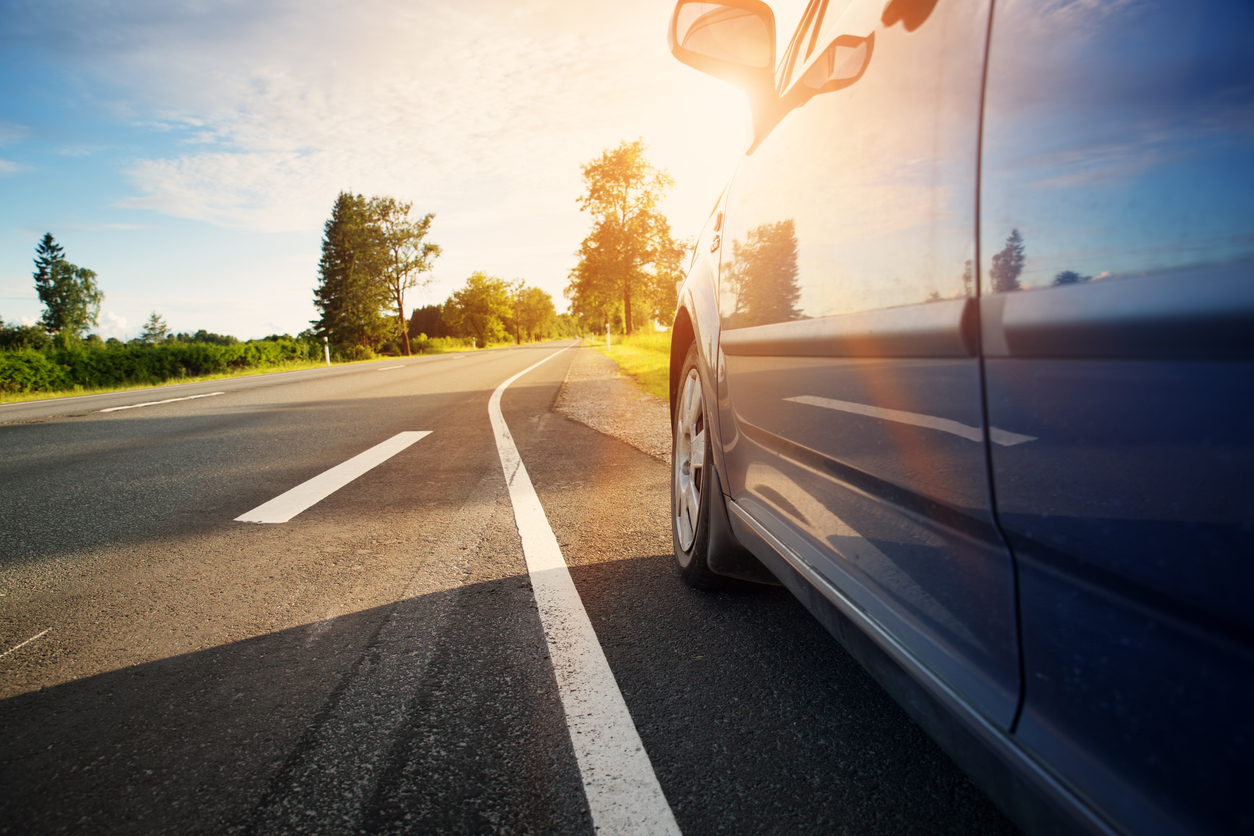 The beginning of a new year is a great time to review your sales performance against new industry benchmarks for the coming year.
We analyzed performance data from automotive dealerships across the country over the last year (November 2017 - 2018) to report on unique and important auto industry sales and marketing benchmarks for 2019. Looking at Foureyes data from 150 million automotive website visits, we focused on three key performance indicators that directly impact your phone and web lead pipeline. Does your dealership already track these metrics? If so, where does your performance stand in the industry? Keep these industry benchmarks in mind as you set competitive sales goals for 2019.
Sales Qualified Leads by Channel
Most dealers track the source of their leads, but simply analyzing your entire pool of leads by marketing channel is inaccurate. Why? Because your pool of leads is diluted by bots, solicitors, job seekers and car service leads.
To spend smarter, you need to find the channels that deliver the best sales leads, not the most leads, for your dealership. By filtering that data down to your sales-qualified leads and/or your sold leads, you'll see clearly what's really impacting your bottom line.
In our data, we see the following: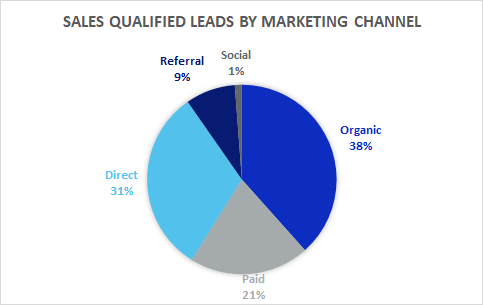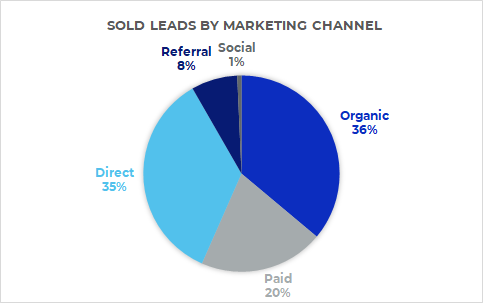 Once you know where your auto dealership's sales-qualified leads are really coming from, you can make even smarter marketing decisions.
Which search terms get you the most organic sales-qualified leads? Which ad platforms deliver the best paid sales-qualified leads? Doing this research will help you improve the quality of your leads in 2019.
Dig into this data yourself or speak to your digital provider so your team can generate more, better leads.

Sales Process Efficiency
Sales process often has a bigger impact on lead engagement and conversion then dealers expect. Sales process efficiency is measured through lead handling indicators like CRM utilization, missed calls, and follow-up response time.
In 2018, we found these industry averages:
14.1% of sales-qualified leads did not make it into the CRM
10.0% of calls from sales-qualified leads were missed
39.5% of sales-qualified leads did not receive timely follow-up within 3 days
99.5 seconds was the average call wait time
These indicators might seem like common sense to your sales team but, in reality, there is a lot of room for improvement for sales teams here. These findings do not reflect healthy sales processes. How many opportunities have you lostbecause a salesperson forgot to log a lead in your CRM? What is your average call wait time?
Understand how your dealership is performing and start monitoring these metrics regularly in 2019. Use them to hold your team accountable to a higher sales process efficiency. They will help you improve the buyer's experience and move them further down your sales pipeline. You will see it pay off through increased response rates, conversions to in-person visits, and more sales.
Close Rate
Just like marketing channel data, there's extreme value in filtering your close rate to reflect your performance for sales-qualified leads only. It is the most accurate snapshot on the performance of your sales team and you can develop more realistic sales forecasting as a result. Using a 30-day lookback window, we found these industry averages for phone and web leads:
| TYPE OF AUTO DEALERSHIP | AVERAGE CLOSE RATE |
| --- | --- |
| Luxury dealers | 9.5% |
| Small dealers, with less than 7,500 website sessions/month | 10.7% |
| Medium dealers, with 7,501-15,000 website sessions/month | 11.6% |
| Large dealers, with 15,001 | 11.5% |
| OVERALL | 11.4% |
An average web lead close rate of 11.4% across all automotive dealers presents a significant opportunity in the industry for better business and sales intelligence. Most dealers believe that their close rate is generally higher, at about 18-20%. What actions can you take next year to improve the accuracy of your conversion data and analysis?
Beat these benchmarks in 2019
This year, make sure you don't just track these metrics accurately—work to beat our benchmarks (or your own). Data drives success, giving you the most accurate pulse on the key external and internal factors impacting your sales pipeline. Take advantage of it.
Complete the form below to download the complete infographic and compare against your own metrics.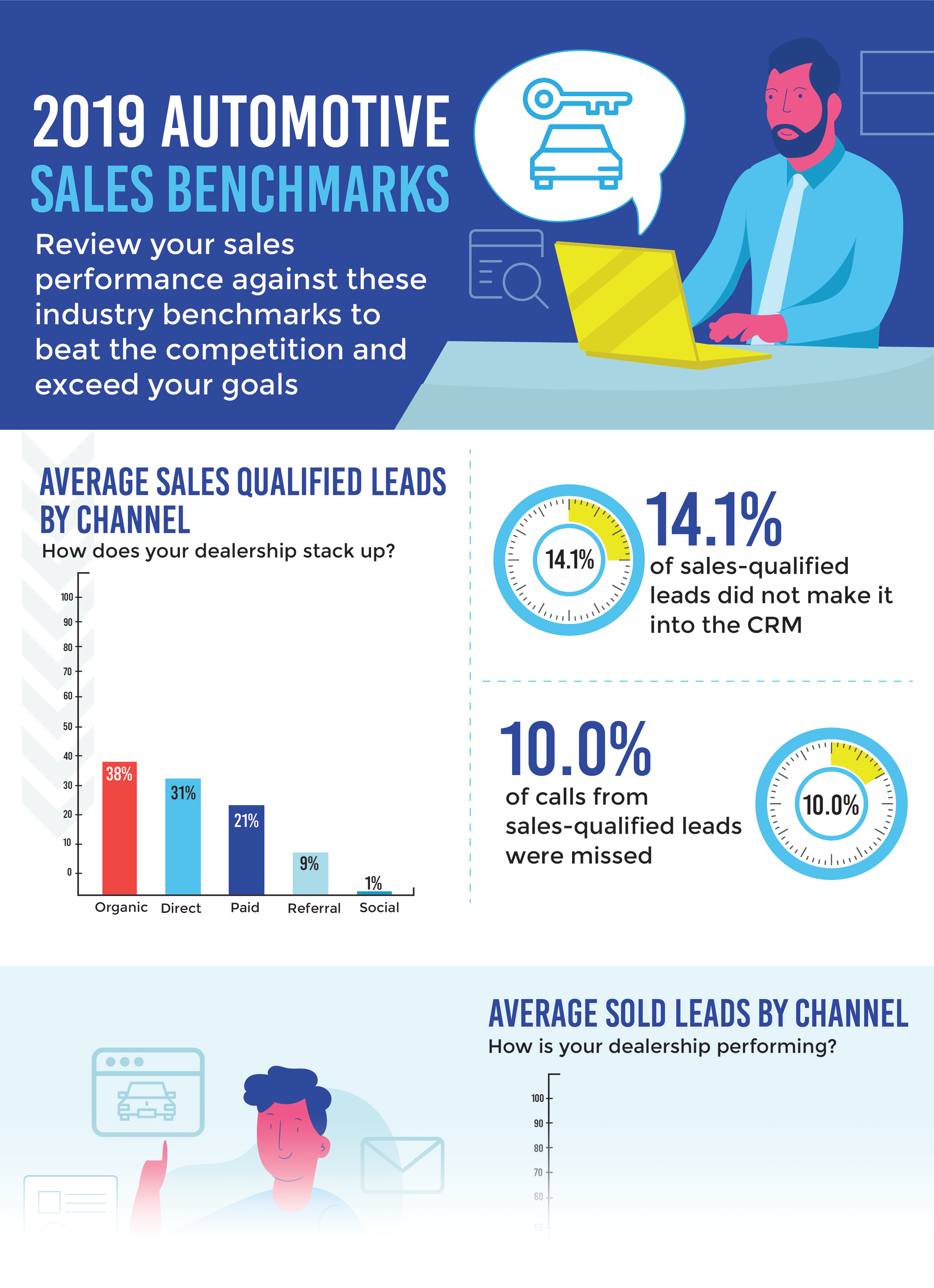 Looking for a simple way to track and analyze these metrics? Looking to make data more actionable? Let's talk about how your dealership can achieve this with one of our Foureyes products. Watch a demo to learn more about how dealers are increasing their close rate and developing better sales insights with our patented technology.