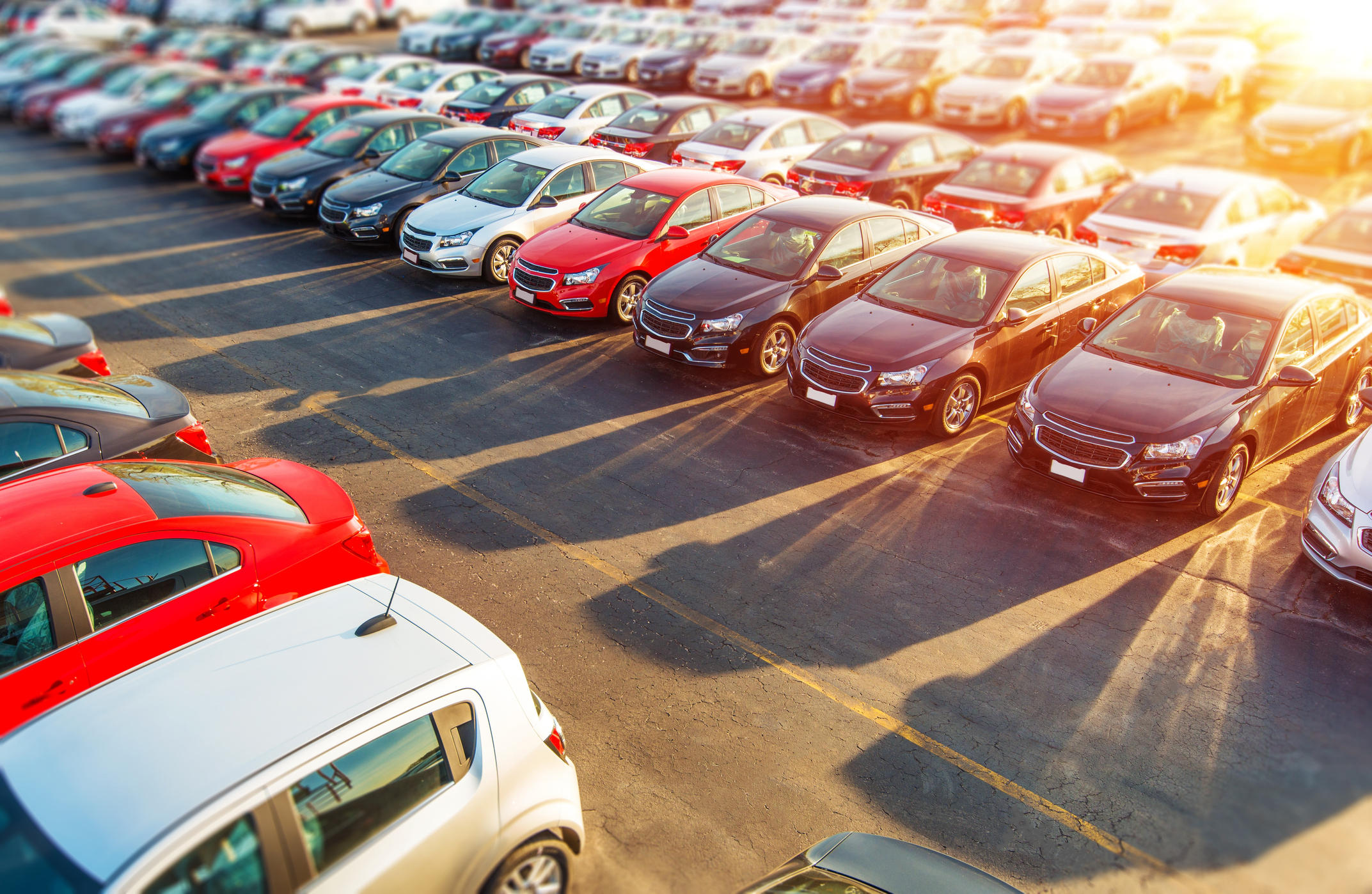 Dealers and manufacturers put a lot of effort into certified pre-owned (CPO) programs. And for good reason: they help dealers attract new buyers, sell off lease inventory, and bring in work to their service departments. But even with the benefits of a CPO program, everything that goes into a factory CPO badge is only worth it if you're consistently selling CPO vehicles.
To move CPO inventory quickly and consistently, you need to market it correctly. Increasing CPO sales should be a part of your overall marketing goals, integrated in everything from SEM to SEO. Here's how:
Digital Advertising
Digital advertising is an effective way to promote and sell CPO vehicles. Used car buyers tend to know the make, model, and year they're looking for, so you should build inventory-specific as well as general campaigns. Run general campaigns with keywords like 'Certified Pre-Owned Kia Dealership' and 'Certified Pre-Owned Kias for Sale' keywords, but also run ads for specific inventory queries like "Certified Pre-Owned 2015 Kia Optima."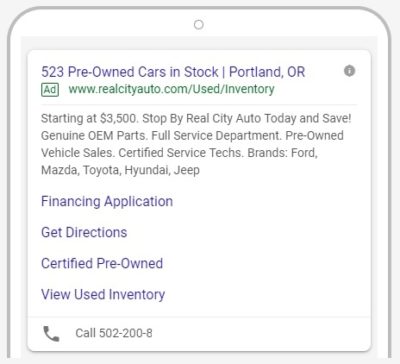 The more specific your ad, the better. If there are certain specs or price points a shopper is searching for, detailed ads let them know the high-level details at-a-glance, so they'll only click through if they're really interested. In the ad headline and copy, in addition to the make and model, include the year, color, price, and quantity in stock. Your ads should sync with your inventory daily so this information stays accurate and you never waste ad spend on sold inventory. Use dynamic ad technology that will insert the exact specs and price into your ads, and pause ads as soon as a vehicle is removed from your website. And always use Google Ad Extensions. 60% of consumers searching for vehicles on mobile would call the dealership from a call extension. Call extensions are proven to increase both ad performance and click-through rate; take advantage of address, phone number, and link extensions to get greater visibility and more value from each ad.
Email
Include CPO inventory in your email marketing campaigns. To keep the focus on sales, include specific CPO vehicles in personalized email outreach to warm leads. Run 'suggested vehicle' and 'not available' campaigns that target leads who have recently been browsing inventory on your website. 'Suggested vehicle' campaigns let them know about new inventory on your lot or similar vehicles they may be interested in, while 'not available' campaigns let them know when a vehicle they've looked at has sold and provides other inventory they may be interested in.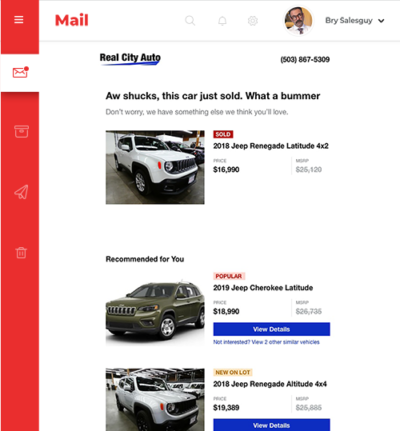 A Dealix survey found that 35% of dealers did not suggest an alternative if the lead's vehicle of choice was already sold. Don't make this mistake—use email software to proactively notify leads of similar recommendations if a vehicle they looked at has sold. Inventory-specific email campaigns that incorporate CPO inventory give you the opportunity to bring CPO vehicles on your lot right to interested leads.
Again, the more specific the email, the better. Use a dynamic email tool that sends emails triggered by customer and website activity, so these campaigns can be fully automated. By proactively sending CPO inventory to customers based on their vehicle preferences, these emails will complement the work your sales team is already doing and bring more eyes to your CPO program.
Search Engine Optimization (SEO)
Optimize your website to make sure you're ranking for relevant 'certified pre-owned' and 'used' keywords. 76% of new and used vehicle shoppers use search engines before buying; it's essential that your dealership show up in CPO results.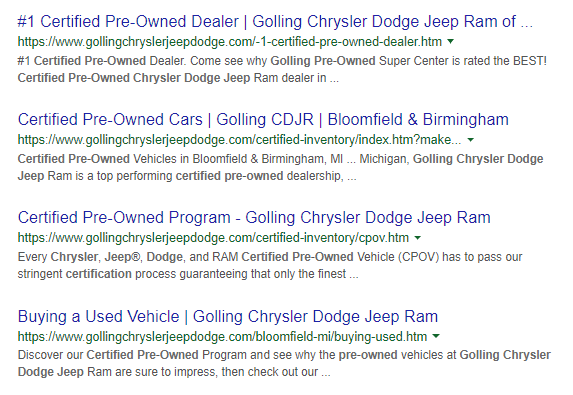 Remember you're optimizing for both search engines and car shoppers, so you should use these keywords naturally across your website. Here are a few ways to help your website rank for CPO keywords:
Build landing pages focused on groups of CPO inventory. For example, create pages for 'certified pre-owned SUVs' or 'certified pre-owned cars for less than $20,000' with filtered inventory listings or recommended models.
Post blogs or resources focused on CPO and used inventory. Explain the process a vehicle goes through in order to receive a factory certified pre-owned badge, share walkaround videos of CPO vehicles, detail the inspection checklist that your dealership runs used vehicles through, etc. Get creative—the possibilities are endless.
Get technical. Use 'certified pre-owned' keywords in title tags, meta descriptions, URLs, heading tags, and image and alt tags. Where relevant, use CPO keywords as anchor text and link to the landing pages and resources you've created across your website.
Social Media
Social media is another effective channel for marketing your CPO inventory. 33.5% of recent car buyers find social networks equally as helpful as dealership websites. Use your dealership's social profiles to post about specific CPO vehicles, link to the landing pages and resources you created for SEO value, and let audiences know about specials or incentives specific to CPO inventory. Include regular posts about used inventory in your content calendar and consider promoted posts to reach the exact audience who may be interested in buying certified pre-owned vehicles.
Social media advertising is especially powerful for marketing CPO inventory. Facebook provides robust targeting options and allows you to create Custom Audiences using your current customers' contact information, as well as Lookalike Audiences that use your existing customers to find users with similar interests and demographics on Facebook. Additionally, you can use the Facebook Pixel to run dynamic ads that show potential customers only the vehicles that are most relevant to them.
Marketing Your Certified Pre-Owned Inventory for Sales Success
You've put in the time and effort to run a factory certified pre-owned program, now it's time to get the most from your CPO inventory by promoting it across your marketing channels. Interested in continuing the conversation and learning how Foureyes can help you get the best results? Get in touch to discuss the sales intelligence platform that helps auto dealerships sell more certified pre-owned inventory.
This blog was originally published on DrivingSales.