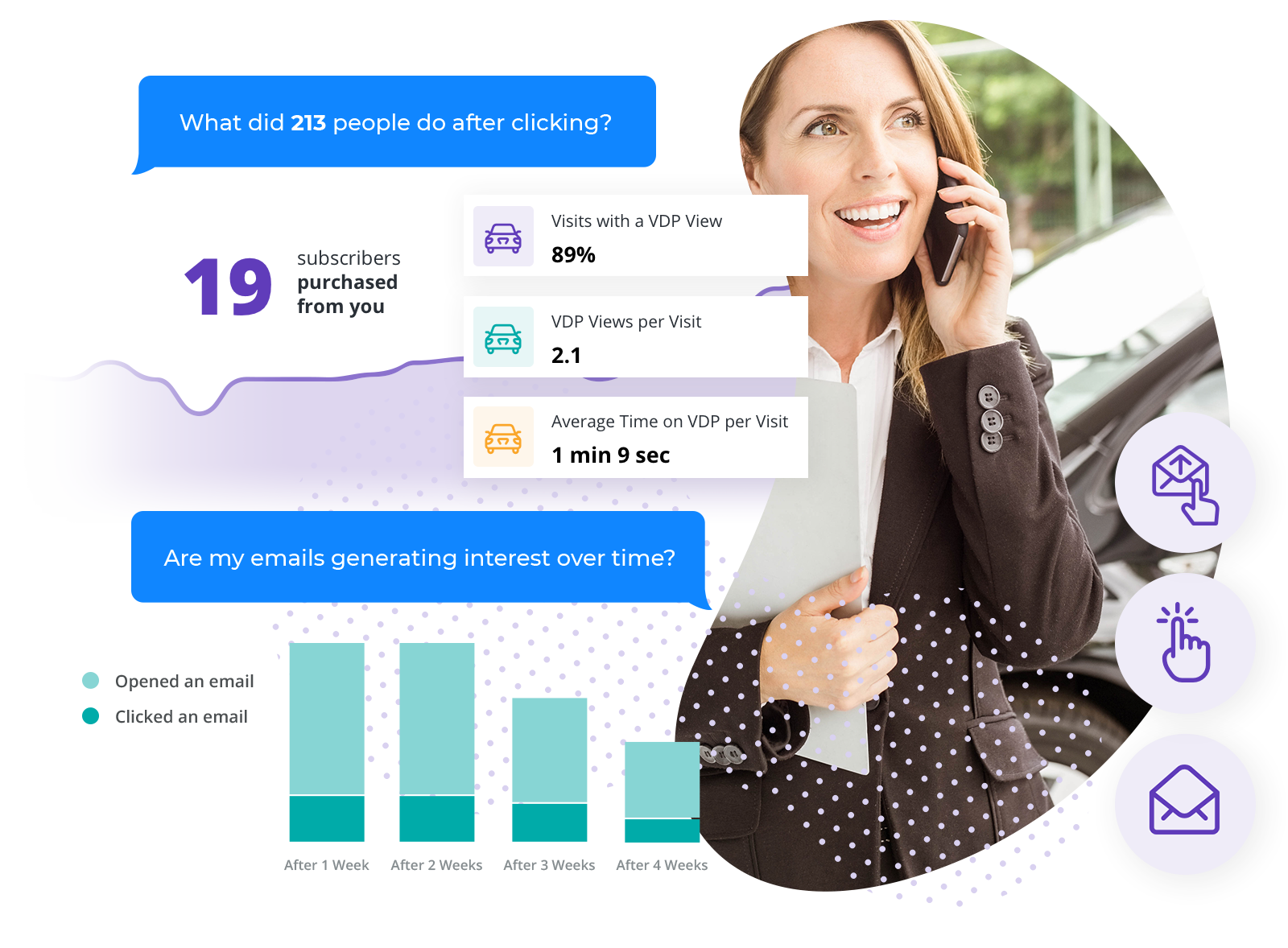 In automotive, email marketing should be a key part of a dealership's sales strategy, but it is often underutilized. Smart, personalized communication can have a tangible impact on your bottom line; in fact, 59% of all motorists said that they visited a car lot because of an email from the dealership.
To better connect email to results, here's your guide to some of the most popular email types used in automotive, ranked from least to most effective, with tips to make them more valuable sales tools.
Dealership Newsletters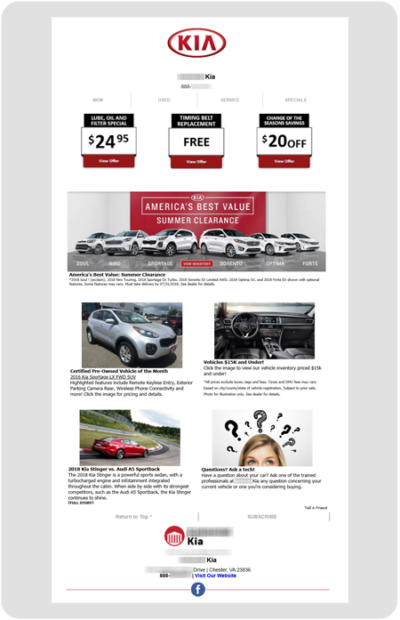 Goal: Awareness, to keep your dealership top-of-mind
Audience: Everyone in your database, including past, current, and prospective customers
Cadence: Often quarterly or monthly
Content: Varied, often including awards won for certain vehicles on your lot, dealership news, upcoming events, local community involvement, sales or promotions, service specials, and tips for maintenance or purchasing a vehicle.
Type: Semi-automated
While newsletters can be an effective way to engage with customers and stay top-of-mind, they are the least effective type of email for sales. Newsletters are more awareness-oriented, and they are usually filled with competing messages that make it hard to focus your audience on buying a vehicle.
TIPS TO MAKE DEALERSHIP NEWSLETTERS MORE EFFECTIVE
Continue to include informational and local, community-driven content, but make sure you're prioritizing sales messaging. Consider sending on a more frequent, monthly basis to feature new inventory, popular models, leasing specials, and other timely information to entice car shoppers. 34% of dealers send emails seasonally, quarterly, or bimonthly. If you get into the rhythm of sending monthly updates, you can more specifically frame the newsletter content around a promo or upcoming sales event.
Sales Event Emails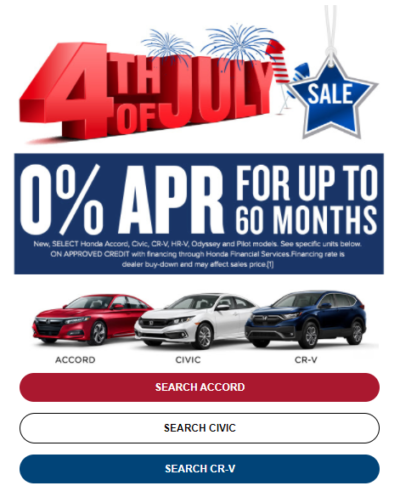 Goal: Engagement, to encourage shopping the event or asking about the sale
Audience: Can include everyone in your database, including past, current, and prospective customers, or segment to just current leads
Cadence: Often monthly or bi-monthly
Content: Terms and details about the promotion or incentive
Type: Semi-automated
Event-specific emails are a more effective sales tool than newsletters because the content is specifically optimized for conversion. The message is very clear: take advantage of these great deals. Anyone who converts on these emails with a response, call, booking, or visit to your lot is taking a step forward in the car shopping journey and indicating an interest in purchasing a car from your dealership.
TIPS TO MAKE SALES EVENT EMAILS MORE EFFECTIVE
Don't just send it and forget it—establish a follow-up strategy based on engagement with these emails. For everyone who opens the email or clicks on content, make sure a salesperson calls or emails them to personally invite them to shop the event. Leverage what you know about each lead based on website visitor tracking to personalize this 1:1 follow-up. Highlight relevant promos and speak to each lead's specific vehicle interests to increase engagement.
Personal Sales Outreach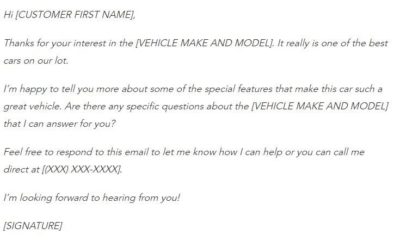 Goal: 1:1 communication, to engage a sales prospect in conversation
Audience: An individual lead
Cadence: Flexible, depending on engagement
Content: Focused solely on the lead and advancing the conversation
Type: Manual
While this type of outreach is heavily manual, personal emails can be more effective than automated mass emails because you are conversing one-on-one with your lead. Depending on your knowledge of the lead and any previous interactions, use a personal email to set up a test drive, provide pricing or financing information, share vehicle recommendations, and provide any additional details that address their specific needs and interests.
TIPS TO MAKE PERSONAL OUTREACH MORE ENGAGING
Although it can be time consuming, don't copy and paste the same email template every time. It's the personal element that makes these emails effective, and it's important to personalize beyond just the lead's name in the email copy. 87% of consumers said that dealer email replies didn't speak to the value of the vehicle they were interested in and 56% of consumers said they didn't even address the availability of the vehicle they inquired about. Don't make this mistake—instead, leverage tools that provide talk tracks and help your sales team write personal emails that will resonate with prospects.
Dynamic Vehicle Recommendations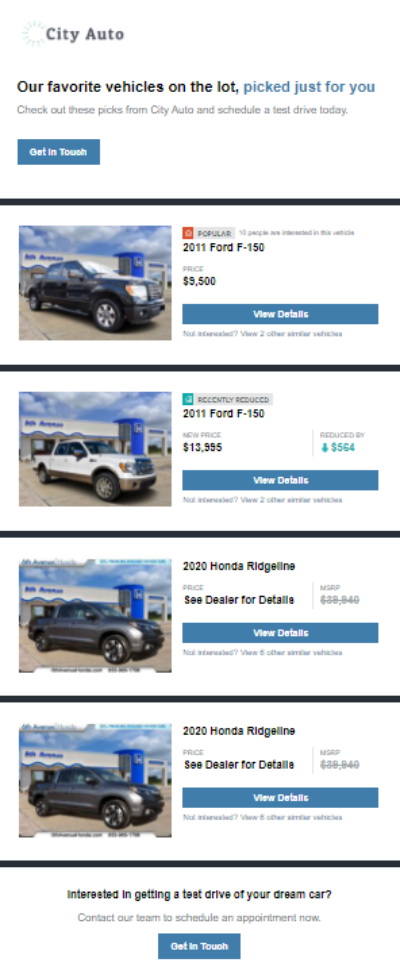 Goal: 1:1 communication, to engage a sales prospect by providing vehicle recommendations and relevant updates based on changes to in-stock inventory that align with their interests
Audience: All active leads, with content personalized to each lead
Cadence: Ongoing, depending on engagement
Content: Focused solely on the prospect and their vehicle interests
Type: Automated
This email type is significantly more effective than your standard triggered emails. Dynamic, inventory-based emails allow you to hyper-personalize content to each lead's vehicle interests. While triggered emails typically deliver the same templates to each lead, dynamic inventory updates are responsive to lead activity on your website and the content delivered is personalized based on the inventory they showed interest in. As a result, dynamic email technology serves as a scalable solution to personal email outreach.
TIPS TO USE INVENTORY EMAILS TO MOVE THE SALES NEEDLE
The best part about dynamic email technology is that it's relatively hands-off. Once tracking is in place and synced with your CRM, personalized inventory updates can be sent to all active leads. To move the sales needle, make sure you can update automation preferences to work with your sales process. Also consider testing different banner images, colors, and copy to see what increases open rates and engagement. Experimenting with frequency and pairing with personal follow-up can also improve results, just make sure to only test one variable at a time to learn what change delivers the best results.
Dynamic Price Drop Notifications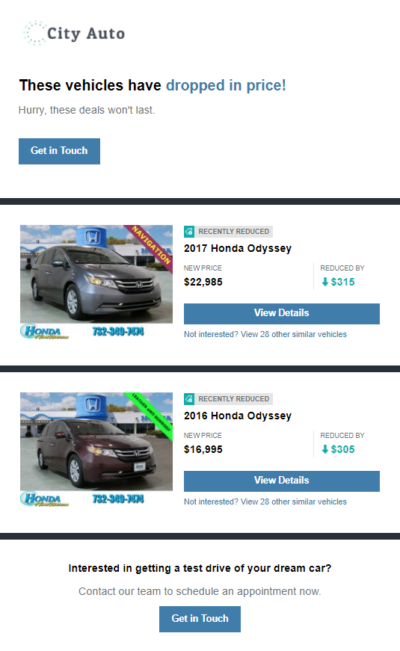 Goal: 1:1 communication, to engage a sales prospect by providing price updates
Audience: All active leads, with content personalized for each lead
Cadence: Ongoing, depending on engagement
Content: Focused solely on the prospect, their prior views, and vehicle interests
Type: Automated
In addition to vehicle updates or suggestions, with dynamic email technology you can send personalized emails to interested shoppers when prices change on relevant inventory. The vehicle and price information in each email will be unique to each lead and the inventory they've viewed on your website. For shoppers who are keeping an eye out for a specific model or price point, these personalized emails contain the exact updates they want to receive and can result in open and click-through rates well above industry averages.
TIPS TO LEVERAGE PRICE DROP EMAILS TO ENGAGE LEADS
Be strategic with the price changes you make on your website to use price drop emails to help market and move specific inventory faster. Update your website as soon as you get incentives from your OEM or determine a new price—doing so will trigger personalized emails for customers who have shown an interest in your priority inventory.
Ready to get the highest return from email at your auto dealership? Sign up for a 60-day free trial of Foureyes Prospect Engagement to put dynamic email to work at your dealership.