Once the coronavirus outbreak was declared a pandemic and businesses nationwide were shuttered, vehicle sales in the U.S. saw a steady decline over a four week period. Comparing new car sales from March 14-April 13 to the previous period (February 12-March 13), nationwide sales dropped by an average of (-41%).
In the weeks that followed, OEMs rolled out strong incentives to encourage sales. Foureyes collects data from more than 18,000 new car franchise dealership websites each day, and from February 2 through the week of May 31 compiled data from more than 3 million new vehicle sales across dealerships representing 13 brands and OEMs, monitoring pricing changes and sales.
Nationwide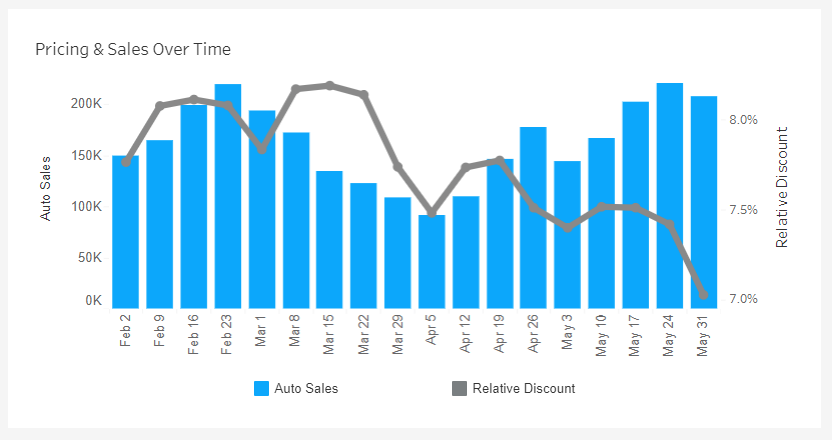 Nationwide, average relative discounts were at their peak from March 8-28 and the largest discounts off MSRP were all offered prior to April 5, the worst week for vehicle sales. In April and May, auto manufacturers rolled out a variety of incentives focused on 0% financing, cash back, and rebates. With uncertainty around stay-at-home orders and their impact on the economy, the emphasis during these months seemed to be less on sticker price and more on financing. During February and March, the average nationwide discount was 8.1%, but following the week of April 5 it dropped to an average of 7.6%.
So what brands and incentive strategies won for this time period?
Winning Pricing & Incentive Strategies
Digging into discounting strategies by individual auto brands, you can see that there is not a one-size-fits-all strategy that correlates with auto sales. Of the 13 automotive brands that make up this dataset, there are two discounting strategies that stand out due to the lift in sales these brands saw when comparing data from the end of February to the end of May.
Hyundai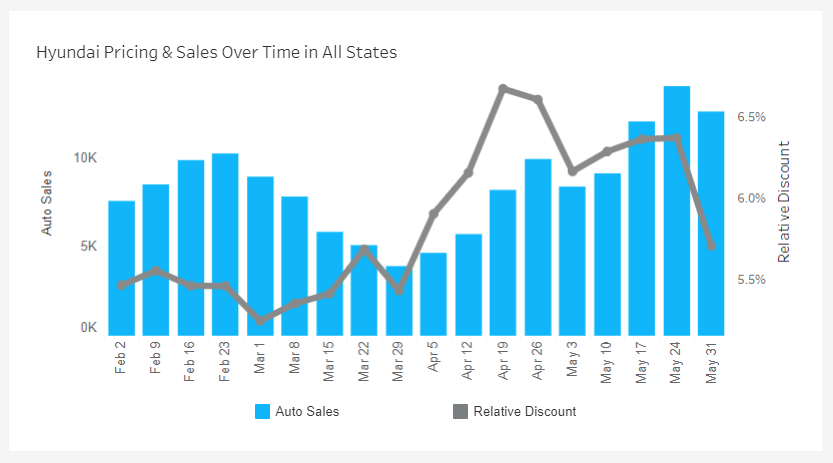 Looking at sales performance before and after its lowest drop, Hyundai saw the greatest increase in sales (+36.85% from the week of February 23 to May 24). Interestingly, Hyundai was one of the automotive brands that had a discounting strategy that did not align with the nationwide trend. Hyundai's relative discount below MSRP increased in April and May to an average of 6.8%, compared to an average of 5.7% in February and March. Hyundai's strategy appeared to pay off as its sales were up (+257.65%) comparing the week of March 29 to the week of May 24.

Ford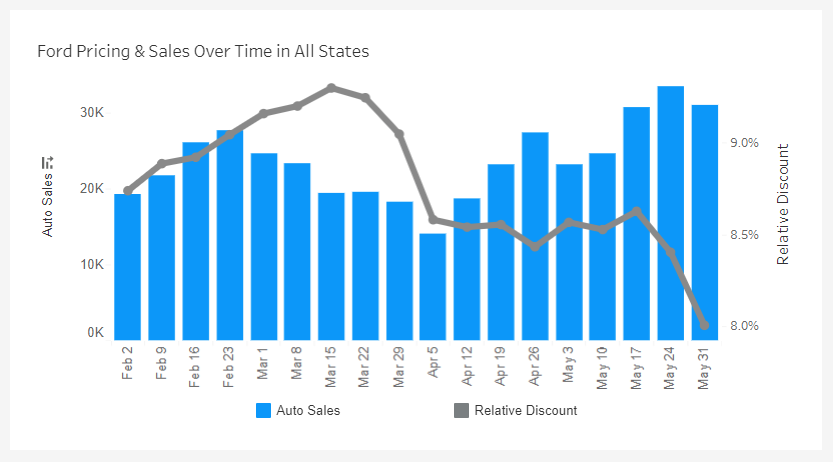 Ford sales were some of the most stable during this same timeframe. Comparing the week of April 5 to the week of February 23, Ford saw a (-49.4%) drop, but then a (+137.6%) increase from that week of April 5 to the week of May 24. Ford's best week for car sales was May 24, outperforming its second best week of February 23 by (+20.24%). Ford's average discount aligned with nationwide trends. Ford advertised a 9.0% discount off MSRP on average and also offered 0% financing on most models, as well as rebates as high as $3,500 on some models.
Advertised Discounts & Auto Sales
GM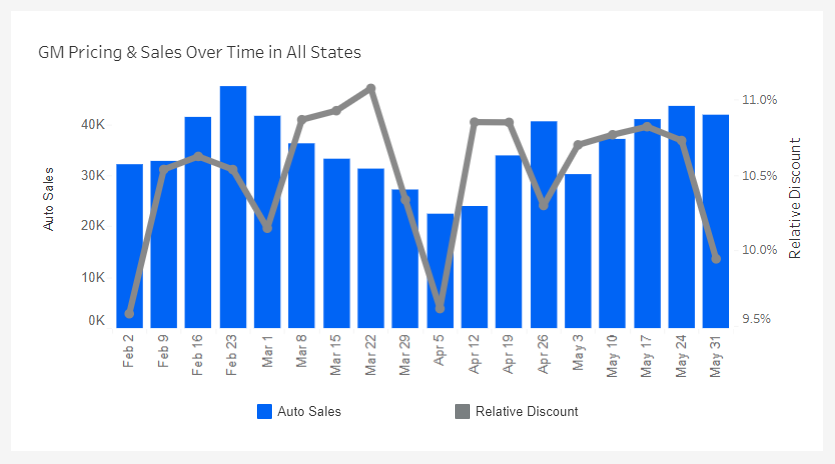 Not every brand was able to see their sales increase by the end of May. GM maintained relatively stable sales during this period, but comparing the week of February 23 to the week of May 24, GM saw a (-8.75%) drop in sales. Interestingly, GM consistently advertised the steepest discount—10.9% on average, increasing to 11.5% during the week of March 22. Offering a high percentage off MSRP seems to be a consistent strategy for GM. Between February and May, the relative discount for GM dealers did not drop below 9.9%. GM also offered up to $5,000 cash back and 0% financing on leftover models.
FCA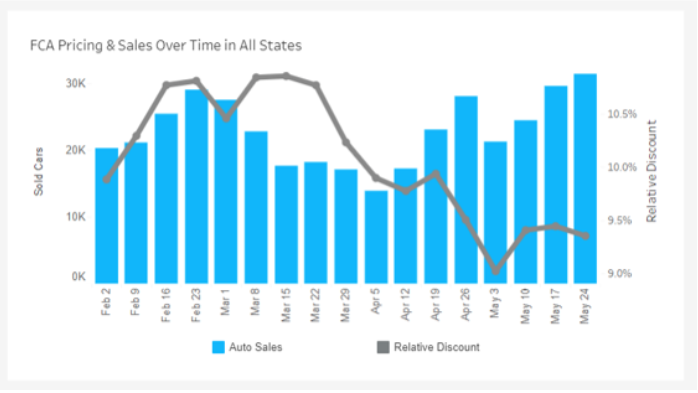 FCA is another brand that advertised a large discount off MSRP. Over this four month period, FCA advertised a 10.2% discount on average, aligning with the nationwide trend and decreasing its advertised discount after February. FCA also rolled out 0% financing and up to $7,000 cash back on some models. Compared to GM, FCA saw better sales performance by the end of May. Looking at the week of February 23 vs. the week of May 24, Ford saw a (+5.69%) lift in sales.
Mercedes-Benz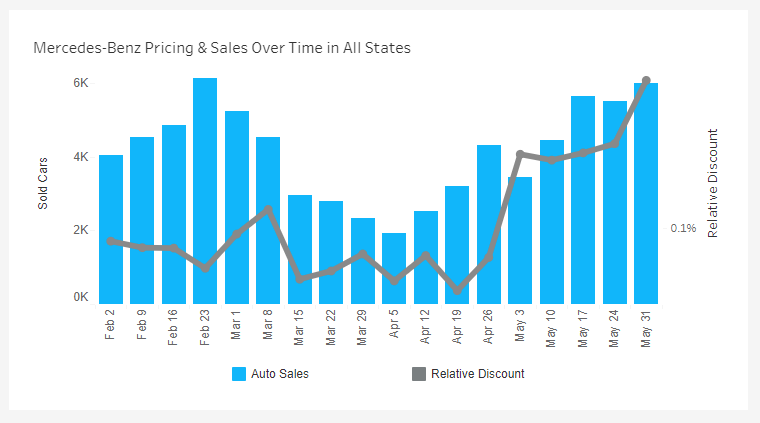 On the other end of the spectrum, Mercedes-Benz offered 1.9% financing for up to 36 months on some models and advertised the smallest discount off MSRP. Its average advertised discount was 0.1% during this period, increasing fractionally to a 0.2% discount during the week of May 31. This is largely due to Mercedes-Benz dealers not displaying prices on their website, but even without advertised discounts, Mercedes-Benz sales followed a similar trend line as the rest of the market. It's interesting to note that despite adopting almost opposite discounting strategies, Mercedes-Benz saw similar results to GM when comparing sales from the week of February 23 to the week of May 24 (-8.98%).
What's Next
As states toggle between varying phases of open and closed, the next question on everyone's mind is how inventory availability will impact auto sales this summer. We're continuing to monitor nationwide trends and will unpack the relationship between inventory levels and auto sales in the coming weeks. If you're interested in digging deeper into pricing and discount trends, check out these publicly available data visualizations.Or, if you'd like to be the first to know about inventory availability data, sign up for updates from Foureyes.