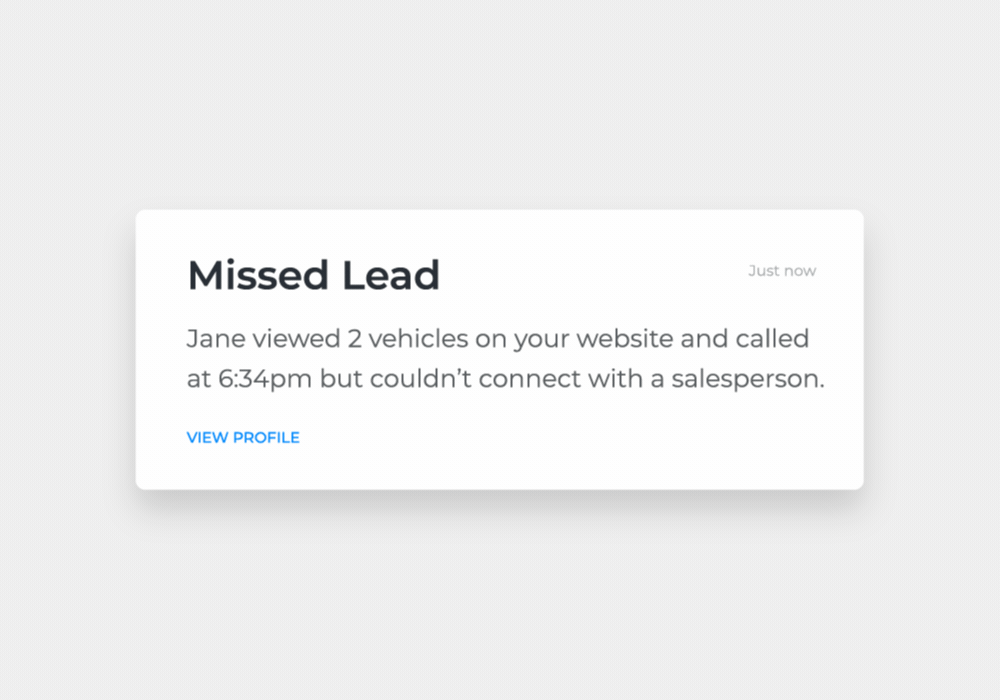 We're introducing new notifications and settings for Foureyes to help Sales Managers find more sales opportunities for their team and to give all users more control over how and when they receive notifications.
What's New?
New Lead Logged and Possible Missed Lead Notifications for Sales Managers
Sales Managers can now opt in to receive Lead Logged and Possible Missed Lead notifications for all leads, regardless of who they are assigned to. These lead notifications provide real-time visibility into opportunities spotted by Foureyes, allowing you to engage with leads that you otherwise would not know about. Now managers can ensure leads who may have fallen through the cracks get the attention they need, plus find in-the-moment opportunities to coach their team.
Possible Missed Lead notifications are sent when a lead is marked missed by Foureyes, meaning they were sent to voicemail, their call was disconnected, or they were not able to connect with their salesperson when they called. Timely alerts help you make sure each lead receives a call back as soon as possible—it's one way many dealers have saved deals using Foureyes. Managers can rest assured that the dealership never misses a lead again, so they can continue to provide the best customer experience.
Lead Logged notifications are sent when a lead is not found in the CRM 60-80 minutes after it occurs and Foureyes sends it in. Managers can rely on Foureyes to ensure all website leads are logged in the CRM, so they can focus on providing a timely response to the lead's request and ensure the lead is included in their follow up process.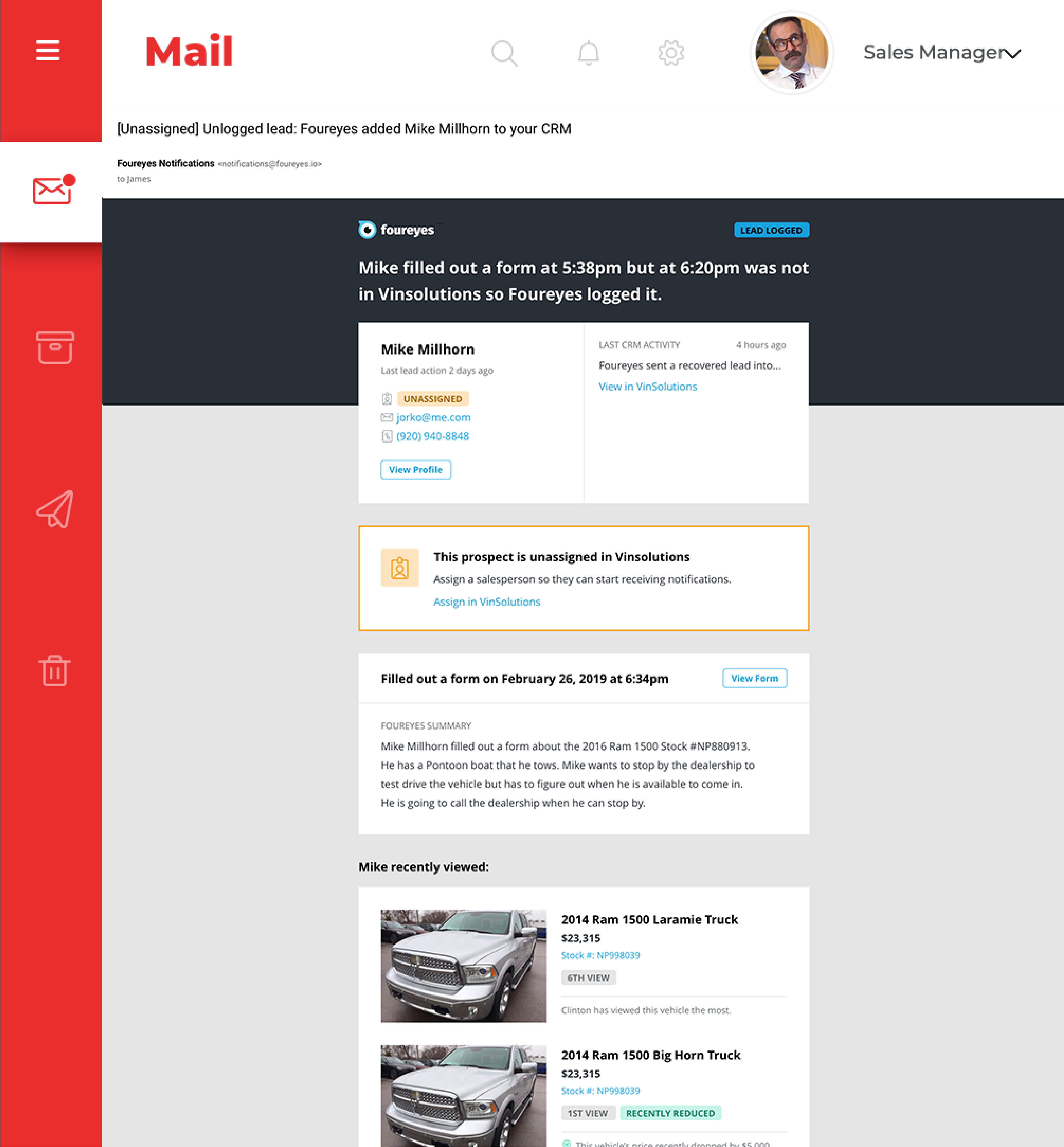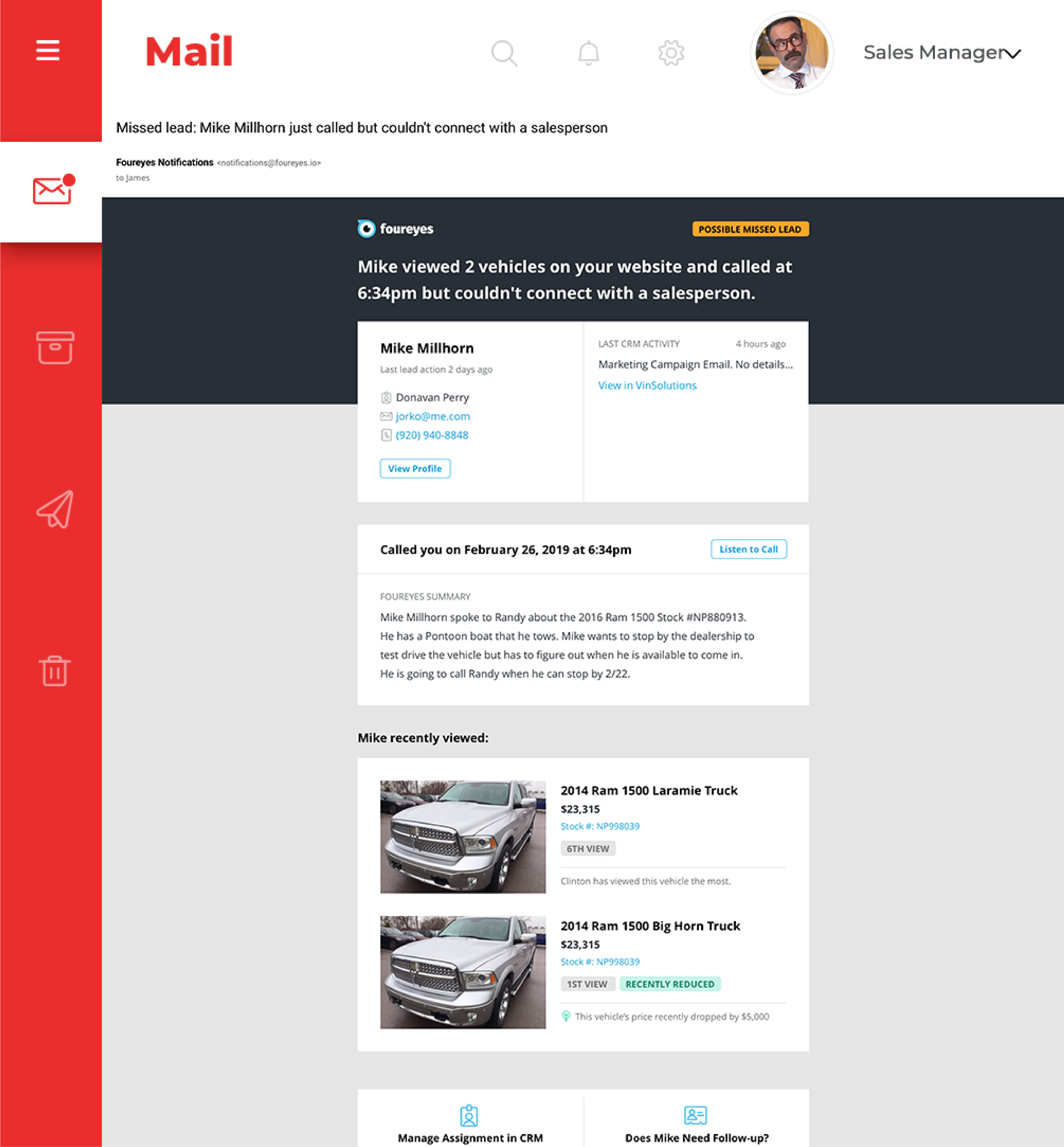 New Settings & Preferences for All Users
There are two major updates to notification settings for all users:
All users can now receive real-time alerts by both email and text message. You can still choose either email-only or text-only if you prefer, but the option to receive both email and text notifications at the same time is now available.
All users can now set 'do not disturb' hours. This gives you the flexibility to determine when you do and do not want to receive real-time alerts, regardless of the dealership's business hours.
We have updated the Profile & Preferences page to accommodate these new settings. Log in to set your preferences and check out the new look.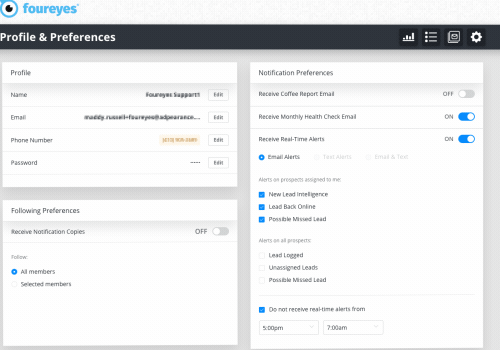 What's Next?
We're always working on updates and improvements, thanks in part to your feedback! If you're a current Foureyes user, share your input and ideas for the product by emailing [email protected]. If you're interested in sharing a product review, let us know how we're doing on DrivingSales!