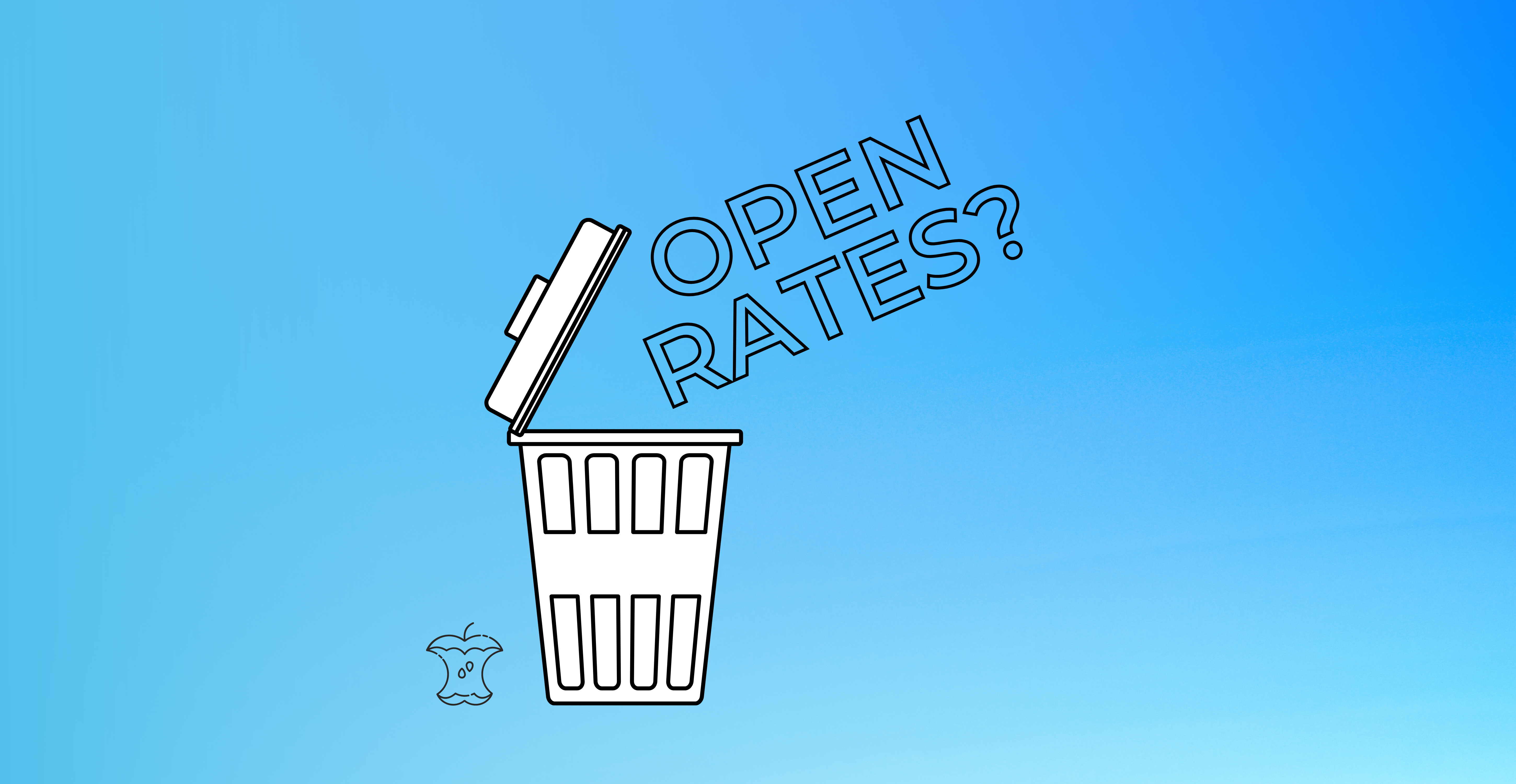 Since the fall of 2021, Apple Mail Privacy Protection updates have been changing the email marketing game.
We see the impact of these changes on brands that rely on email to connect with prospects and customers. We also see it first-hand as a partner for automotive dealers who use our Prospect Engagement email marketing tool. As such, we feel compelled to help you understand what these changes mean for your dealership.
What's Changed?
The Apple MPP feature intentionally hides email data and according to Apple, "helps protect your privacy by preventing email senders from learning information about your Mail activity." As a result of this change, senders may see up to a 100% open rate from Apple Mail users regardless of whether the individual actually opened the email.
Apple's release had a staggered launch, but there is a clear change in reported open rates – and an inverse effect on click-to-open rates – starting in fall 2021. We've seen the effects of this change in our own data per the graphic below. However, not all metrics are affected, including the click and click rate.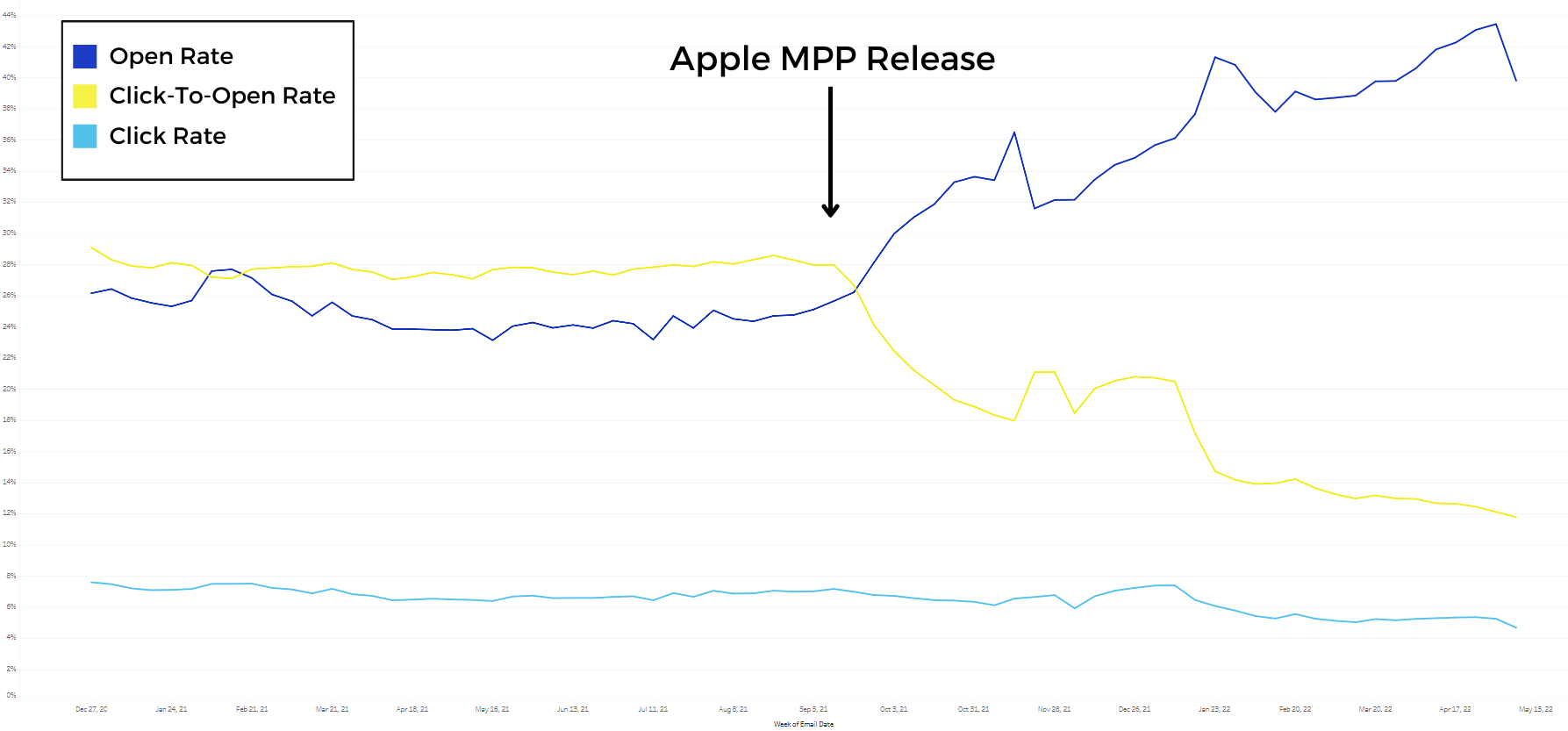 What Does This Mean For Dealers?
With approximately 52 percent of all email opens happening on Apple devices, this change has a significant impact on email marketing data and reporting. While the email marketing community has been grappling with these changes since they were initially announced, this update has flown under the radar for those managing dealership emails.
Open Rates Are Out, Click Rates Are In
Email metrics enable you to make one-to-one comparisons. You can use them to evaluate campaigns, vendors, tools, and A/B tests.
But open rates, a long-standing, primary measure of success for many brands, have suddenly become a largely unreliable and inflated metric since the release of Apple MPP. Similarly, the click-to-open rate (CTOR) metric also suffers from the same issues since it's measuring the action of clicks against opens.
In the wake of the update, many across the email marketing space suggest that clicks and click rates should be the new de-facto standard. Email click rates remain accurate despite Apple's changes, and have already been a key performance indicator for email marketing. They're arguably a more reliable and insightful metric given they:
Reflect your email's overall performance on topic, messaging, creative, subject line, etc.
Tell you exactly what recipients have an interest in and be especially insightful if you have multiple CTAs
Vendors Must Lead the Way
Adjusting your reporting metrics for success is an important step, but we believe the real story around Apple MPP for the auto industry is less about numbers and more about vendor relationships.
As a vendor in the email marketing space, we want to partner with our customers to navigate these changes. Too many vendors have swept the effect of the Apple changes under the rug, or worse, taken credit for the boost in open rate.
If your vendors–email providers, agencies, or other email partners–aren't bringing these changes up to you, they're doing you a disservice.
Data transparency relies on all vendors proactively working to provide reliable and accurate data. Beyond acknowledging known inaccuracies, we believe this promise includes openly discussing how external factors may be impacting your information, even if, and especially when, you may not be aware.
While we don't claim to have all the answers, we do want to have open conversations with our customers to help them solve current challenges.
Where Do We Go From Here?
We know email opens are still a primary reporting metric for many dealers. While we still encourage dealers to consider shifting to other metrics like click rate, we know it's unreasonable to do so overnight.
We believe in transparency and working alongside our customers as we navigate industry changes together. So to help, we are making changes of our own.
Filtering Out Email Opens From Bots
In response to these changes and to give more options for our customers, our email tool, Prospect Engagement, now lets users exclude all email bot activity – extending beyond just Apple email and device users. This gives you a clean view of actual human email opens for more accurate analysis, and in turn, increases your click rate and click-to-open rate.
Changes You Can Make Today
Ensure everyone is aware of these changes. Whether you share email results in your monthly reporting or in vendor conversations, make sure anyone who sees open rate as a measure of success knows about this key update.
Focus on click rate. Shift to this metric as a default measurement when making 1:1 comparisons, particularly when making comparisons before and after the updates were released.
Ask questions of your vendors. While we hope vendors lead the conversation, if you're not getting the information you need, ask. We don't expect perfection, but they should have insight into the changes they are (or aren't) making in light of Apple MPP.
Whether you're a Foureyes customer or not, if you use email marketing for your business, these changes affect you. While change always has some hurdles, this is also an opportunity to connect with your partners and vendors on your priorities, see who is committed to data transparency, and improve your email program as a whole.