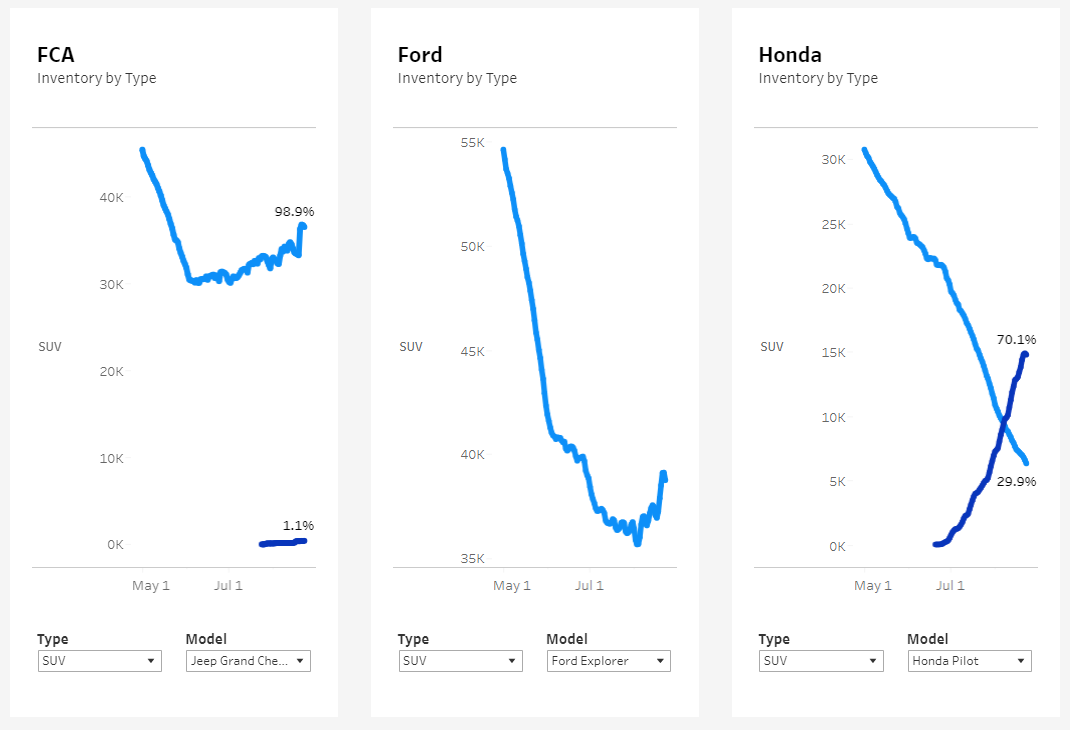 The 2021 model year transition is picking up, and there remains a lot of buzz in the auto industry about low inventory levels. Coming from an OEM background, I know how difficult it can be to gain visibility into the arrival of new models on dealer lots. But understanding how inventory availability, sales, and incentives compare across auto manufacturers is essential to stay competitive.
Real-time insights are hard to come by, but can make all the difference for dealers and OEMs. That's why we released an inventory availability dashboard to show market share by make, model year, and body type, and revamped our pricing dashboard to combine sales and pricing data across automotive brands.
Both dashboards use publicly available franchise dealership data and are updated weekly to provide dealers, OEMs, and consumers with a better understanding of what's happening in automotive now. We recently hosted a webinar to unpack data from the week of May 3 through the week of August 16, 2020 and explore emerging trends. Review the insights discussed below or fill out this form to watch the complete data-dive now.
Fill out the form below to watch the webinar
Midsize Pickups
To see how 2021 models are beginning to impact sales across auto brands, we first looked at inventory levels for Toyota, Ford, and GM from May 3 through August 22, 2020. Looking at the week of August 16, 2021 inventory is comparable for Toyota and GM at 11.8% and 10.0% respectively, while Ford 2021 inventory is relatively low at 0.5%.

Narrowing our focus to midsize pickups for each brand, we then looked at 2020 and 2021 inventory levels for the Toyota Tacoma, Ford Ranger, and Chevy Colorado. As you can see below, in this comparison and timeframe, GM has the largest amount of 2021 inventory on dealer lots today.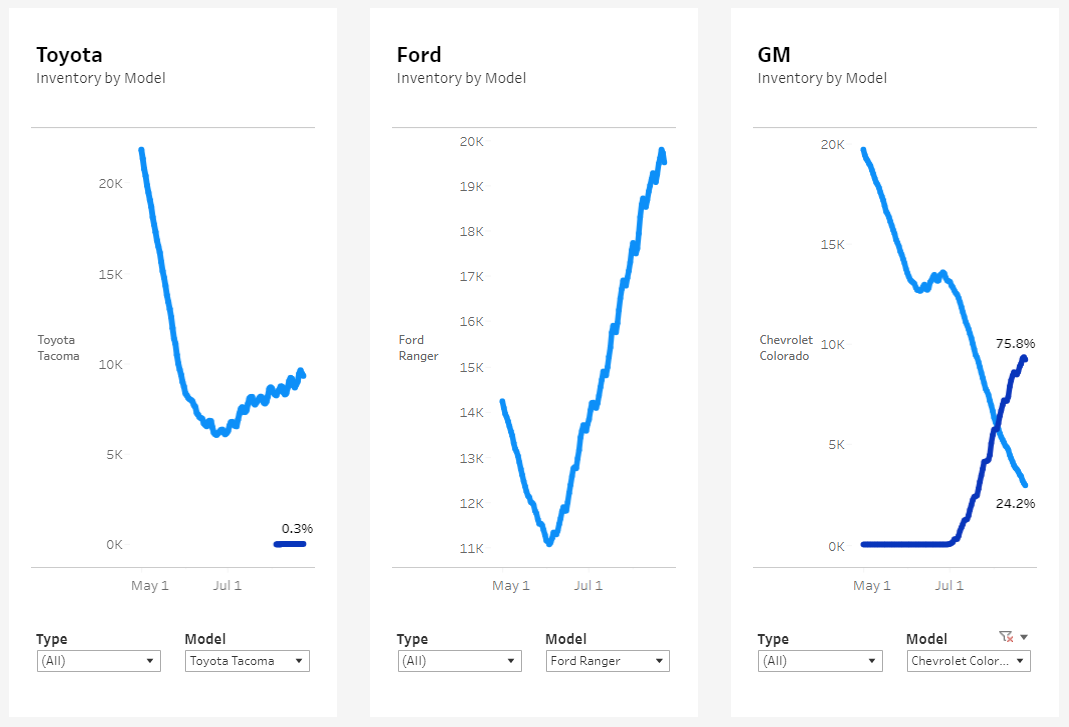 The Toyota Tacoma is the #1 selling midsize pickup. Looking at monthly sales so far this year, they sell about 17k units per month on average. What's concerning for Toyota is that it looks like there are less than 10k units in stock right now. GM is already launching their 2021 Chevy Colorado and Ford has built up some significant 2020 Ranger inventory. Considering Toyota's inventory levels against Ford and GM, I wouldn't be surprised to see Toyota Tacoma sales dip if 2021 models aren't in-stock soon.
Layering in sales and pricing data during the same timeframe, you can see that half of GM's Chevy Colorado sales during the week of August 16 were 2021 models. On average, GM is offering a 3.5% discount off MSRP for 2021 models and a 9.1% discount of MSRP for 2020 models. As new inventory arrives, GM's incentives and sales are going up. With this approach, GM is not only stocking new models, but already selling through them.

Compared to GM, Toyota and Ford are not yet selling 2021 models and are advertising much lower discounts on 2020 models. The average promoted discount off MSRP for the 2020 Toyota Tacoma is 2.0%. The average promoted discount off MSRP for the 2020 Ford Ranger is 5.7%.


Full-Size Pickups
After looking at midsize pickups, where 2021 models are already making a difference in sales, it's interesting to compare full-size pickups. As we've monitored sales across automotive brands, we've seen full-size trucks show the most resilience with regard to the challenges of COVID-19. Over the past few months, full-size truck inventory has continued to sell consistently and not weather the dramatic ups and downs of other body types. As an example, let's look at FCA, Ford, and GM during the same timeframe (May 3-August 22, 2020).

When we narrow our focus down to the RAM 1500, Ford F150, and Chevy Silverado 1500, you can see that Ford's inventory levels are very high. It seems the brand is ramping up as it gets ready for the new F150 that's coming out. Ford has around 110k units of the 2020 Ford F150, compared to between 55-65k units each of the RAM 1500 and Chevy Silverado 1500.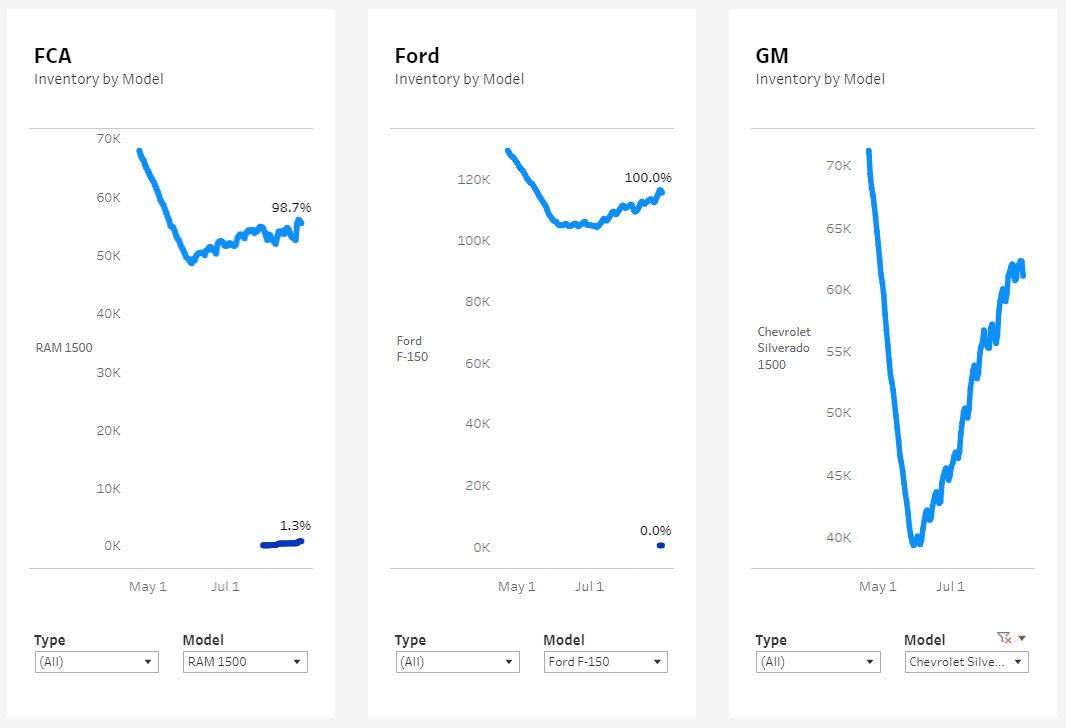 Layering in sales and pricing data during the same timeframe, you can see that promoted discounts are fairly close across the different models. The 2020 RAM 1500 has an 11.4% discount off MSRP on average. The 2020 Ford F150 has a 10.6% discount and the 2020 Chevy Silverado 1500 has a 9.5% discount on average. Looking at RAM 1500 and Chevy Silverado 1500 sales, FCA and GM saw similar numbers at the start of August, but last week GM sold over 8k units while FCA and Ford were closer to 5-6k. As we look to August sales close, it seems like GM may finish with better numbers and it will be interesting to see how the month ends.



SUVs
Moving now to SUVs, let's take a look at inventory levels for FCA, Ford, and Honda from May 3-August 22, 2020.

FCA and Ford have comparable levels of 2020 models. Honda has less 2020 inventory, but has already started stocking 2021 models. Focusing on the best-selling SUVs, let's look at 2020 and 2021 inventory levels for the Jeep Grand Cherokee, Ford Explorer, and Honda Pilot.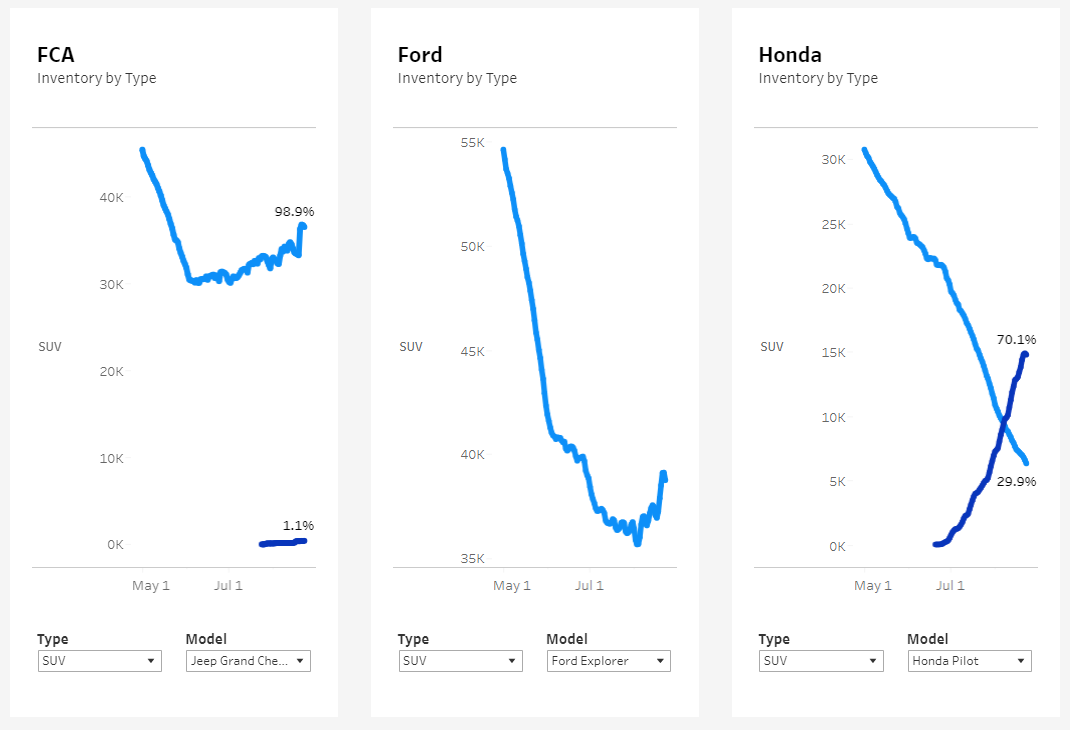 As of the week of August 16, the 2021 model is already accounting for 70.1% of in-stock Honda Pilots. For FCA and Ford, the Jeep Grand Cherokee and Ford Explorer had similar sales in Q2 and you can see that both brands have around 39k in-stock units currently. However, FCA is starting to get 2021 models before Ford which may impact sales over the coming months.
Layering in sales and pricing data, we can see that sales for the 2020 Jeep Grand Cherokee and 2020 Ford Explorer have been very close over the past few weeks. The average discount off MSRP for each model is close as well, with a 9.3% promoted discount for the 2020 Ford Explorer and a 9.4% promoted discount for the Jeep Grand Cherokee. Sales for the month of August will finish close, but it's looking like available inventory for both FCA and Ford will be low unless 2021 units start arriving on dealer lots.


Honda's sales and pricing data tells a different story. Honda's average promoted discount the week of August 16 was much lower than FCA and Ford, with a 2.2% discount for the 2020 Honda Pilot and 0.7% discount for the 2021 Honda Pilot on average. And, during the week of August 16, about 50% of Honda Pilot sales were from 2021 models.

Unpacking Inventory Levels and Sales
The model year roll-out is just beginning to pick up speed and we'll continue to monitor how inventory availability and incentives impact sales over the coming weeks. We'll continue to update our data hub and provide nationwide trends and updates, so OEMs and regional offices can understand what consumers are looking for and make pricing changes depending on inventory levels and sales.
If there is specific information or deeper data dive you're interested in, reach out. Our data science team is happy to help pull custom reports or metrics. To stay in the loop and be the first to receive data releases and reports, sign up for updates below.