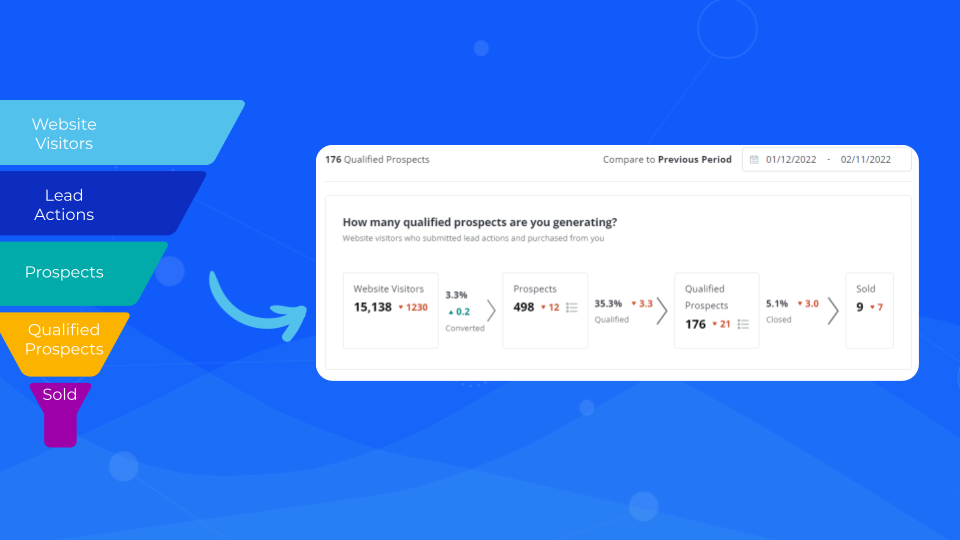 Most marketing and business leaders have heard the quote, "Half the money I spend on advertising is wasted; the trouble is, I don't know which half."
Attributed to John Wanamaker, this sentiment captures the problem so many businesses have: you invest and believe in marketing, but struggle to accurately measure its success.
What's more, Wanamaker lived from 1838-1922, making this quote certifiably vintage, yet we don't have better answers today. Despite having website pixels, advanced tracking solutions, and endless platform dashboards, we still struggle to answer questions like, "Where do my best leads come from?"
As a sales enablement company that helps businesses improve website tracking, Foureyes sits in a unique position within this struggle. We have access to immense amounts of sales and marketing data, but more importantly, we know data needs to be accessible and actionable to make a difference.
Which is why we developed Foureyes Omni-Tracking.
What is Foureyes Omni-Tracking?
Foureyes Omni-Tracking is the tool that connects website tracking to sales performance and gives you visibility into your quality leads so you can translate your marketing metrics to sales opportunities. You can get from 200 leads to 50 sales opportunities–name them and know their sources. It's the visibility you've always wanted (and most likely never gotten).
Omni-Tracking accomplishes this with patented user-level website tracking that connects your website traffic, your website forms, chats, and phone calls with your CRM and inventory data. This allows you to see which sources are driving web leads, view what those leads are doing on your website, and better understand their preferences. And ultimately, it allows you to spend your marketing dollars smarter.
How Does It Work?
→ Foureyes tracks all website and phone activity.
Foureyes records what your leads do on your website—every search, filter, form, chat, call, and page view.
→ Foureyes reviews every website lead for buying intent.
Using a combination of human analysts and AI, our process weeds out service requests, spam, bots, vendors tests, and other non-sales leads so that you have a list of qualified sales prospects.
→ Foureyes links web-to-call information.
Our patented, dynamic call tracking ties your phone leads to their website activity. When a lead calls your business, you'll learn everything they've been looking at online, even if they call on a landline after searching on a mobile device.
→ Foureyes connects to your CRM.
If you've integrated your CRM, Foureyes connects tracked prospects to your existing leads. You'll be able to see profile records for each lead including source, channel, type, and lead actions as well as CRM status and owner.
→ You get clear reporting and see leads in a single view.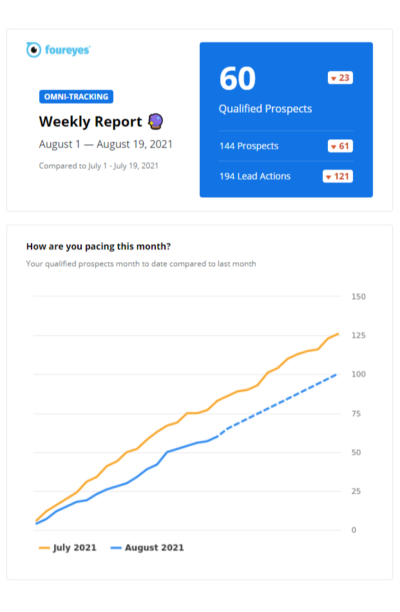 View all form, chat, and phone leads and their associated website activity history in a simple user interface. You can easily see qualified leads so you're not wasting time looking through junk leads.

View leads by section to answer questions like:
How many qualified prospects are you generating?
At what rate are you generating prospects?
Where are your qualified prospects coming from?
How did qualified prospects reach out?
Which qualified prospects purchased from you?
You'll be able to connect sales data to marketing campaigns without a manual process, and Foureyes provides weekly reports that show how you're pacing and which sources are driving qualified leads–not the junk.
Want to See More of What Omni-Tracking Can Do For You?
Get holistic visibility and feel confident in the data fueling your marketing efforts with Omni-Tracking. Sign up for your demo today.