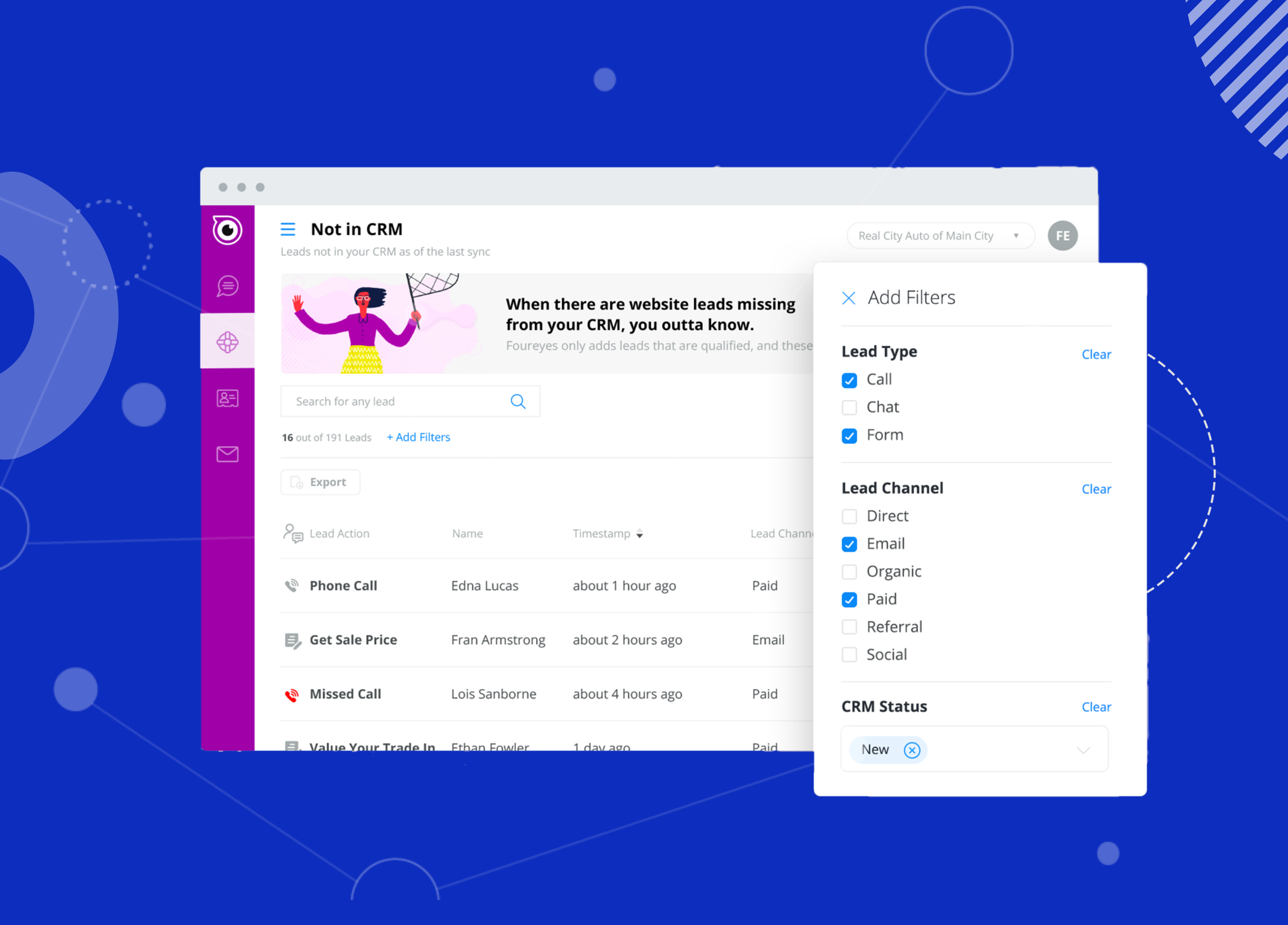 Dealers tell us that they have never seen a more disruptive time in the industry. That low inventory has introduced a host of customer experience problems and sales process breakdowns.
With that in mind, we want to reintroduce a tool that we think will help--Foureyes Safety Net. Named the Most Innovative Solution of 2020 by DrivingSales, Safety Net ensures every lead gets logged into your CRM. This helps you to spot what would be missed opportunities and protect long-term sales.
The best part is that we're offering a free 30-day trial for the first time ever. Here's a deeper look at how Safety Net can be the lead insurance you didn't know you could have.
→ Foureyes starts tracking all website activity
The foundation of Safety Net is our patented Foureyes tracking. Foureyes will see and record what your shoppers are doing on your site, including every visit, phone call, form, filter, chat, and page view.
→ AI and human analysts review the leads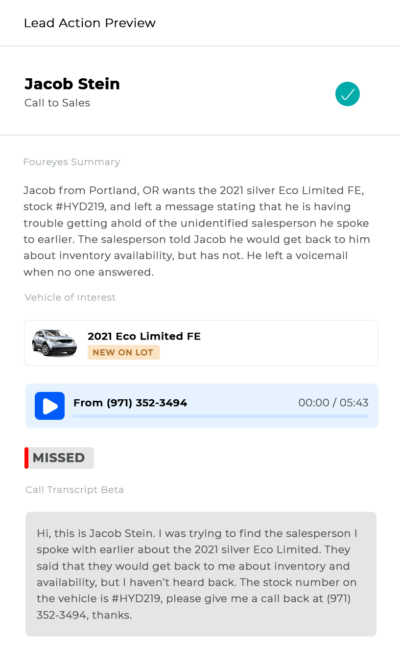 As leads come in, Foureyes analyzes each one. Through a combination of AI and real human review, we'll add a summary for your leads and qualify. For example, a lead summary might say "John called and spoke to Kim about the availability of a 2021 Jeep Wrangler. Kim confirmed it is in stock and John said he would come in that afternoon."
This ensures that every lead you see in the CRM is a "real" lead and gives you extra insight into what each person needs.
→ Foureyes pushes data into your CRM
If you've integrated your CRM, Foureyes will automatically add this information to your system. For saved leads, Foureyes will append data including the relevant shopping history and analyst summary.
But what about those leads that don't get logged?
We know that more than 25% of sales leads that come through the phone don't get logged. If a lead hasn't been logged in 2 hours, Foureyes will log it for you.
Foureyes will do this regardless of the lead source, so whether it's a phone call or a broken website form, you can rest assured that the lead will get into your CRM. Plus you'll get real-time alerts and in-depth reporting so that you can see which leads you would have missed.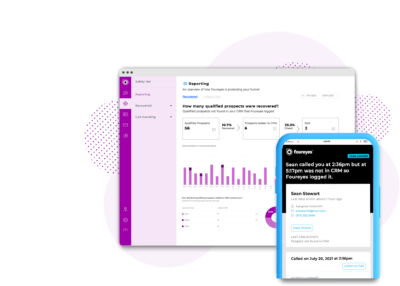 → Foureyes gives you visibility into process gaps
The Safety Net reporting interface offers key summary data that you can access in real time. You can see how many prospects Foureyes added to the CRM and if any purchased, how many calls were missed, and more. Armed with this level of insight, you can not only see how Foureyes is working for you, but also make smarter business decisions across the board.
→ You reap the benefits
Every sales process is subject to human error, and when you have more leads than your team can handle, you're especially susceptible to mistakes. Safety Net acts as your lead insurance. When you're paying for leads, you want to make sure you actually get them.
Plus, fixing these holes in the system will enable you to offer the best possible experience for your customers. No one wants to call and get left hanging because contact information wasn't added in the CRM.
And now, you can try it free for 30 days to see the results for yourself.