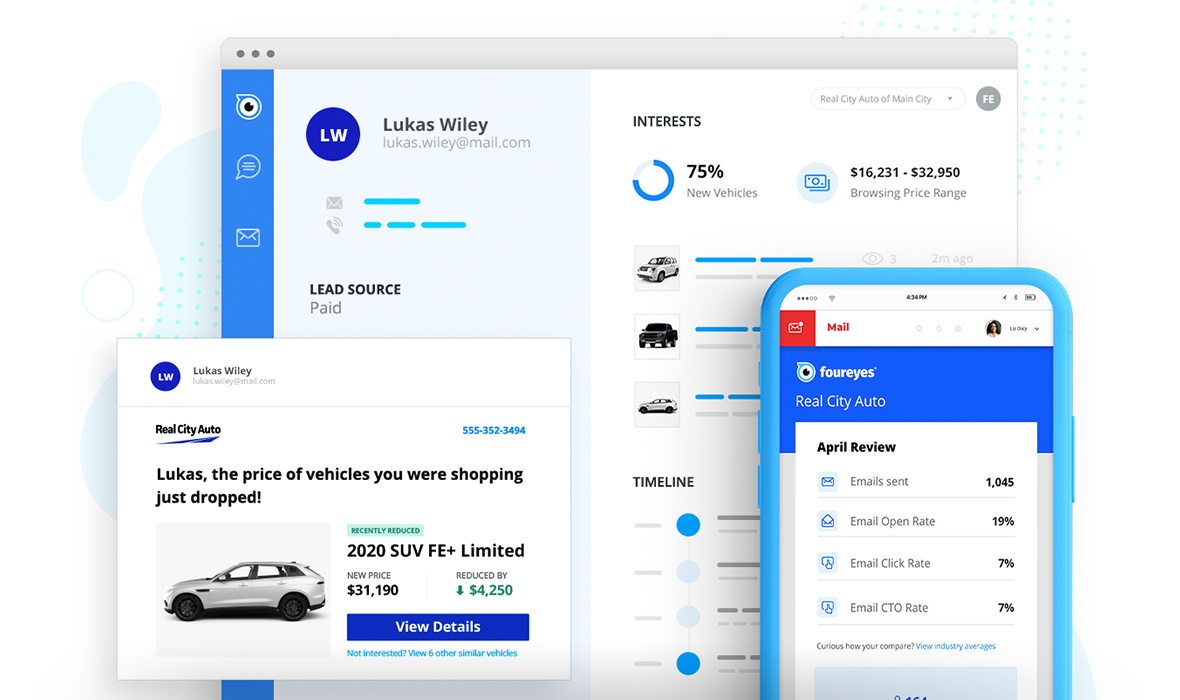 PORTLAND, Ore. (PRWEB) March 30, 2020
Foureyes, the sales intelligence software company, announced the launch of the Foureyes Relief Package. The Foureyes Relief Package was developed to give auto dealerships the sales support they need today. The Relief Package is free for 60 days for car dealers who sign up by May 31, 2020.
Known for its patented technology that collects user-level data to improve the sales experience, Foureyes worked closely with automotive partners and dealerships to develop the Foureyes Relief Package in response to the coronavirus outbreak. "We've known that car shoppers have moved online, but this situation pushed dealers past the tipping point towards an urgency to understand what customers were doing on their websites," says David Steinberg, inventor and CEO of Foureyes. "The Foureyes Relief Package was developed to support auto dealerships by providing that visibility and is designed to improve efficiency and deliver wins to sales teams."
The goal of the Foureyes Relief Package is to enable dealerships to get visibility into which customers are still interested and actively shopping online, and use this information to dynamically share updates about each lead's preferred inventory. Setup is simple, requiring just a single line of script on a dealership's website. Auto dealerships who sign up for the Foureyes Relief Package by May 31, 2020 can use it for 60 days to navigate the challenges ahead.
With the Foureyes Relief Package, car dealers can:
Make every conversation count. User-level tracking records everything customers do on a dealership's website, so dealers can clearly see who is interested and have more informed sales conversations with leads.
Keep leads up-to-date. Personalized email automation makes sure interested shoppers are kept in the know regarding incentives, price drops, and changes to inventory.
Do more with less. Keep the dealership's virtual showroom running in high gear, regardless of changes to business operations.
Steinberg goes on to say, "We will all get through this. There's not a business in America that is not going to have some battle wounds, but we are committed to working together and coming out of this stronger, with better processes and more efficiency."
Auto dealerships can get the Foureyes Relief Package free for 60 days by enrolling online before May 31, 2020. To learn more about Foureyes sales support software, businesses can schedule a demo or contact Foureyes at (971) 352-3494.
About Foureyes
Foureyes sales intelligence software helps businesses track, protect, engage, and sell better. For more information, visit https://www.foureyes.io.