There has been so much talk and speculation around low inventory levels, making questions around the model year transition even more important this year. Which brands will get 2021 inventory out faster than everyone else? How will inventory availability affect typical pricing strategies? And how can we use Foureyes data to help OEMs and dealers feel informed and stay competitive as we finish out the summer and look to the end of the year?
Foureyes recently compiled a new, interactive data set to help answer these questions and more. Looking at May-September data from more than 16,500 franchise dealerships across the country, here's what we've seen so far:
As of September 7, 2021 models make up 13% of the new vehicle market; however, different automotive brands have dramatically different levels of 2021 inventory at dealerships.
Of the 14 automotive brands in our data set, Kia has the largest amount of in-stock 2021 inventory. 2021 models make up about half of new inventory across Kia dealerships today.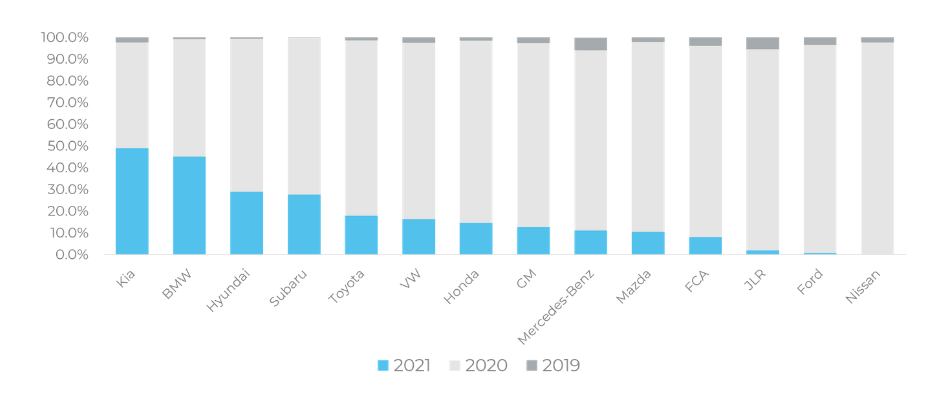 Here's how the rest stack up:

Kia: 49.0%
BMW: 45.1%
Hyundai: 29.0%
Subaru: 27.6%
Toyota: 17.9%
VW: 16.4%
Honda: 14.6%
GM: 12.6%
Mercedes-Benz: 11.1%
Mazda: 10.5%
FCA: 8.1%
JLR: 1.9%
Ford: 0.7%
Nissan: 0.2%
This article was originally published on DrivingSales.