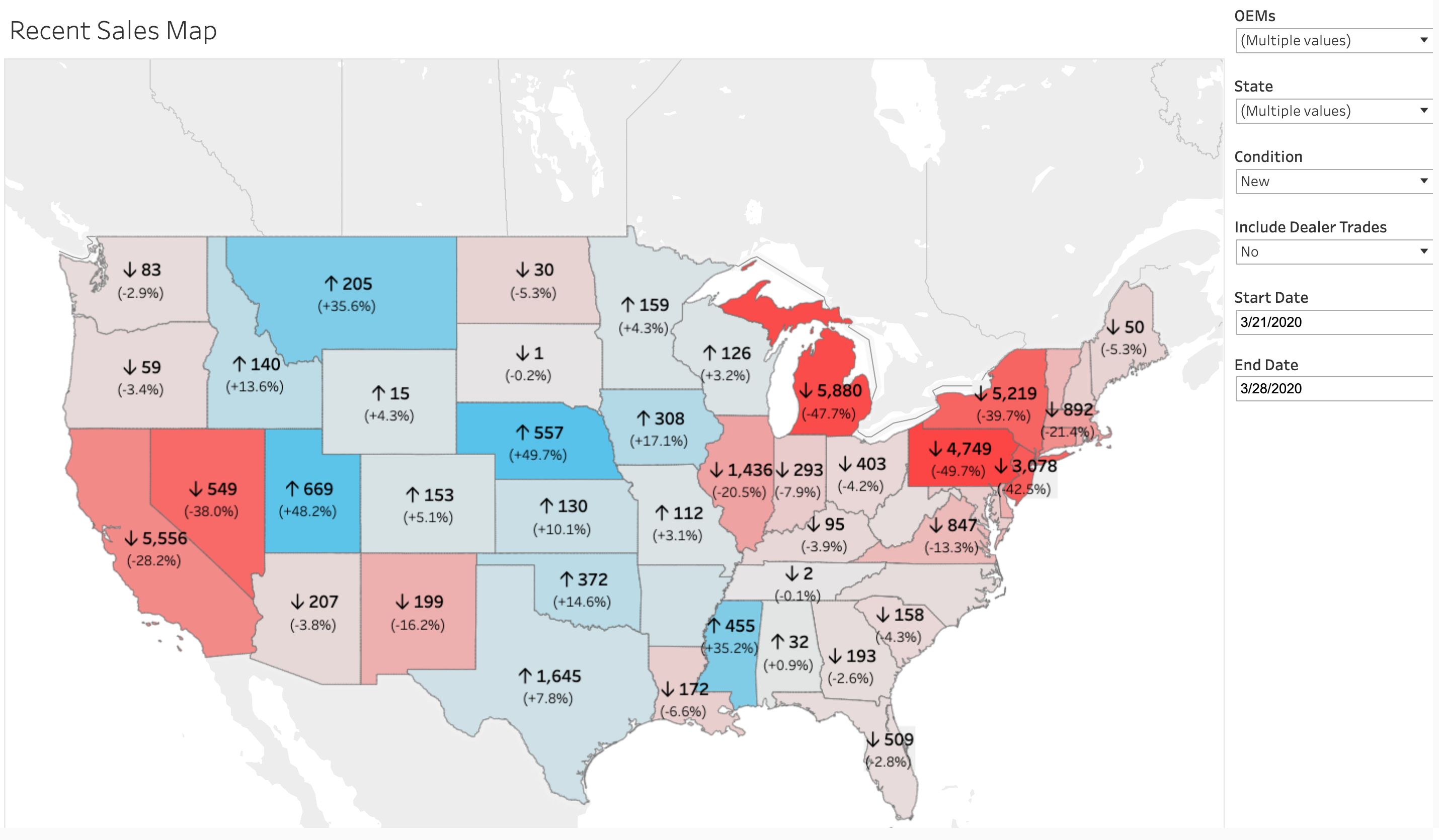 The week ending March 28 shows reason for hope after weeks of downward sales performance. Review the data and insights shared below or learn more by watching this video.
To enable Foureyes to run, we collect massive amounts of data. As an example, we track every new car sale in the US.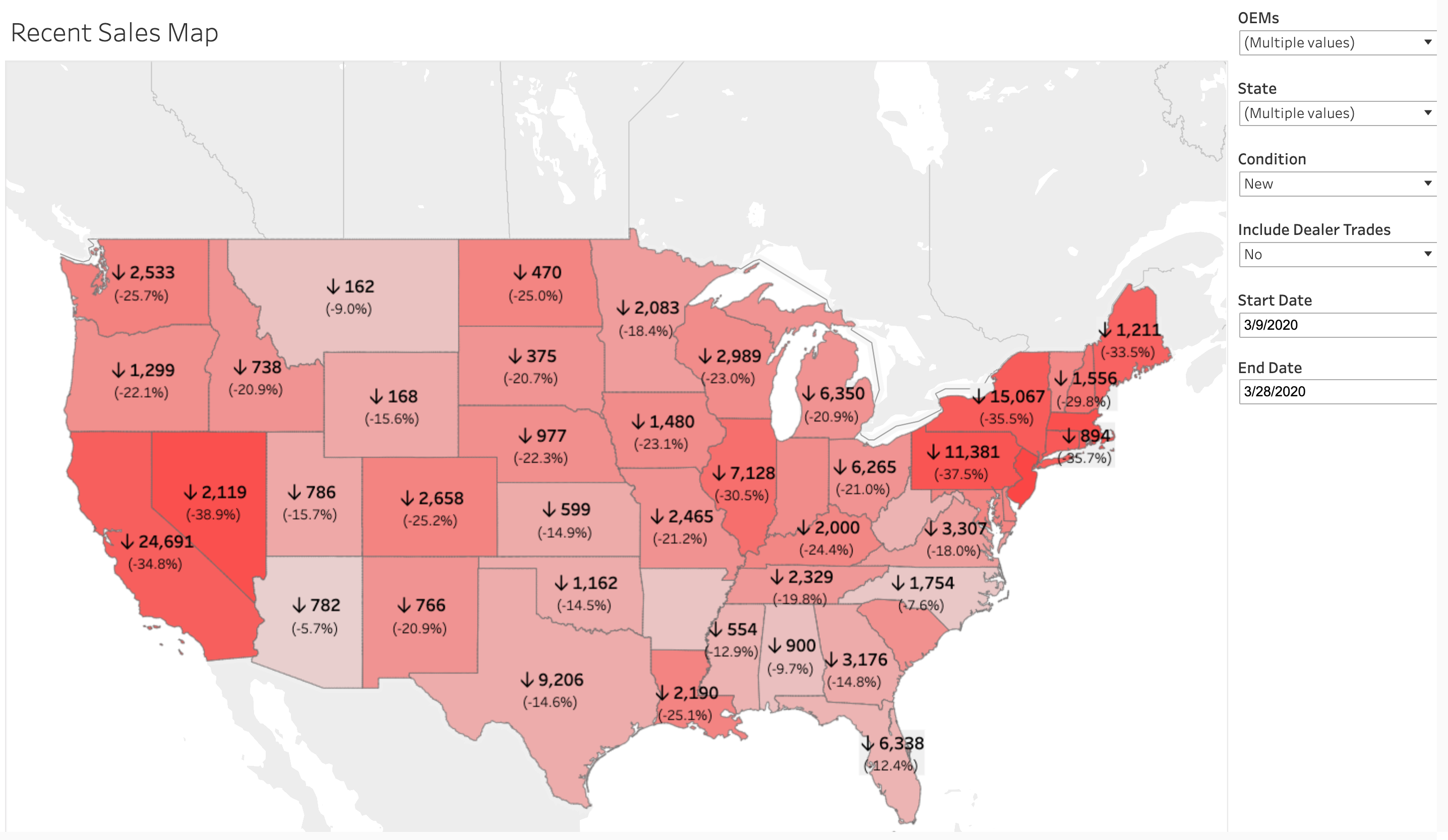 Typically, we use this data to power our products, but with the upheaval in the market caused by Coronavirus, we thought the data may be helpful to dealers and OEMs who are struggling to understand what's going on, where trends are pointing, and how to make the best decisions.
Let's start by looking at the effects of Coronavirus 3/9/2020 to 3/28/2020. We're excluding dealer trades and just looking at new car sales.
You see a lot of red. No surprise: Car sales are down over the previous period nationwide.
One of the particularly hard-hit states that you can spot is Pennsylvania. Doing a deep dive into what's happening in the Keystone State, it looks like their sales are down 37.1%. Looking at the breakdown by OEM, FCA and Honda had the least significant of those drops with -26.3 and -24.7% respectively.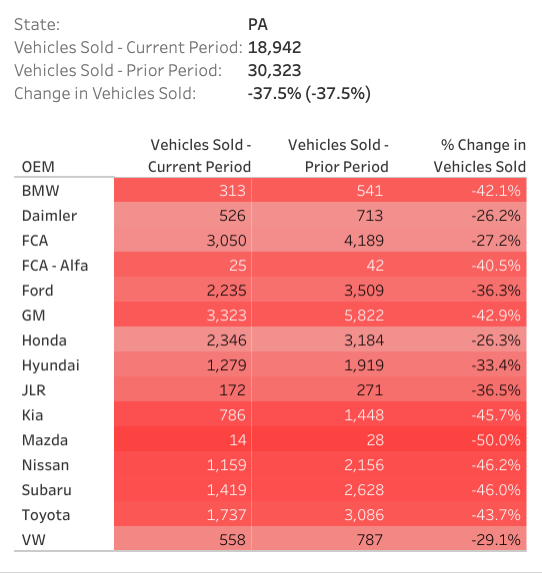 Moving over to New York, you can see a similar story there. FCA showed as a little bit of a star in terms of the domestics, down 26.7% compared to GM at 38.2% and Ford at 31.2%.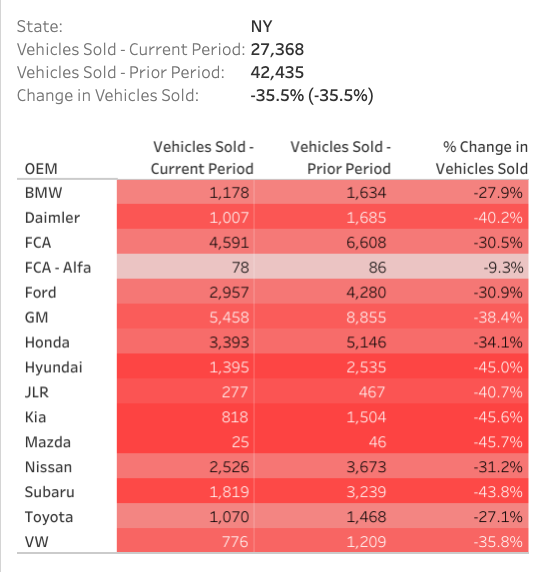 So now let's hone in on the dates a little more and focus on 3/16/2020 through 3/28/2020 as the country goes a little more on red alert. Here we see California as a stand out. Just a huge drop down 40%. Huge numbers as states get tighter and start to see Coronavirus cases increase.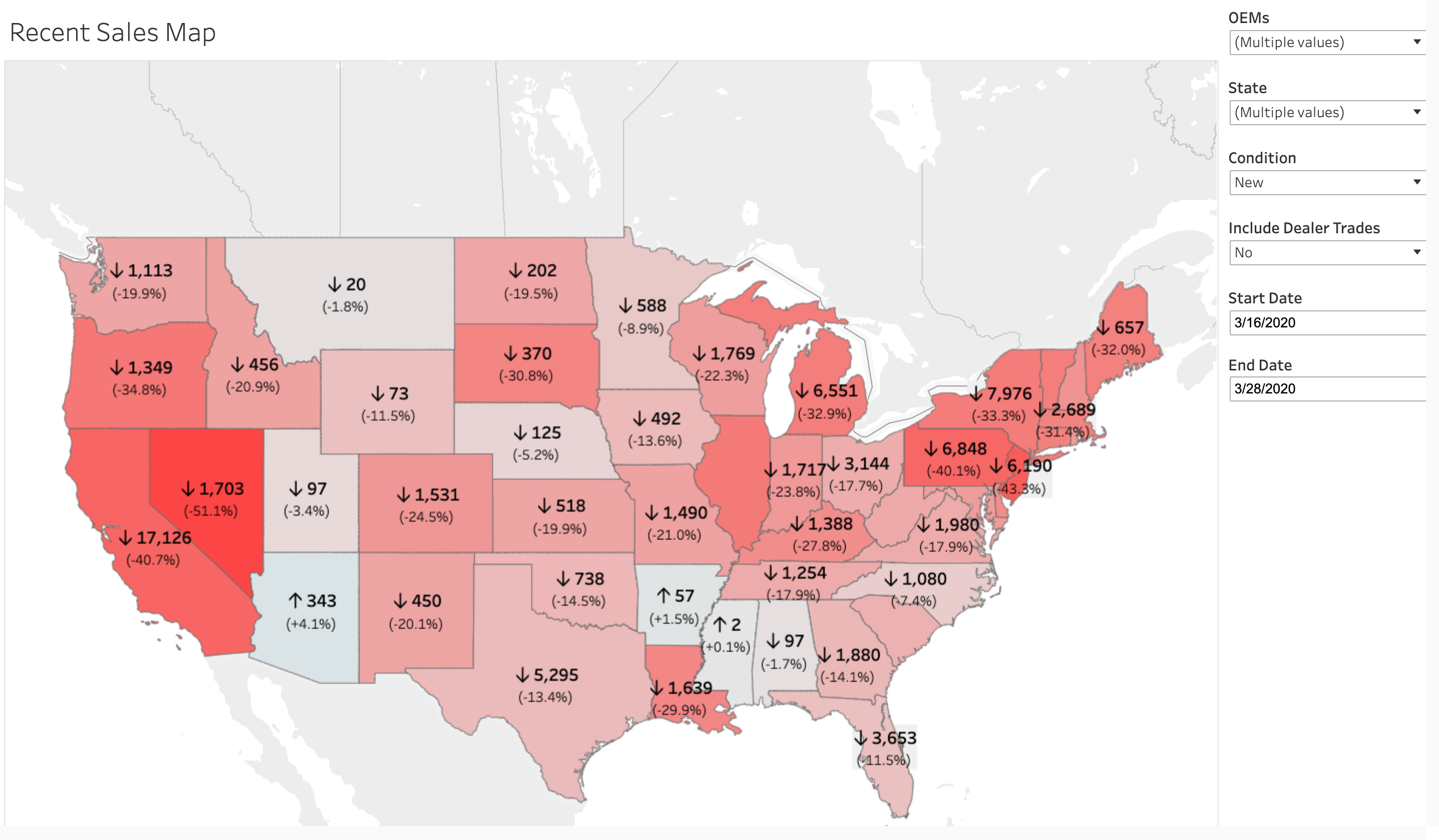 But I promised reasons to hope. Let's change the date range again and focus on this last week. Looking at 3/21/2020 to 3/28/2020, you start to see some states move out of that red zone and bounce back a little.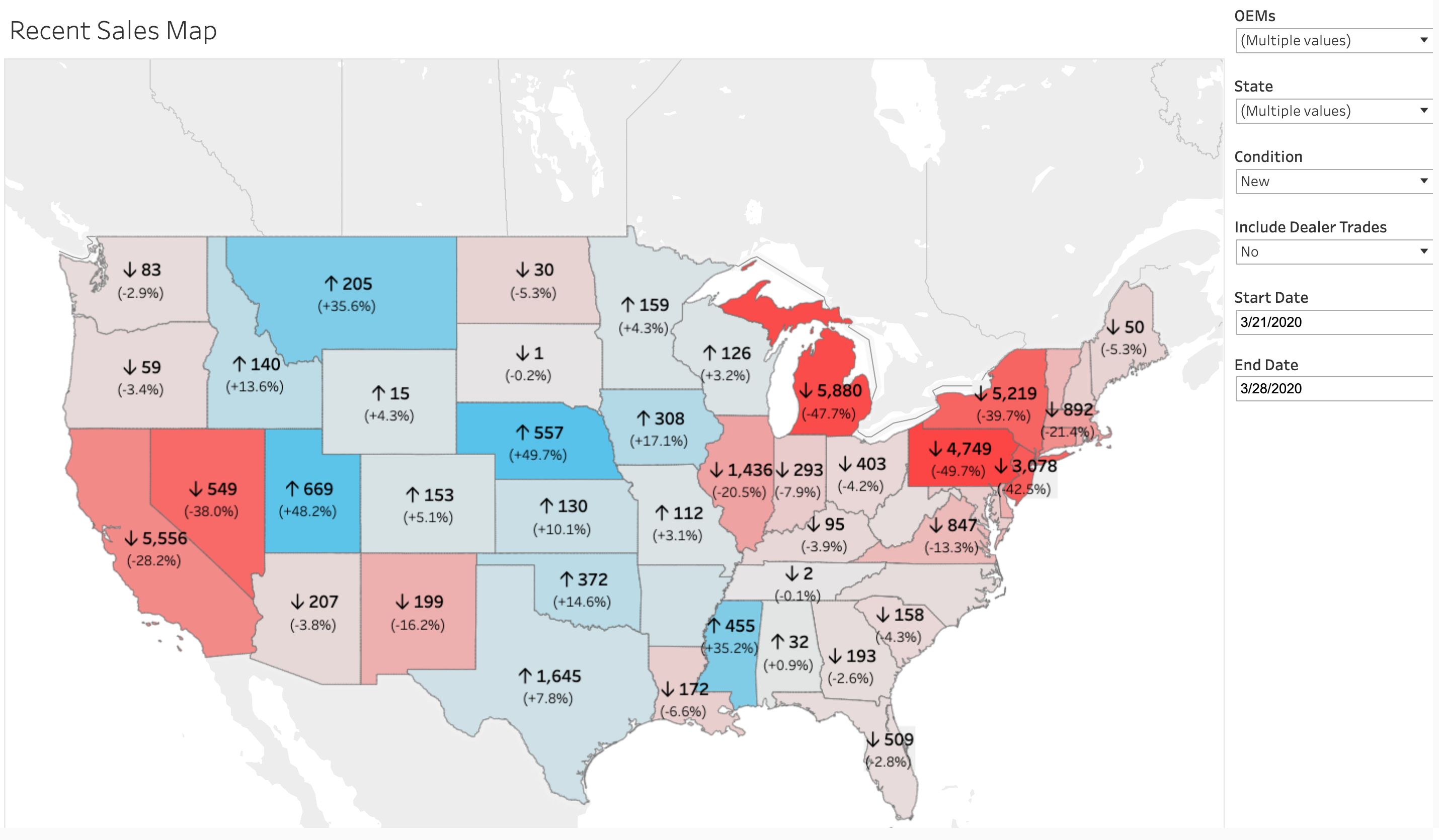 Michigan, New York, Pennsylvania, you're still seeing big losses. But in other places, pent up demand is starting to show. Places throughout the middle of the country where they haven't been hit as hard and people are getting back out there. Dealers are figuring out the new normal and starting to respond to some of that demand. The Mountain/West region and down into Texas are starting to see some gains.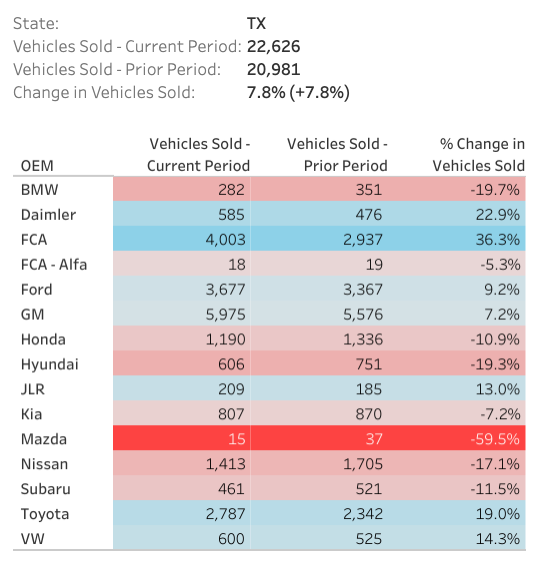 Obviously, we don't know how long it's going to take and what next week will hold. But we'll continue diving into the data and sharing more stories.
In addition to a Resource Hub and Relief Package, we launched an interactive dashboard where you can access these details on your own—dig into your state, your OEM, and even your metro area to better understand what's going on. If you want weekly updates to that and additional data trends, sign up below. We'll keep you in the loop.
In the meantime, if you have specific questions or data questions you're hoping Foureyes can help answer, shoot me a line at [email protected]. We're in this together.