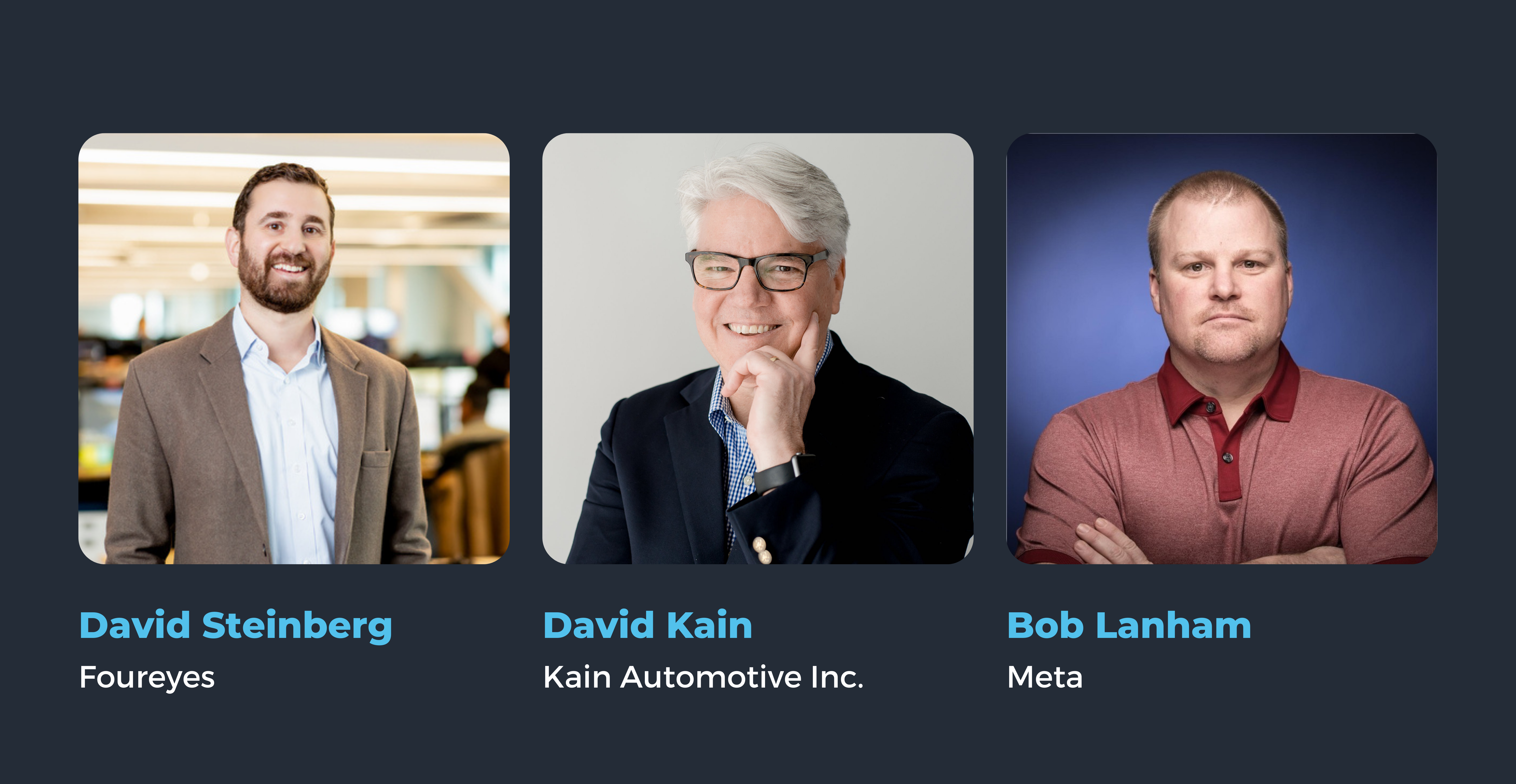 The Foureyes 2022 Automotive Benchmarks report is designed to help automotive dealerships understand and track trends from the past year with real dealership data. Foureyes CEO David Steinberg, Kain Automotive Inc. President David Kain, hosted a webinar (along with special guest Meta Head of Automotive Bob Lanham) to chat about some of the data and offered candid stories and real solutions to dealers as a way to help guide them with their sales and marketing efforts.
You can review key themes from the webinar below or fill out the form to watch the complete recording.
Here's what Dave, David, and Bob discussed:
Not all leads are created equal
In the 2022 Benchmarks Report, we made the important distinction between the different types of dealership leads: a "lead" and an actual "qualified lead." In the report, we define 'qualified leads' as leads that have true sales intent with service and other non-sales leads filtered out. This is an important distinction when analyzing the data with transparency. For example, less than 1 in 5 people are calling a dealership to buy a car, (other reasons include service, parts, solicitor). It's easy to see how this can affect your reporting and forecasting if you're only looking at all leads, in general.
Additionally, our data shows that dealership website visitors convert at 2.8%, but this statistic is misleading because it includes every call, chat, and form. Upon adjusting the numbers for "qualified leads" (those with buying intent), only 1.3% of dealership website visitors convert.
When you get a qualified lead from a call, about 40.9% of those calls have visited your dealership's website multiple times, shopping around, but 59.1% of those calls are completely new website visitors that are giving you the opportunity to take a crack at their business for the first time.
Mishandling qualified sales leads
Across the industry from December 2020 to November 2021, 41.2% of leads were "mishandled," meaning calls were missed, follow-up was delayed, or lead inquiries weren't logged to the CRM. These numbers have remained fairly consistent for the past three years. In 2020, 43.3% of leads were mishandled and 41.4% were mishandled in 2019.
An expert in the automotive space, David Kain grew up in and around dealerships and has been in the field setting up internet and BDC operations at dealerships across the U.S. as President of Kain Automotive Inc. for the past nineteen years. From in-person process reviews at dealerships, Kain observes that genuine follow-up typically stops after three days. Roughly two-thirds of qualified leads who return to a dealer website experience delayed follow-up, and 60.9% of this group didn't receive any follow-up after one week). This lack of follow-up is a significant contributor to mishandled leads.
Another cause of mishandled leads is the current state of the automotive industry. The inventory crisis and extremely high demand have led to an increase in unlogged leads. Demand is high enough that many leads simply don't make it into the CRM for time and effort sake – whether that's intentional or a process breakdown is unique to each dealership.
Kain mentioned that in today's market, too often salespeople have an apathetic attitude and think, "we don't have the vehicles so we might as well let you go." Not only is that a lost opportunity for a future sale, it's also a missed opportunity to collect valuable data about what your customers want.
Regardless of the reason, process inefficiencies at the dealership driven by a rapidly changing market and unprecedented challenges in automotive continue to impact the lead experience.
The continued challenge of unlogged leads
One of the biggest culprits of mishandled leads is simply unlogged leads. When leads go unlogged, customers don't receive follow-up and often feel unheard and unseen with a higher potential to take their business elsewhere. In 2021, 11.7% of qualified leads went unlogged. Of this group:
27.5% of calls unlogged
7.6% of forms unlogged
3.4% of chats unlogged
Because of the current state of the industry, many salespeople don't feel the need to log a lead into the CRM when a customer's vehicle of interest is out of stock and the timeline of inventory bouncing back to normal levels remains unknown.
Making changes for the future
The data from the 2022 Benchmarks Report not only reflects the current state of the automotive industry, but also informs opportunities for the future. Automotive has repeatedly innovated for the better of the market and consumer, and we know it will only continue to do so.