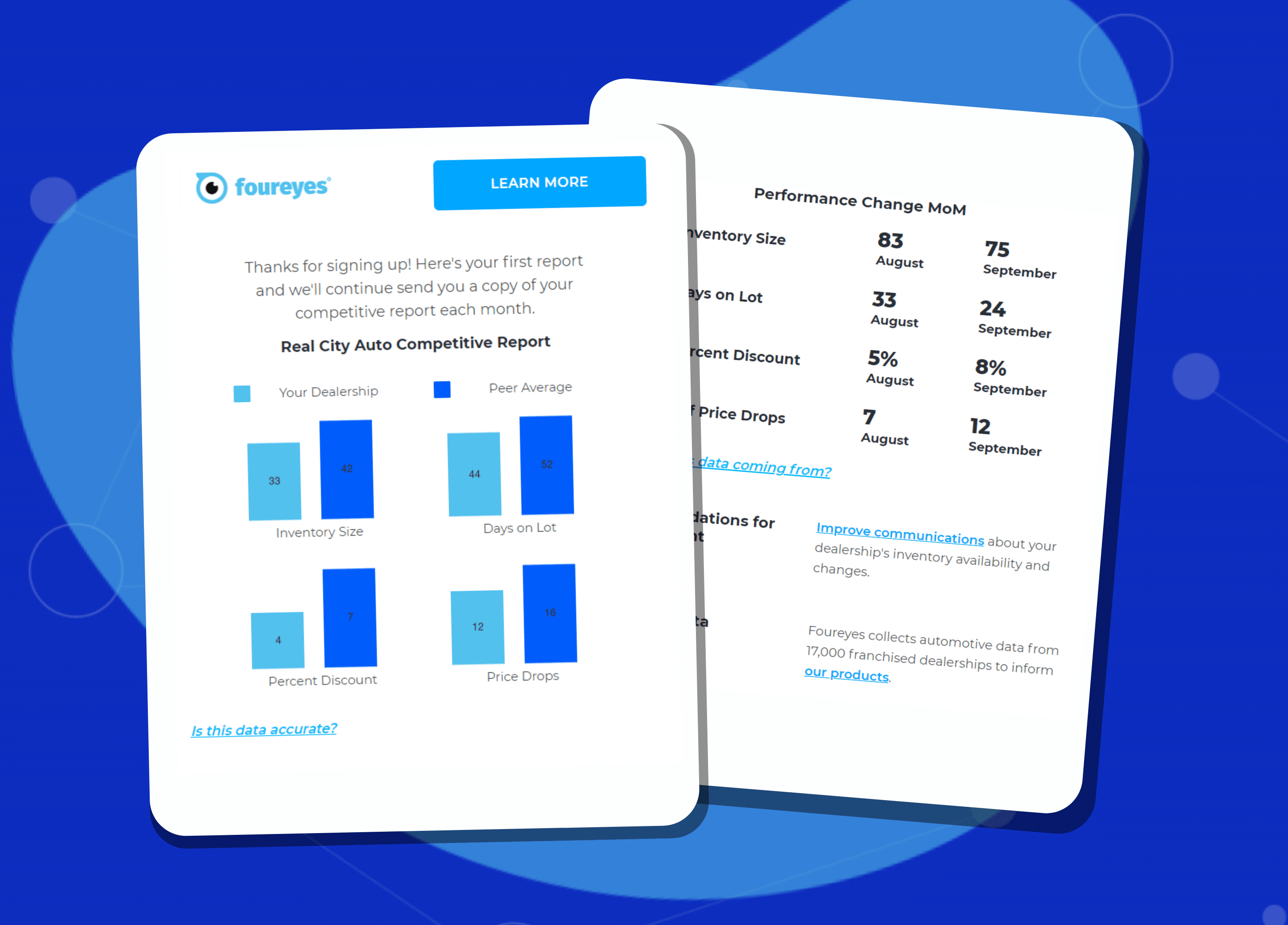 Each month, Foureyes publishes a competitive report for the majority of franchised dealerships in the United States. The report is designed to help dealerships see how they are performing on four key indicators, both against their market competitors, as well as their own changes month-over-month. You may have received your competitive report automatically via email, or you may need to request one.
First, let's define the data, then we'll break the report down by section.
Data Definitions
The report focuses on four key metrics related to your inventory and pricing: Inventory size, aged inventory, percent discount, and price drops. Here's how we calculate each of them.
Inventory size is the median number of vehicles you had on your lot over the month. In this case, we use the calendar definition of the month.
Aged inventory is the median daily number of vehicles that have been on your lot for at least 15 days for the last month. Foureyes calculates this number each day by using the first date the inventory appeared on your website. (We also monitor VINs cross-dealership to account for dealer trades.)
Percent discount is the median of your inventory's average discount over the month. Foureyes reports the percent discount off MSRP, based on the discounts shown on the dealership website. If you don't offer discounts or do not make price publicly available, this information will not be included in your report.
Price drops are a sum of the number of times prices were dropped on your inventory by at least $99. So for example, if you had a Ford Fusion and you lowered the price by $200, raised it by $150, and lowered it by $99, Foureyes would count that as two price drops.

Section 1: Your Dealership vs Peer Median
The first section of the report shows your dealership's metrics in each of the four categories (inventory size, aged inventory, percent discount, and price drops) and compares you to the average set by your peer group. The average is the mean calculated by adding the results of your peers per category and dividing by the number of peers.

Section 2: Who You Are Compared Against
While we don't disclose the name of the dealerships in your peer group, we think it's helpful to show how Foureyes defines your peers. In the second section, you'll see your peer group. Each dealership is assigned a peer group based on three categories:
Region - Based on its physical address, a dealership is assigned one of six regions: Midwest, Mountain West, Northeast, West, Southeast, or Southwest. These are defined in alignment with standard definitions, with the exception of Nevada. Nevada is typically grouped with Mountain West, but dealerships align themselves with West so we've done the same.
Brands - Based on its brand(s), each franchised dealership is sorted into one of three cohorts: Domestics, Luxury, or Asian. Volkswagen is the one major brand that doesn't nest well into one of those three categories, so it is compared to Subaru, Mazda, and Nissan.
Inventory Size - Inventory size is based on the median daily inventory size. Because of low inventory, we use historic data to sort dealerships into their typical sizes: Small, Medium, Large, and X-Large, defined differently based on brand categorization and luxury differences.

Section 3: Performance Change MoM
In the third section, we show your dealership's inventory metrics month-over-month for a quick view of changes.

Section 4: Recommendations
While we love data, we're even more passionate about acting on the data and using your dealership's own data to improve performance.
How to activate the data is typically the focus on the recommendation section. A few examples of this:
If your dealership has a higher-than-average number of price drops, we may recommend that you test adding automated communications that alert interested shoppers to price drops of vehicles they've viewed.
If your dealership has higher-than-average days on lot, we may recommend that you test adding suggested vehicle recommendation emails to increase visibility among active shoppers.
Where possible, we do try and recommend free solutions that your dealership can test to see if they move the needle for your business.
Frequently Asked Questions
Where is this data coming from?
To enable Foureyes to run, we collect massive amounts of publicly-available data from roughly 20,000 new car franchise dealer websites nightly using a bot. The total volume is around 1 million new VINs. The bot collects details about inventory, pricing, and messaging and cross-references with historical data and internal VIN analysis to create this dataset. From there, we apply hygiene including removal of dealer trades and recalls, inventory anomalies as well as inventory listed across multiple websites. While the inventory bot runs nightly, the hygiene takes a two-day period.
This is only a subset of the data collected by Foureyes. It does not include any private dealer CRM data or confidential OEM sales data.
Why am I getting this report?
Foureyes uses dealership inventory data to power our products, but we think it can also be helpful to dealers who want to better understand what's going on in the market, where trends are pointing, and how to make the best decisions for their business. We share it freely and without any strings attached.
Can I get a different view or more information about this data?
Possibly! Dealerships have varied requests, so we can't answer without knowing your specific question. Get in touch and we'll see if it's something that we can help you with.
Can I request a report or add additional team members to the distribution?
Certainly! You can request a report for your dealership here.
Are competitive reports available for used dealerships?
Unfortunately no. Right now, Foureyes inventory data is limited to roughly 18,000 franchised dealerships. Feel free to request a report and once we expand our data collection scope, you'll be automatically added.