Foureyes released a new data visualization so it's easy to quickly see when the 21MY inventory is hitting dealership lots. You can access the information in this interactive dashboard and compare model year inventory levels by OEM and body type. We'll update the information on a weekly basis so you can monitor the changing trends.
We opted to make the data we use to power our products accessible to anyone interested. (And coming from an automotive manufacturer, I know what a challenge it was to get this information before!)
U.S. Auto Inventory Levels by Model Year
At the top of the dashboard, you can see the share of new 19MY, 20MY, and 21MY inventory over time. Click on a model year to highlight it throughout the report, or keep all three and scroll down to filter by OEM, body type, and model.

Compare 2021 Inventory Levels by OEM
To segment the rest of the data by OEM, select up to three Brands to compare. This year will be even more interesting to track the MY transitions due to plant shutdowns, shipping restrictions, and limited dealer operations as a result of COVID-19. As we move to the end of the year and 2021 models arrive on lots across the country, you can track the changes in inventory availability over time.

Drill Down by Body Type or Model
For the selected OEMs, you can also filter by body type or model. Car, SUV, truck, and van model year inventory vary when you add the 'Type' dimension. Then, you can review inventory levels by specific models by selecting the 'Model' dimension. To go a level deeper and narrow in on or remove certain body types or models, use the drop-down options below each OEM.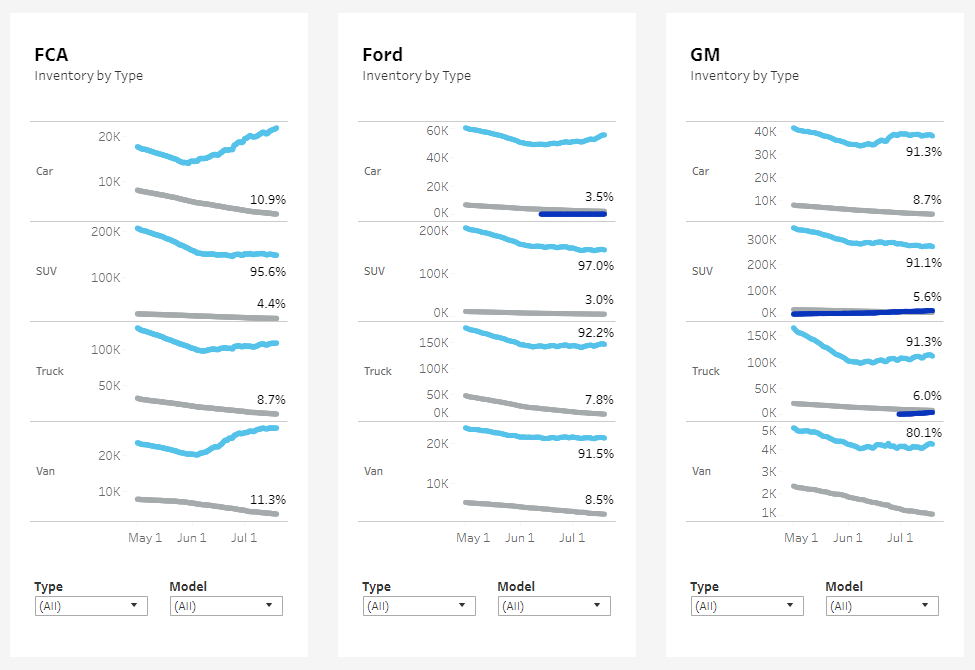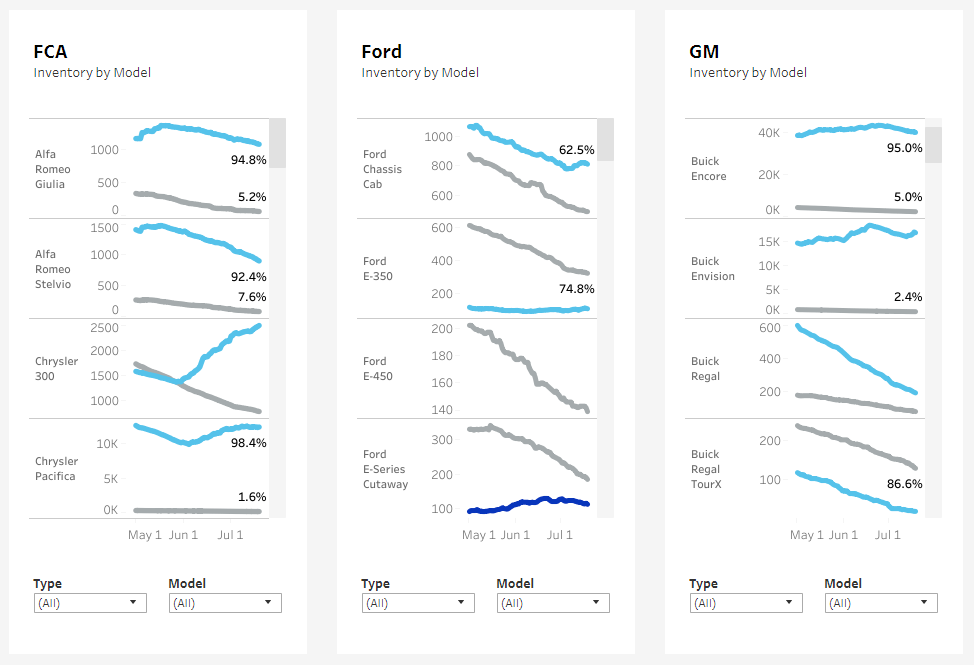 Additional Data & Insights
To get started, dig into the 2021 model year data here. Inventory level data will be refreshed weekly as dealers transition from 20MY to 21MY. If you're interested in additional insights and dashboards, visit our data hub or sign up below to receive notifications and resources right in your inbox.
If this sparked your interest about Foureyes products and you want to see for yourself how inventory data can be used to help sell more cars, dealers can sign up for a free trial of Prospect Engagement. Manufacturers, agencies, and automotive partners looking for new solutions should get in touch.