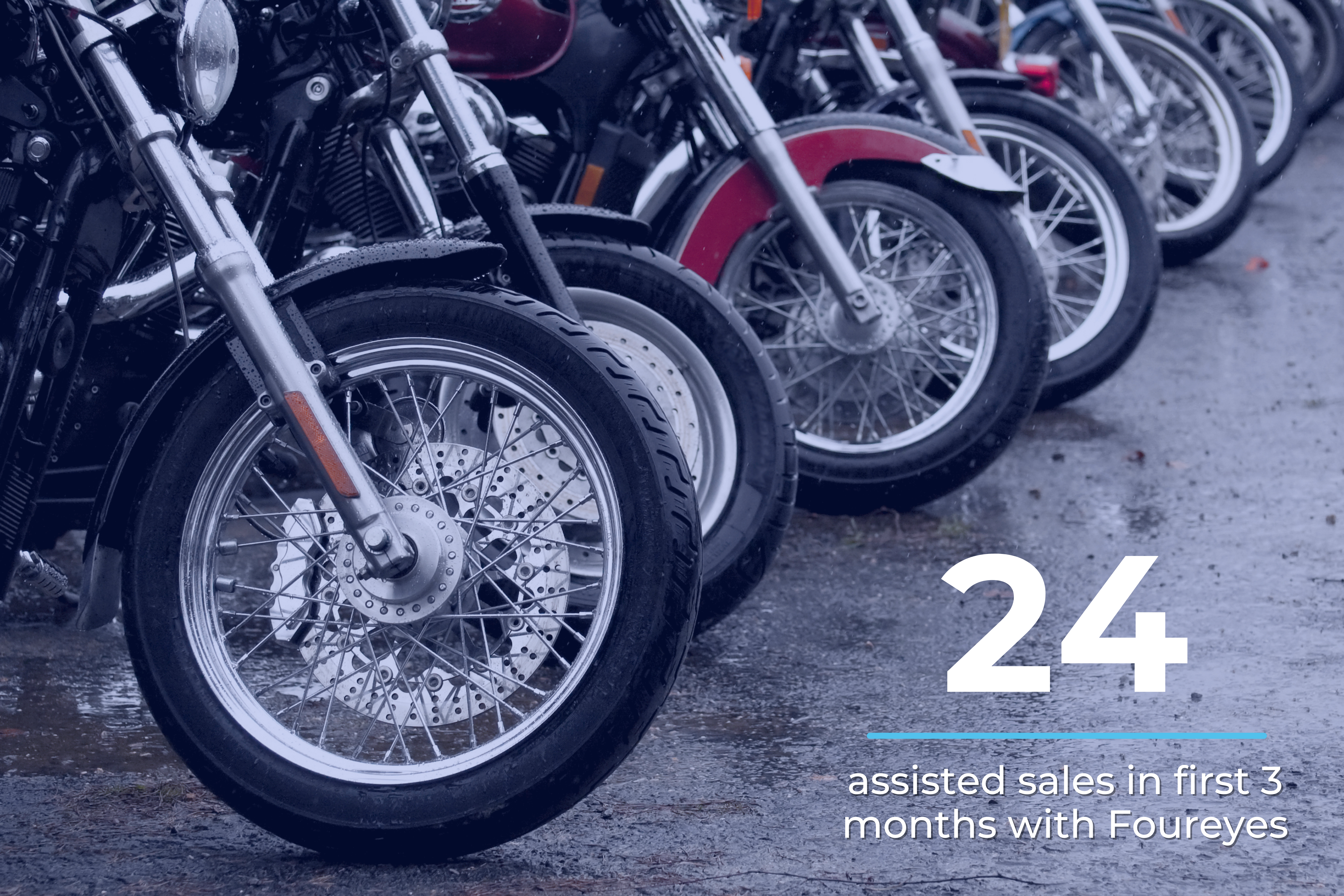 The Challenge
Stinger Harley-Davidson, part of the JS Motorsports Family, is a powersports dealership serving the Medina, Ohio community since 2014. The sales team at Stinger Harley-Davidson understands the value of timely follow-up for all of their leads. But with increased volume and an unpredictable market, marketing manager, Alea Boron, found it difficult for her team to always provide 'right place, right time' follow-up. Looking to improve their overall sales process and prioritize leads more easily, Boron enrolled Stinger Harley-Davidson in a free trial of Foureyes Omni-Tracking and Sales Enablement.
Adding Foureyes has helped us a lot with timing for our follow-up. I noticed guys would leave notes in our CRM saying 'follow up with this customer in 'the spring' -- but what does 'springtime' mean to you? We had no way of knowing when a customer was back in the market. Foureyes tracked these customers and alerted us when they were back online and shopping inventory. That helped us follow up with customers at the perfect time. Without Foureyes, we would have missed those customers and those sales.
Todd Stitt | General Sales Manager
The Result
In the first three months, the team leveraged Sales Enabelement's 'Hot Leads' feature to drive 24 assisted sales. Stinger Harley-Davidson retained more leads that would've otherwise been missed by boosting their 48-hour response rate by 36% and re-engaging 40% of their leads after 2 weeks of no follow-up. With the help of Sales Enablement and Omni-Tracking, Stinger Harley-Davidson closes more deals faster, re-engages the leads that need follow-up, and creates a more personalized sales timeline.
My leading sales guy is a Foureyes power-user and loves to see when customers come back to the website -- most times they're back on our site shopping inventory 2-3 weeks sooner than when they told him to follow up. The Foureyes alerts help him determine if someone is a serious buyer and when is the best time to follow up. We would miss that customer without our Foureyes alerts.
Todd Stitt | General Sales Manager
Ready to see what a free trial of Foureyes can do for your dealership? Sign up for your 60-day free trial today!