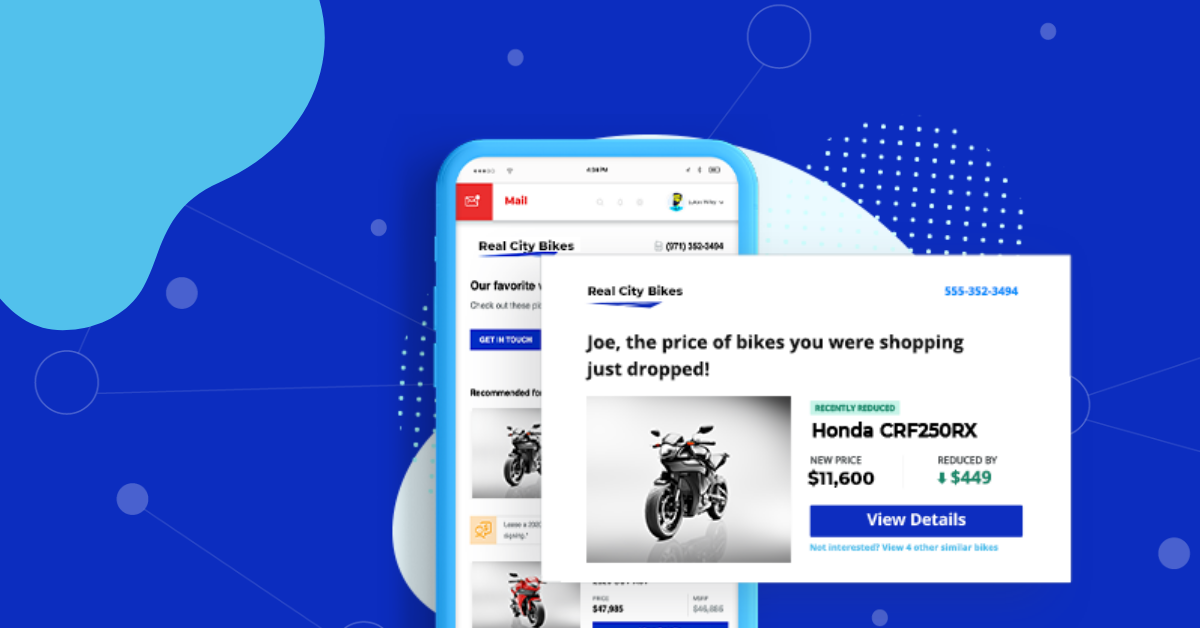 Improve your sales team's performance without requiring additional oversight or engagement. Foureyes' lead tracking and follow up software, Prospect Engagement, helps motorcycle dealerships effortlessly engage leads with inventory recommendations and price drop notifications. Here's how it works.
→ A shopper views inventory on your website
Let's say a shopper looks at pre-owned inventory, specifically a Honda MC CRF, Honda XR650L, and Honda CRF250RX. Based on the specific motorcycles they view, as well as any price filters or categories they apply during their search, Foureyes creates an interest profile that's unique to their website activity. At this point, we don't know the shopper's name, but any views that signal buying intent, such as incentives and financing pages, are tracked and added to their anonymous profile.
→ The shopper becomes a lead
After browsing, let's say that same shopper fills out a quote request form on the Honda CRF250RX page. Now we know his name is, for example, Joe. When an anonymous website user becomes a prospective customer by completing a lead action (phone call, form, or chat), Foureyes' patented technology combines with the CRM record to connect their interest profile and lead information. This creates a complete lead profile that includes the lead's name, contact information, browsing history, inventory interests, and a timeline of their website activity. This lead profile is dynamic, meaning it's kept up to date as the lead views new inventory, engages with your sales team, or even changes their shopping preferences.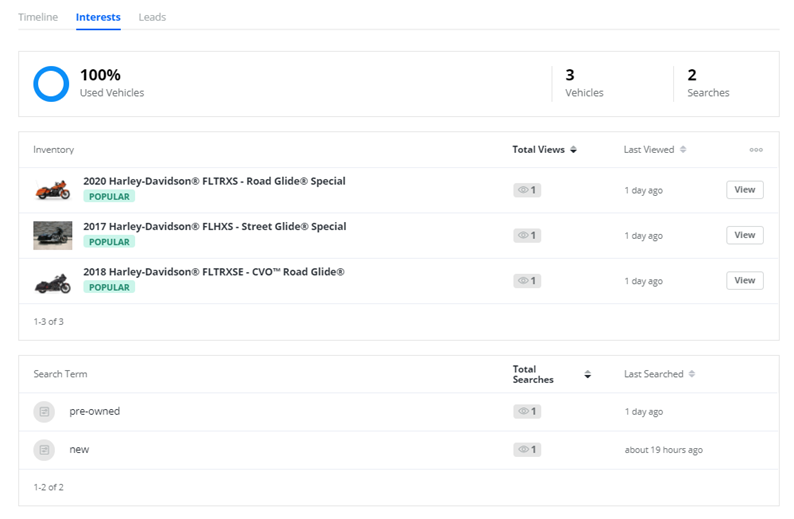 → Prospect Engagement begins automated follow-up
Using the lead profile, Foureyes Prospect Engagement matches each prospective customer with related in-stock inventory based on the shopping preferences they've exhibited. If Joe only looks at red, pre-owned, off road motorcycles, Foureyes will find all of your inventory that matches that preferences and begin emailing motorcycle recommendations, price drops, and other relevant alerts.

Here's what that looks like for the powersports lead in our example:
After Joe browsed the Honda MC CRF, Honda XR650L, and Honda CRF250RX pages and submitted a form, Prospect Engagement sent him an email with similar models that match his search criteria.
A few days later, the price on the Honda CRF250RX dropped by $449, so Prospect Engagement sent Joe an email letting him know.
A week later, three more pre-owned Honda MC XR650Ls arrived at the dealership, and Prospect Engagement emailed Joe so they would be one of the first to know.
The emails received by Joe were specific to his interests and they were distinct from emails sent to other leads who were browsing different inventory and visiting the website at different times.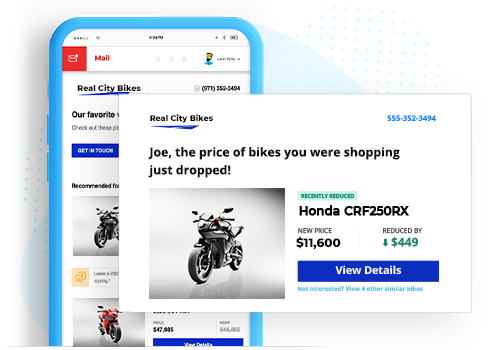 Prospect Engagement emails are sent from your dealership, and never imitate a salesperson. Similar to recommendations you may receive from Amazon or Zillow, the emails are personalized to each lead's individual interests and sent with the intention of providing new, interesting information they may find relevant to engage with.
Every email is logged to your CRM with a link to the content of the email so that your team has visibility into what is being sent when.
If a lead engages with these emails and returns to your website, Prospect Engagement will note it in the CRM and continue sending relevant updates. If the lead doesn't engage and there's no new sales activity recorded in the CRM, Prospect Engagement tapers off emails over a few weeks to see if it's possible to re-engage before considering the lead cold.
→ The results
While your sales team works to engage leads 1:1, Prospect Engagement works behind the scenes to support their efforts. It's fully automated and customizable, with no oversight required. Perfect for small teams, Prospect Engagement emails bring visitors back to your website and into your existing sales process without requiring any engagement from salespeople. By sending inventory-based emails to sales leads, dealerships see open and click-through rates well above industry averages. And now, motorcycle dealerships can try it free for 60-days to see the results for themselves.

Sign up for a 10-minute demo or reach out to learn more.