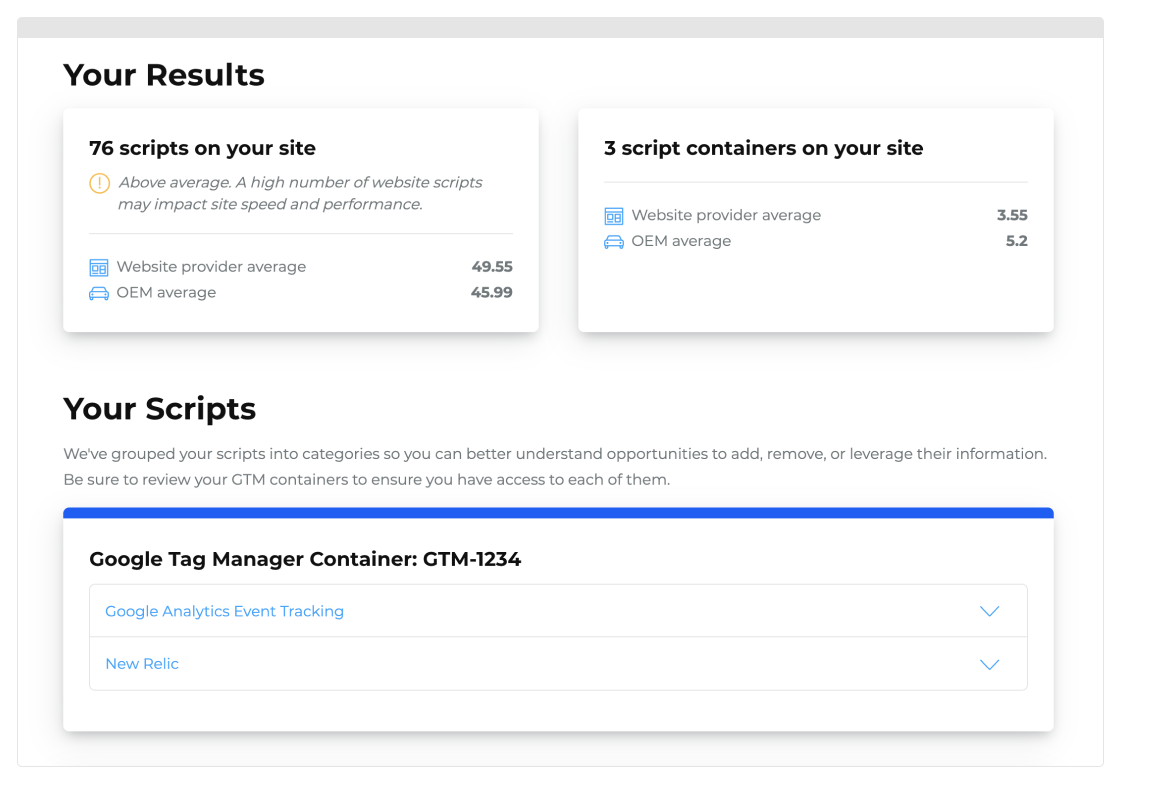 It seems like it should be simple, right? You have vehicles to sell. People want to buy them. You promote them on your website. You invest in services and tools to help you better sell.
But even a seemingly simple process can be fraught with missteps. For example, the average dealer website has 71 scripts running on it. And while each and every one of those scripts is designed to help your business, improperly managed website scripts can open your business up to performance, privacy, and security issues.
I've been excited to hear from some of the more technically-savvy dealerships that they've recently cleaned up their website scripts. But many marketers and website managers still aren't comfortable working with code. That's why Foureyes is making it easier for more dealerships to see what's on their site with our free website script tool.
Free Website Script Tool from Foureyes
Gain visibility into the scripts and containers on your website
Here's how it works: To get a complete report of the scripts currently running on your site, all you need to do is enter your URL.
Unlike tools like BuiltWith.com that can't access scripts housed within tag manager containers, you'll see a complete list of the scripts installed on your website grouped by container and category.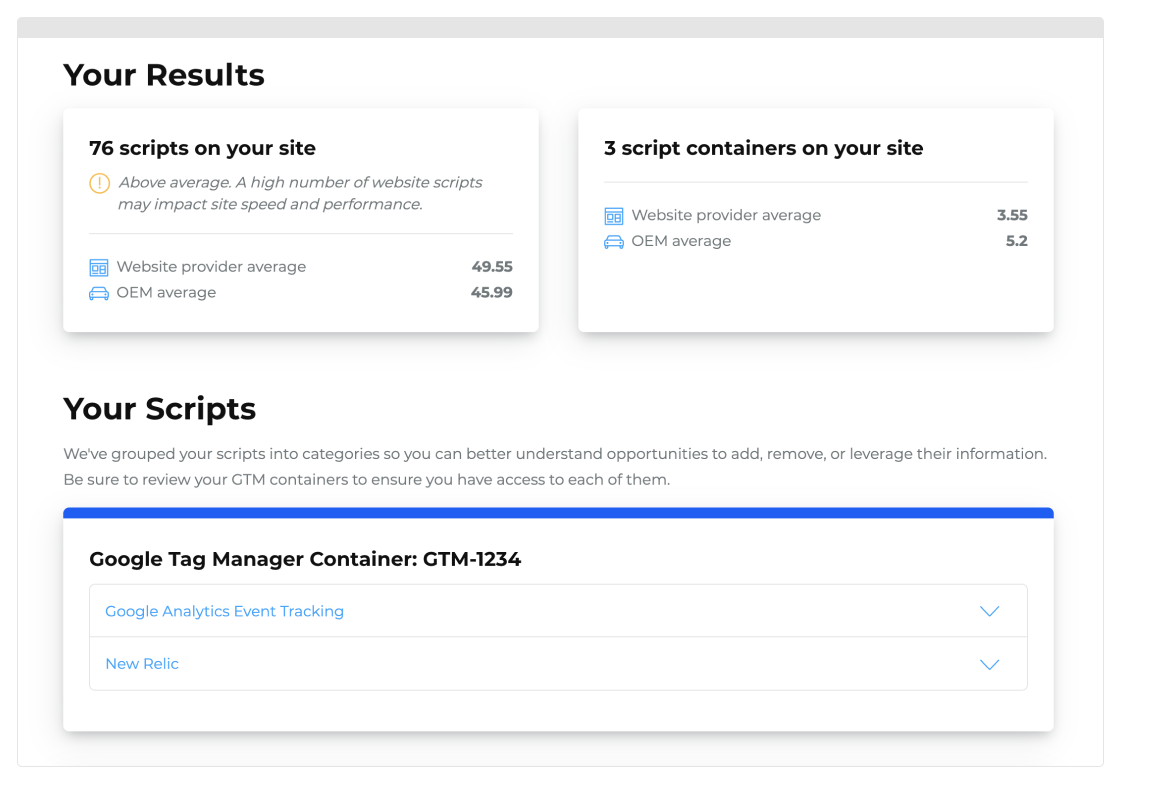 Determine what to keep or remove to limit data access
You can learn a little about each script, including how your dealership compares to the average dealer. Use this information and your current list of third-party vendors to determine which containers or scripts you may want to remove.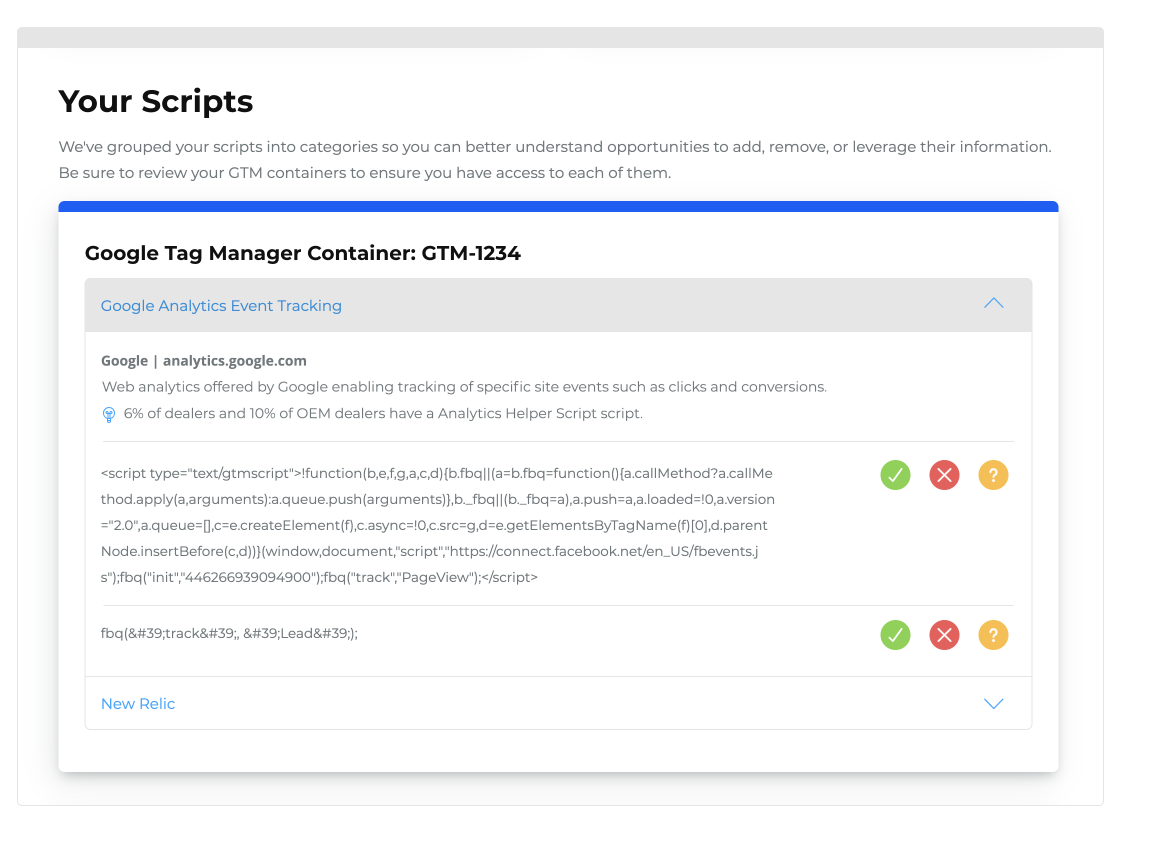 My two cents? If a third-party script doesn't add clear value to your site or users, then consider removing it. If you're not removing these outdated or unnecessary scripts, vendors and tools you no longer work with could still be collecting data and slowing down your site.
And, if you have an excessive amount of scripts on your website, you may experience performance issues. The most common performance issue is speed, but issues with script load-time could also cause you to miss form fills and other lead actions on your site.
Get Started
Ready to test your website? You may be surprised to see what's currently on your site. Run your free report and if you have questions or want to learn more about automotive data or free sales solutions from Foureyes, reach out.